Rangers and we're proud of it!!
It was West London vs South West London as QPR made the short trip down the road to take on Premiership leaders Chelsea.

Having endured a few tube changes we finally got to Stamford Bridge and took to our seats with 5,900 other Rangers fanatics ready for the game against our most hated rivals. There was a sense of belief around the away end that tonight maybe, just maybe we would do a little bit of damage n scare Chelsea, also hoping that maybe someone would pick up the magic hat.

Two changes were made from the side that won up at Cardiff on Saturday. Tom Heaton replaced Radek Cerny in goal. Alessandro Faurlin came in for Ben Watson as Watson wasn't given permission to play by Wigan.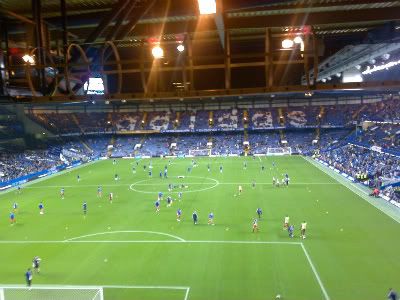 At kick off the Rangers boys had the place rocking!! The only noise that could be heard was those that were singing their hearts out in the Shed End. No noise from any other stand could be heard, I'm sure if the R's fans were silent you would've probably heard a pin drop.
Rangers were given an early scare as Malouda put in an early effort but Heaton held well.
After that Rangers came into the game a lot more and seemed to slowly begin to believe that maybe they could cause the Chelsea back four problems.
Rangers started to notice that the opposition midfield was extremely narrow so as we broke away we often started out wide before cutting in and creating chances just in front of their defence.
Rowan Vine enjoyed a hell of a lot of possession in the first period and at times lacked the killer instinct that really could've made the difference. In one of the attacks Vine cut in from the left hand side and had acres of space in front of him, rather than attack in with pace he jogged the ball forwards and laid the ball off when it seemed as if the better option was to attack the space en route to goal and let rip in hope of either hitting the back of the net or getting a lucky deflection or rebound.
Rangers more than matched the hosts throughout the first half but only managed to get one shot on target for all the pressure that was put on them.
At half time the Rangers faithful had to be proud of the effort put in by the 11 out there and were faultless out there. Most optimism was shared between us and we grew to believe that we could nick a goal, however the worry was that with a Chelsea bench having the likes of Terry, Ashley Cole, Lampard and Essien there you had the feeling that one or two would be thrown on to try and win the game for them.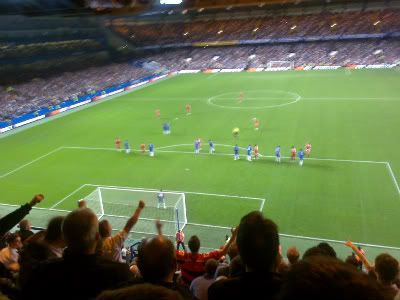 As it was Lampard came on at the start of the half to try and spark the Chelsea team into life.
However Rangers carried on where they left off. When Vine slipped a through ball in a huge open space in Routledge's path, it was a one on one race between him and the keeper. Hilario got there first and cleared but only just! If he lost that then Routledge would've had an open goal 30 yards out.
Soon disaster struck!
Routledge looked to have been fouled on the edge of the Chelsea 18 yard box, this wasn't given and Chelsea broke away. Lampard then controlled to control the ball but as he controlled it the ball seemed to strike his hand, again this wasn't given! Then to top things off as a through ball was put into Kalou's path, it seemed as if he was offside, once again not given! From this Kalou finished off to put the hosts 1-0 up.
This seemed to spark more life into the R's. A 5-10 minute spell inside the Chelsea half and 3 corners later Rangers still didn't manage to make it on the scoresheet.
The hard working Vine was replaced by Taarabt.
Taarabt added something different to the Rangers attack but often found that he went one step too far and lost the ball in possession when maybe he should've looked to take an easier route in the attack.
On 74 minutes a surprise double substitution was made. The superb Rowlands and Simpson were taken off and replaced by Ephraim and Pellicori. This was maybe made as Magilton had one eye on Saturday's game against Barnsley quickly followed up by two long distance away trips. Also with Rowlands just returning from injury he would've probably been shattered, especially after such a good performance on Saturday at Cardiff.
This seemed to change the way Rangers attacked and took the sting out of the R's frontline.
We kept pushing and pushing for that all important equalizer but it just wasn't to be.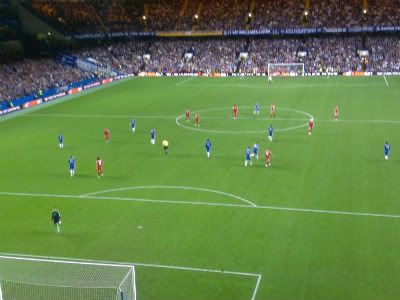 At full time you can honestly say every QPR fan in the ground and listening at home was proud of the effort that was put in tonight having more than matched Chelsea throughout the game. Every Rangers fan stood up and sung proud from start to finish and were shown the appreciation we deserved as the players and managers clapped us to say thank you.
For the first time in ages it really seemed as if the club had pulled together from all directions and had something to be proud of once again.
Picking a
Man of the Match
has been difficult and it is hard to pick out one outstanding individual as all 11 that played all done well in my eyes so for this time only the whole team will pick the award up.
QPR: Heaton, Stewart, Leigertwood, Routledge, Vine (Taarabt 66), Buzsaky, Gorkss, Rowlands (Ephraim 74), Faurlin, Simpson (Pellicori 74), Borrowdale.
Subs not used: Cerny, Ramage, Mahon, Agyemang.

Attendance: 37, 781 (5,900 QPR)