Four-midable Rangers show true class once again.
This evening saw the first time Rangers took to the field in front of the live cameras and as always the Lofty Heights crew hit the road to see what was in store for us.

Today there was two parties making their way up to Pride Park, Lofty and PK in one car and in the other was Jenson, his wife Kate, a friend and myself. It was a weird feeling for me as I haven't travelled to an away game without Lofty or PK since Blackpool away last January. We were soon reunited in the Pride Park Harvester and with a few cold beers on our arrival. A man, that I can only describe as a legend, called Iceman joined us for his first R's game of the season. For those of you that already know Iceman you know exactly what I am talking about.

We were also introduced to a Finnish Rangers fan, Vesa in the Harvester who had travelled over to England this week especially for the game. This week he attended the reserves fixture, which we drew 1-1 courtesy of a Gareth Ainsworth goal, the Watford 4-1 victory over Sheff Weds last night as well as managing to get tickets for tomorrows clash between Liverpool and Man United.
Here he is pictured below...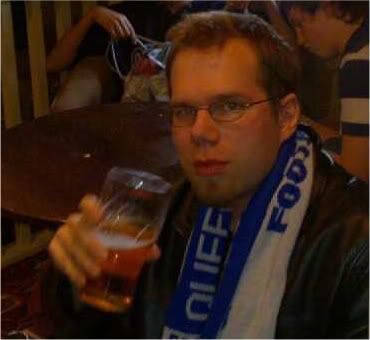 Jim Magilton was forced into one change this evening, Ben Watson being suspended after his sending off against Reading in midweek, his replacement was also the R's captain for the night Gavin Mahon.

It was Rangers who got off to the better start and enjoyed the lion share of possession and looked the more threatening.
However on 10 minutes the score line read a different story.
Derby won a free kick just outside the R's penalty area and Robbie Savage opted to take the kick quickly and fed the ball in the path of Paul Dickov. He made no mistake from 8 yards out and put the home side in front.
It was a stark contrast of what happened on Tuesday night when Ben Watson took a free kick early and earned a booking for his troubles. Whatever the result on this occasion you have to admit it was a genius piece of play by Savage to take advantage of a sleeping R's defence.
Rangers continued to hold the attacking advantage and looked the more likely to score the second goal. Efforts from Mahon, Faurlin and Buzsaky went close as the search for an equalizer was coming closer and closer to becoming a reality.
On 36 minutes the controversial referee Trevor Kettle, who has a bad record when it comes to officiating Rangers games, awarded a strange looking free kick in the hosts favour after Damion Stewart was adjudged to of been climbing over the Derby striker.
Robbie Savage took the free kick and placed it into the top left hand corner with a beautifully taken effort to give the hosts a 2-0 lead which, in reflection, was extremely harsh on the visitors.
Only three minutes later Rangers were given a free kick just outside the Derby penalty area. Usual free kick taker Akos Buzsaky stepped aside to let Adel Taarabt try his luck. Taarabt curled the free kick into the bottom right corner to grab a well deserved goal for the hard working team.
At half time Iceman, Michael Whelan and I met up on the concourse to discuss the half we had witness and our feelings towards the game. Me and Michael were more than confident that if we continued to press Derby then a victory was imminent and we'd get our just deserves. Funnily enough, in a different conversation, these views were shared Lofty and a few other fans. You could almost sense a confidence in R's fans that it didn't really matter what the score was, we were still going to win.
On the way back to our seats a few t-shirts hanging on seats were nicked to give to family members and friends, even though they are pretty worthless.
The second half begun with the R's continuing in the ascendancy and soon back on level terms.
After some neat build up play it was Taarabt who played a beautiful back post cross to Routledge and he squared to Gavin 'The Goal Machine' Mahon to tuck away from inside the six yard box very untidily, but who cares!!
A third goal was soon to follow. Jay Simpson made the most of his chance that he had to work hard to put away. A lovely through ball caused confusion in the Derby defence and he slotted his effort home from 12 yards out into the bottom right hand corner to bag his sixth goal of the season.
Following the goal Peter Ramage may way for Mikele Leigertwood, who has just recovered from a virus.
Rangers really were dominating the second half and when Taarabt was set free down the right hand side with only Bywater in front of him the only words I could hear were coming from Lofty saying "he's gonna score, he's gonna score". Unfortunately the shot was straight at Bywater and was parried away.
Patrick Agyemang and Rowan Vine came on for the final 15 minutes. They replaced the hard working Simpson and the teasing Taarabt.
Further chances from Routledge, Agyemang and Vine fell but didn't overly test Bywater in the Derby goal.
During the final 10-15 minutes the Derby fans were hurling their free t-shirts, that were given to them upon arrival to their seat, onto the pitch as a show of disgust to their teams inability to cope with a Rangers side that really are something special at this moment in time.
In the final minute of the game Routledge was set free down the right side of the pitch and advanced on goal before being hacked down by the Derby defender. Akos Buzsaky stepped up to slot home his second penalty in as many games and send the R's fans into pure jubilation and the Derby fans continued to shower the pitch with their free t-shirts.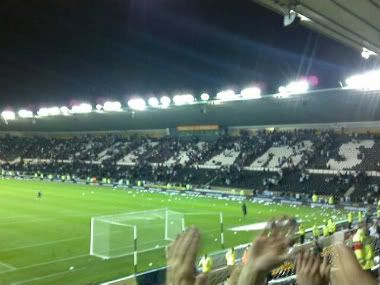 After a being shocked by going 2-0 down to a side that were second best on the field for all of the first half it was a pretty astounding comeback from a fully confident side that pulled a result out of the bag despite the setbacks we had.
For the third game on the spin Rangers have now scored four goals, so is it now too much to expect another four goal haul in the second televised clash this weeks, this time against Leicester. If the R's win by three goals then second spot will be ours, albeit for a night at least.
Derby County:
Bywater, Connolly, Croft, Savage, Hulse, Teale, Barker, Moxey, Dickov (Davies 68), Stoor (Livermore 63), Hughes (Pearson 68).
Subs not used:
Deeney, Buxton, Hendrie, Mills.
Goals:
Dickov (10), Savage (36)

Bookings:
Connolly (56)
QPR:
Cerny, Ramage (Leigertwood 61), Stewart, Mahon, Routledge, Buzsaky, Gorkss, Faurlin, Simpson (Vine 75), Borrowdale, Taarabt (Agyemang 75).
Subs not used:
Heaton, Hall, Alberti, Ainsworth.
Goals:
Taarabt (39), Mahon (47), Simpson (59), Buzsaky (90)
Attendance: 30, 135 (733 Rangers)
Man of the Match
once again proved hard to choose. Iceman was impressed by Taarabt and Routledge, Jenson thought Gorkss was exceptional and PK had Gorkss and Faurlin down as his picks.
Lofty's Man of the Match
as decided by
Lofty
has been awarded to
Alessandro Faurlin
for the second game running. The young midfielder bossed the middle of the park once again and showed great vision as well as battling away all the way through.
As a victory salute the crew all gathered back at the Harvester where the day all begun to enjoy a sweet tasting beverage before once again going our separate ways for the journey home.

We move onto Leicester at home next on Friday evening. I will apologize for the lateness of that report as the Lofty Heights gang are going out for an after match booze up in Hammersmith that evening. I will endeavour to get a report written ready for late Saturday night for you all.

U RRRRR'SSSSSSSSSSSSSSSSSSSSSSSSSSSSSS