QPR Have a Memorable Night on the Toon...
Newcastle 1-1 QPR

QPR's impressive run of form continued, holding leaders Newcastle to a 1-1 draw at St James Park and bringing an end to their 100% home record.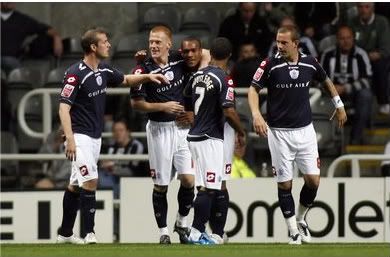 Firstly, a hello from me to you all as I make a guest appearance as Lee will no doubt still be feeling the effects of a day and night out in Newcastle, although from what I have heard, I am sure he will be gutted about not writing this one himself!
Well, for one reason or another, mainly work commitments, I was sadly unable to make the long trip to the North East. Some would listen to the commentary on QPR player, watch Sky Sports news or hunt around for some internet or radio coverage. Me? I just can't do that as I find listening to the game, even more nerve racking than being there. So last night, I was relying on Lee to update me from the happenings at St James by text... and plenty a text came in. (thanks mate)
In fact, that's how this report will be based and I must admit to being somewhat surprised as the first text came in before 8pm
-
Watson, 25wards out, beauty! Looked deflected tho!
Now, I am assuming the spelling mistake was a slip of the hand rather than looking at the phone through glazed eyes. The next one soon followed and I cringed before opening it, but it was soon turned to joy as it informed me of Newcastle being awarded a harsh penalty, only for Cerny to make a good save, Lee did add that it looked poorly placed.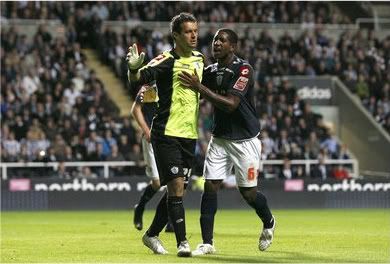 Two more texts followed as I became more and more jittery, after Borrowdale cleared off the line and Cerny was again called into action - we need to hang on

, read the end of the text. There was then a long gap before the next one, which came 20 minutes into the second half, stating we have coped well with the pressure and are coming back into the game slowly. Could we do this? Could we really pull off a fantastic result??

Sadly, the next text read - 1-1, cross over and poor marking at the far post. It was even more disappointing when I found that the scorer was Marlon Harewood, who normally, cannot hit a barn door from the inside unless he is playing against QPR.

It was 9.43 when the final message arrived
-
Second Half was Newcastle's, but one bit of poor defending has cost us. Good point for us.
And indeed it was. Lee later said that it was a great match which had him on the edge of his seat throughout. It wasn't much different here, but I so wish I could have been there myself. Thanks, Lee for the updates!!

QPR: Cerny, Stewart, Leigertwood, Routledge, Vine (Faurlin 87), Buzsaky, Gorkss, Rowlands, Watson, Simpson (Taarabt 73), Borrowdale. Subs: Ramage, Agyemang, Pellicori, Heaton, Ephraim.

A fantastic result and performance maybe should have had a better reward, but I for one would have bitten anyone's hand off for a point before the start. And from what I have been reading on facebook and suchlike, a good night was had by all in the Toon after the game. There may be a report on the after party, but you will have to ask Lee about that one...

Come on You R'ssssssssss!!!