Battling Rangers denied at the death.
Last night we travelled up to West Brom for our second Monday night in front of the Sky cameras in a row after our awful defeat at the hands of Watford last week and the well publicised events that followed the game. On this occasion we hoped for a better performance as we headed up to the Midlands.

On today's journey Sam, Justin, Me and my mate Pete took to the road just before 4pm as we took what was a surprisingly easy journey that we expected to hit plenty of traffic but in fact hit none at all and arrived at our destination at 6pm. The mood in the car was pretty positive as both Sam and Justin predicted a 1-0 Rangers win, Pete saying that he felt pretty positive that we'd get a good result whilst I was on my own in thinking that another defeat was on the cards. We met our welsh friends Richard and Sophie in the ground to discuss our chances whilst enjoying a nice cold beer to really warm us up.

In Steve Gallen and Marc Bircham's first game as a caretaker manager team four changes were made. Kaspers Gorkss, Tommy Williams, Adel Taarabt and Jay Simpson came into the starting line up as Fitz Hall, Gary Borrowdale, Akos Buzsaky (injured) and Rowan Vine dropped out.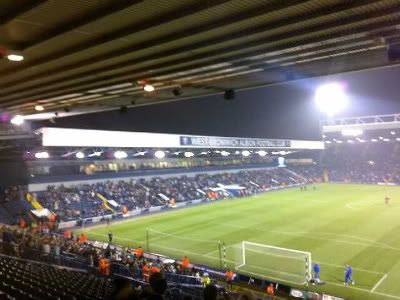 The opening exchanges saw the home side have the better of the game and if it wasn't for some poor finishing then we could've easily seen the first goal of the game, luckily we didn't.
We also witnessed a goal kick from Cerny that looked more like a golf shot as a huge divot was taken out of the ground and resulted in the R's keeper having to get his ankle tightly taped up as support. Cerny looked to struggle with this injury throughout the game.
After an edgy looking opening 20minutes the R's started to come into the game a bit more. Adel Taarabt, who was proving to be as unpredictable and as frustrating as ever, had the first real effort on goal for the visitors as he shot from 25 yards and saw his effort tipped away by Dean Kiely. From the resulting corner the R's should've been awarded a penalty, which no-one seemed to spot, as Patrick Agyemang's shirt was near enough torn off him as the corner came over. It seemed in the replay as if the ref had a decent enough view and really should've awarded it.
Soon after West Brom were handed a great opportunity after a mistake by Damion Stewart. Luke Moore battled his way through and shot, Cerny saved and as the ball spun behind him he swung an arm at the ball and battered it out for a corner.
With the game nearing the end of the half it was evident that the entire Rangers team was prepared to fight and battle for everything. Kaspers Gorkss, Damion Stewart and Mikele Leigertwood were the stand out stars, in my opinion, throughout the first half and really helped build a platform where the confidence grew throughout the game.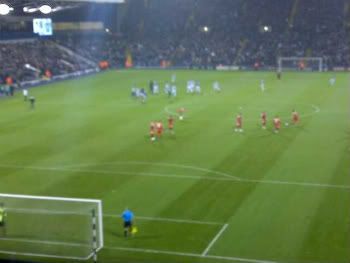 Half time came and I received texts from Lofty and PK saying that we were looking good on TV and that we really could go on, cause more problems and maybe even go on and win the game. I thought we looked as if we just about looked second best from the stands and were defending heroically, but as they say pictures paint a thousand words.
The second half started off extremely lively and it was the home side that had the first chance, Brunt effort was beaten away by Cerny before Stewart came in to clear the danger.
10 minutes into the second half we saw our first piece of action in front of the away following.
Rangers won a corner on the right hand side. Ben Watson delivered the corner which was inch perfect for Gorkss to get his head onto..... only for Olsson to nip in ahead of the big Latvian and inadvertently head into his own net and send the 300-400 travelling Rangers fans crazy.
Only seconds later, buoyed by the opening goal, Rangers came so close to making it 2-0! Taarabt picked the ball up about 40 yards from goal and drove towards goal before unleashing a fantastic strike heading for the top corner but Kiely got a fingertip to it and it proved to be just enough to direct the ball onto the crossbar and bounce out to safety. So very close!!
However only 5 minutes later it was 2-0.
Watson again was the provider, swinging in a free kick which could only be palmed away by Kiely before Joe Mattock flicked the ball across goal where Kaspers Gorkss was unmarked and on hand to nod home into the empty net. All of us in the away stand went absolutely mental, it was something that was totally unexpected at the start of the night and the feeling of ecstasy just grew beyond the point of belief.
Again it was 5 minutes later that we saw our 3rd goal of the game, this time going to the home side.
A cross came in from the right and the ball eventually fell to the feet of a former R's loanee, Jerome Thomas, and he made no mistake and drilled his effort past Cerny.
Straight from kick off the R's came so close to adding to their tally. Routledge picked the ball up from the right hand side and ran at defenders down the wing before cutting in and beating another two defenders and letting fly with a left footed effort, once again it was heading into the top corner but once again Dean Kiely got a fingertip to it and pushed it out wide for a corner. I really don't know how he got to it!
We then endured a 20minute spell of pure pressure by West Brom and defended with every bit of heart, grit and determination that you could hope for. Bodies were being thrown in front of shots and the pure will to win was evident for everyone to see and it looked to of paid off as we got through the last minutes of injury time but there was still time for a telling attack.
Rangers broke free down the left hand side with Faurlin and all he had to do was run into the corner and waste sometime but instead chose to pass to an advancing Pellicori, who if he had more pace would've beaten the defender to the ball and surely put the game beyond doubt, instead the pass was cut out and allowed West Brom to launch one more telling attack. A long ball was pumped up field and Chris Brunt drove an effort on goal which could only be parried by Cerny and there was Simon Cox on hand to put home the rebound and break Rangers hearts, 16 seconds over the 3 minutes of added on time. If only we kept the ball in the corner!!
In reflection, after having all night to calm down, I would've taken a draw at the start of the game but having seen the pure determination of the players and to bounce back from the goings on from last Monday night shows that we do have some steel in our squad and that they are prepared to battle on for the cause. I just hope that this is a stepping stone for better things to come from the team.
West Brom:
Kiely, Mattock, Olsson, Brunt, Thomas, Moore (Wood 65), Dorrans, Zuiverloon (Bednar 85), Meite, Cox, Jara.
Subs not used:
Allsop, Cech, Teixeira, Mulumbu, Martis.
Goals:
Thomas (67), Cox (90)
Bookings:
Brunt (84)
QPR:
Cerny, Ramage, Stewart, Leigertwood, Routledge, Agyemang (Pellicori 84), Gorkss, Watson, Williams, Simpson (Hall 90), Taarabt (Faurlin 81).
Subs not used:
Taylor, Vine, Alberti, Parker.
Goals:
Olsson OG (56), Gorkss (62)
Attendance:
21, 565
Onto the nights
Man of the Match
. For me there are 3 main contenders from the game and I mentioned them earlier, Kaspers Gorkss, Damion Stewart and Mikele Leigertwood. All three had fantastic games and the way they continued to battle, put a foot in and closed down attackers really personified the performance put out on the pitch tonight, but there can only be one winner and the person that Lofty and myself agree deserves it is
Kaspers Gorkss
.
Despite feeling pretty gutted on the way home, which only took an hour and a half from battling our way out of the car park, we had a little puzzle to solve. Justin had bet on Gorkss scoring the first goal of the second half at a cool 50/1 but we were unsure of the rules seeing as the first goal was an own goal. I was pretty sure that it went on to the next goal scored but wasn't 100%. Having seen Gorkss score the second we were hopeful that he had won the money. Luckily he kept the betting sheet and cashed it in today and found out that he had a winner and was £51 better off, well done Justin! Lucky git!