Unlucky Rangers' pay a cruel penalty.
This Tuesday night saw Neil Warnock take his unbeaten start as Rangers' manager to Berkshire against a Reading side that had won seven of their last eight matches. The Lofty Heights crew took to the road in what was a local fixture for many of us and in hope of some bragging rights over some of our friends and work colleagues on Wednesday morning. Here's how the events unfolded.
Before setting off on the short 15 minute journey to the Madejeski Stadium me and Sam welcomed Justin, Nik and Luke to the house and relaxed in front of an 'enthralling' episode of Deal or No Deal and gathered our thoughts on the game ahead of us. The general consensus in the group that we would probably get something from the game and that a 0-0 or 1-0 score line would probably greet us at the end. We set off for the trip and were soon parked up ready for the big occasion, all we needed to do now was to meet Jenson and collect out tickets off him and we were in business, unfortunately he was stuck on the M4 so the five of us had plenty of time to kill and ended up doing a lap of the outside of a characterless stadium and then ending up going down to McDonalds to grab a bite to eat and wait for Jenson there.
Jenson soon turned up and we made our way into the ground to enjoy a drink and warm up the vocal chords ready for kick off. It was during this time that we found out that Lofty unfortunately couldn't make today's game because his work had for the day had gone on longer than he'd like and was unable to make the game in time. I then bumped into local Rangers' fans Tony and Alan and enjoyed a chat about the new regime and caught up on the social side of things before making our way to our seats.... right at the back of the stand! After climbing what seemed like a mini everest, and slightly out of breath, it was time to get ready and make some noise.
Neil Warnock named an unchanged side for the fourth game in a row. Once again the only change came on the bench with Angelo Balanta making way for Antonio German.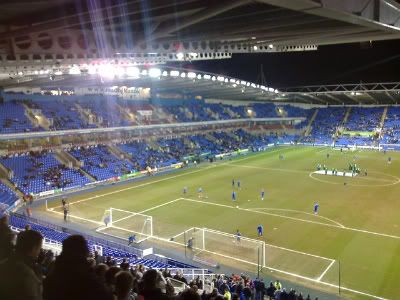 Over 2,000 Rangers' fans made the short trip to the Madejeski Stadium and amongst the R's support was New Chairman Ishlan Saksena to take in a Rangers' end that at times was superb and really got behind the team to drive them on.
In fairness it was the Royals that were slightly the better team to begin with and fashioned the first chance of the game. Kaspers Gorkss gave away a foul about 25 yards from goal and Brian Howard stepped up to take the free kick which flew just wide and hit the back stanchion. A few of the Reading fans to our right got excited but soon realised that the effort had gone wide. This started up some of the banter and for the next 10-15 minutes or so the atmosphere in the ground was pretty decent.
Rangers' slowly began to take more control of the game and began to find small openings in the Royals defence and when Priskin cut a ball back to Taarabt to shot on sight of goal and sting the hands of Federici in the Reading goal. This gave the R's a bit more belief as we pressed on.
Soon after that chance followed a fantastic opportunity to get the opener. Taarabt's cross found Priskin and his effort was blocked and eventually went out for a corner. From that corner, which was taken by Taarabt and played deep to the back post, it was Gorkss that met the ball and headed back into the path of Priskin but his shot was sent high and wide of goal. A brilliant opportunity that went begging.
Rangers' were easily the most threatening team in the game and soon had yet another chance to grab an opener. It was that man Taarabt again that slipped in Jay Simpson and running clear of the Royals defence. Simpson took aim but could only fire straight at Federici from about 12 yards out.
On the half hour mark Damion Stewart picked up what was a harsh yellow card when he was judged to of had a high foot in when challenging Shane Long, even though the mini striker was stooping down to head a ball.
That yellow card came to haunt Stewart on the stroke of half time when he stupidly cut off Federici when he attempted to clear quickly from a Rangers' corner. Referee Ward, who was having an indifferent game up till this point and had been barracked by both sets of fans, had no choice but to produce a second yellow and leave Rangers' to play the rest of the game with 10 men.
Mikele Leigertwood moved to right back, with Matt Connolly filling Stewarts void in centre defence. Hogan Ephraim moved from the left wing into centre midfield and then Taarabt moved to wide left, leaving Jay Simpson up front on his own.
The half time whistle was soon blown and a trip down the stairs to see if we could get a drink was the order of the day. After making our way downstairs and onto a jam packed concourse we decided it really wasn't worth the wait so turned back around to stand out on near level ground. Having spotted Gobi, on my way back to my seat up in the skies, we discussed the half and both agreed that we had nothing to fear and didn't think much to Reading as an attacking force. The game was there for the taking and provided we didn't risk too much we could turn a definite one point into three, well that was us being optimistic after seeing the first half. After reaching the peak of the climb and nearly having my legs fall off at the summit, it was time for the second half.
Reading started the second half the brighter of the teams, as you would expect from a team with a man advantage, and were soon creating chances. Jimmy Kebe shot straight at Ikeme before Shane Long tried an effort from the left hand side that went wide of the R's goal.
Rangers' still looked for the break and a Taarabt corner was only cleared to Hogan Ephraim on the edge of the box. His shot was seemingly easy to deal with from where we were sat and Federici fumbled the ball in the path of the onrushing Simpson and he blasted over from an acute angle.
In fairness the Rangers' cause wasn't being helped by tonight's official either. Some of the decisions being made during the second half definitely didn't help us and somehow failed to stop play for clear fouls on R's players which further frustrated the players and fans alike.
As the half got older it was obvious that the legs of the ten men were beginning to tire and it looked as if Simpson and Priskin were on their last legs, especially the latter. With 25 minutes remaining we thought a change was the obvious tonic but this didn't come and with every minute that passed it seemed that Rangers' were dropping deeper and deeper and inviting the Royals to attack them a little too much. As a result there were a few nail biting moments for the Rangers' fans as Matt Hill cleared off the line after Sigurdsson's effort had beaten everyone and looked destined for the back of the net.
Soon after and there was another goal line clearance, this time from Kaspers Gorkss after Bertrand let rip after the ball was cut back to him.
The pressure soon told and on 85 minutes Reading were given a penalty. Matt Hill, who was probably having his best game in a hooped shirt, was judged to of tripped Sigurdsson for which looked to be a soft penalty. Usually you can tell by the reaction of the players if it's a penalty or not and the R's players surrounded referee Ward and as a result received two bookings for their efforts.
Sigurdsson picked himself up and hit his penalty hard to Carl Ikeme's right and despite diving the right way the on loan Wolves man couldn't keep it out and we were 1-0 down.
Despite bringing on Antonio German for the tired (and useless) Priskin and putting in more effort over the five minutes he had than the Hungarian did over 87, it just wasn't meant to be and the final whistle was blown. A 1-0 defeat and it honestly felt like we had been robbed.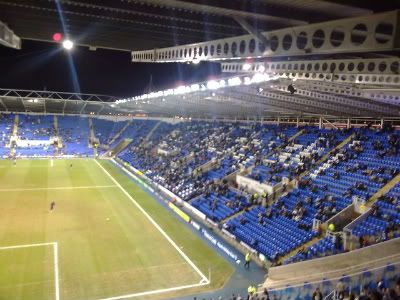 In reflection of the game I feel that we were more than deserving of a point and showed a lot of heart in our performance. I can't quite understand why Priskin is starting games at the moment because the work rate being put in, in my eyes and many other eyes if I'm honest, just isn't good enough. We have Akos Buzsaky and Lee Cook on the bench that could play where he is and play for the shirt with a lot more heart. Alternatively there are two kids in Antonio German and Angelo Balanta that are worthy of a chance ahead of a dozy donkey like Priskin. That's just my opinion though.
As mentioned before the players did look knackered in the second half and it's hardly surprising seeing as this is their fourth game in ten days. The fight and passion was there for all to see, with the above exception, and if I'm honest a 0-0 result would've been a fantastic result for us given that we played just over a half with ten men.
We now move onto tonight's
Man of the Match
. This was voted on between us on the way back to the car and we had two names that dominated the voting. Adel Taarabt, who was pulling the strings for periods of the game but the winner of tonight's award for yet another battling performance and showing a never say die attitude, the award goes to a future star,
Alejandro Faurlin
.
Reading:
Federici, Mills, Tabb, Long (Church 68), McAnuff, Kebe, Ingimarsson, Bertrand, Sigurdsson, Howard (Rasiak 62), Griffin.
Subs:
Hamer, Gunnarsson, Matejovsky, Robson-Kanu, Khizanishvili.
Goals:
Sigurdsson (Pen) 85
Bookings:
Rasiak
QPR:
Ikeme, Stewart, Leigertwood, Gorkss, Connolly, Faurlin, Hill, Simpson, Ephraim, Priskin (German 87), Taarabt (Ramage 81).
Subs:
Cerny, Vine, Buzsaky, Cook, Borrowdale.
Bookings:
Stewart (2), Faurlin, Leigertwood, Hill, Connolly
Red Cards:
Stewart
Referee:
Mr G Ward
Attendance:
16, 886
(2,024 QPR)