Thats a long ol' poke....
Hot on the heels of Saturday's fantastic win over West Brom was a tricky looking fixture against relegation threatened Plymouth Argyle and their Green Army. A win would give Rangers a six point cushion in the relegation battle and still with a game in hand.
The gang were only missing Lofty tonight due to his birthday celebrations at home with the family. With the temperatures pretty cold there was no pre match beer in the Springbok, we instead took ourselves to the Blue and White for a swift half and also met up with Michael, Nik, Luke, Stedders and Jack. The sprits were high and three points were expected even though we all anticipated a tough encounter. The confidence was so high that most of us actually bet on a QPR win in our accumulators.
Neil Warnock made no changes to the starting line up following the great performance on Saturday. The one change came on the bench, Angelo Balanta dropping out and Lee Cook coming in having recovered from a virus.
If the truth be told, the opening 35 minutes were not the most thrilling we have ever seen but the R's were dominant throughout and struggled at times to break down Plymouth at the back.
There were chances created and some of the counter attacking football on display was fantastic but this only came in flashes.
Right at the start of the game some good passing football between Faurlin, Taarabt and Simpson resulted in Priskin having the opportunity to test Plymouth 'keeper Stockdale but unfortunately he couldn't quite get his shot in on goal.
Rangers' best attacking move came on 18 minutes. Connolly collected the ball just outside the R's 18 yard box and he passed to Taarabt who advanced a little before spotting Simpson charging towards goal and played a sublime 35-40 yard inch perfect ball to the R's top goalscorer and he shot just wide whilst being under pressure from a Plymouth defender. The move took all of 10-15seconds but the accuracy of that through ball was simply brilliant.
Another free flowing passing move between Ephraim, Faurlin, Leigertwood and Connolly saw Connolly in space just outside the Plymouth 18 yard box and he decided to have a pop, unfortunately the effort went high and wide.
Adel Taarabt then decided that he wanted to take centre stage and went to take on three defenders, beat them, then go back and beat them for a second time with the aid of a few step-over's and then once he finished beating them again he took aim at goal but once again the shot was off target.
However on 36 minutes Rangers' had their first shot on target.
Taarabt and Connolly combined down the right hand side and Connolly's teasing cross went in the direction of Priskin, who had his back to goal, a Plymouth defender tugged Priskin back and the Hungarian fell to the floor, leaving Referee Tierney with no option but to point to the spot.
Taarabt grabbed the ball, placed it on the spot and kept his cool to calmly slot away the penalty and give Rangers' the lead.
The confidence levels flew through the roof after the opening goal and the R's went on a mission to add a second before the interval.
The best chance fell to Stewart after a Faurlin free kick was flicked on by Connolly and Stewart somehow failed to hit the target when it looked easier to score.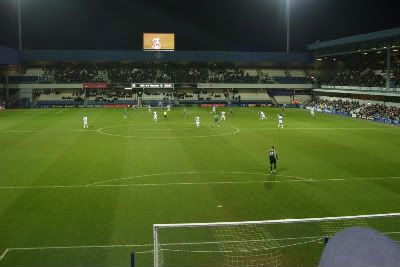 The half time gathering bought together a happy bunch of Rangers' supporters. The general consensus within everyone was that Rangers' were in control and that Plymouth didn't really being much to trouble us, it was just a case that we had to maintain our concentration at the back and just turn the screw to make the game safe. Jenson even said what everyone else did not dare to say.... "This could be our first clean sheet in 21 games if this carries on".... we all just hoped he didn't just jinx us! There was only one way to find out, so we got back to our seats and with a few minutes to spare as well.
Rangers' came out in the second half and continued to look comfortable. In fact within five minutes of the restart the second goal came.
Taarabt was fouled just outside the left of the Plymouth penalty area. The Moroccan picked himself up and took the free kick himself. The ball in the box was so inviting that Damion Stewart timed his run to perfection, beating Stockdale to the ball and nodding home from close range.
The R's didn't want to stop there and Faurlin nearly added a third when Taarabt's cross fell to him just outside the area and the shot ,like many others tonight, wasn't on target.
Rangers' did find the back of the net once again, Jay Simpson sliding to reach the ball before Stockdale after a fantastic ball over the top, the goal didn't count though because of an offside flag.
Moments later Simpson had a great chance to get his name on the score sheet.
Leigertwood beat three Plymouth defenders down the R's right hand side and drilled a cross in along the six yard box and Simpson was advancing on goal so quickly that he had no time to get a proper contact on the ball and instead the ball ended up just hitting him and guess what...... the ball went wide of goal once more.
On 70 minutes Taarabt exited the field of play and was given a rousing reception by the R's faithful after a brilliant performance. Akos Buzsaky replaced him.
Lee Cook then came on for a cameo appearance after missing out on Saturday with a virus, Hogan Ephraim came off.
Rangers' had one more glorious opportunity to add to their comfortable lead.
Jay Simpson chased down a ball over the top and his pressure caused a mix up between Plymouth 'keeper Stockdale and one of his defenders which resulted in them colliding and leaving Simpson wide on the right with an open goal to shoot at. After advancing a few paces a Plymouth defender or two had got back to narrow the angle, Simpson's shot dribbled wide but if he had looked up he would've seen Buzsaky and Cook in the centre and in space to just tap home into the empty net and make absolutely sure that the points stayed in W12 and aiding our minus goal difference.
Simpson was substituted on 85 minutes and replaced by Rowan Vine.
After four minutes of added on time, we're not too sure where they came from, the victory was sealed and two wins in four days saw Rangers' rise to 15th in the table and more importantly six point clear of the relegation battle (with a game in hand on most of the teams down there) and nine points behind Cardiff in sixth as the impossible play off dream continues (wink wink nudge nudge).
The job done by Rangers' tonight was very professional and got the job done with minimal fuss. The statistic that we only had one shot on target (not sure how it's only one when we scored two) and nine shots off target shows that we were creative when going forwards and the more impressive figure of only three Plymouth shots, two of which on target, just shows how well the back four, especially Stewart, played tonight. Ikeme looked very good in goal tonight and commanded his area well. What was particularly pleasing is the way he came to collect crosses and corners and helping his defenders out as much as possible. It's clear to see that he got a massive confidence boost from Saturday and hopefully that's the springboard from him to go on and do well now until the end of the season.
Finally I must credit Plymouth's fans tonight after making the long ol' poke to W12. 863 of the 'Green Army!' came to Loftus Road despite their teams troubled and must be commended for their support. I hope they all had a safe journey back to Devon.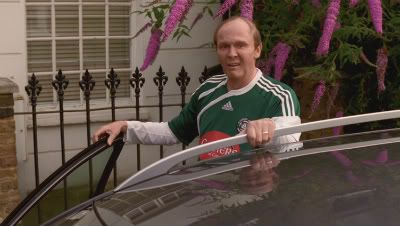 All that remains for us to do is name tonight's Man of the Match. As
Lofty
was not in attendance tonight I decided that
California Hoop, PK, Corp
and
Jenson
had the vote on how would get the honour.
There was a shortlist of three drawn up by our panel. Damion Stewart and Hogan Ephraim were up for the award but after a stellar performance and looking to be back to his creative best, coupled with an ability to pick out some delightful through balls, a goal and an assist, the award tonight goes to
Adel Taarabt
.
QPR:
Ikeme, Stewart, Leigertwood, Gorkss, Connolly, Faurlin, Hill, Simpson (Vine 85), Ephraim (Cook 78), Priskin, Taarabt (Buzsaky 73).
Subs:
Cerny, Ramage, Borrowdale, German.
Goals:
Taarabt (Pen 36), Stewart (50)
Bookings:
Hill, Connolly
Plymouth Argyle:
Stockdale, Duguid, Fletcher, Johnson, Mackie, Arnason, Fallon (Mason 55), Barker, Sawyer, Eckersley, Judge (Bolasie 55).
Subs:
Larrieu, Wright-Phillips, McNamee, Summerfield, Cooper.
Bookings:
Duguid, Eckersley, Barker
Referee:
Mr P Tierney
Attendance:
12, 013 (863)