Wright Rams Rangers' chances of winning.
For the third Tuesday night in succession we were treated to yet another QPR fixture, this time at home to Derby County. Derby have been in some good form recently so this would provide another stern test for an improving R's side which is looking more organised and up for the challenge of pulling the team to safety and starting the rebuilding phase ahead of next season.
Here's how the night went.
Neil Warnock made four changes from Saturday's draw with Swansea. Damion Stewart and Jay Simpson returned from suspension and injury respectively, also returning to the starting line up were Lee Cook and Rowan Vine. Dropping to the bench were Matt Hill, Hogan Ephraim, Akos Buzsaky and Tamas Priskin.
There was a slight change in personnel in the Lofty Heights gang tonight also. Jenson returned after missing out through work on Saturday, he took the place of Corp who missed out because of a migraine. California Hoop was still missing from the line up but we are hoping for him to return in time for Sheffield Wednesday and is likely to need a fitness test in the race to be ready for the game. Lofty, PK, Sam and I were present with Jenson as the game kicked off.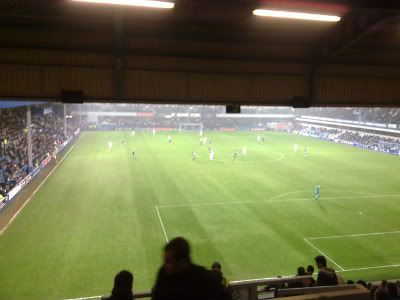 Rangers' opened up the game with a 20 minute spell of football that was simply outstanding. The pass and move style was free flowing and created numerous opportunities.
Firstly in rain soaked W12 it was Taarabt that was attacking and cut in before firing a shot in on goal that was heading for the bottom corner before it was blocked away for a corner.
Minutes later Connolly burst into the Rams half and cut a reverse pass to Taarabt who in turn unleashed another low effort on goal and this time Bywater got down well to save from the Moroccan.
Faurlin soon got in on the act when he tried his luck from 30 yards out and once again Bywater produced a very good stop to keep the scores even.
Rangers' really were into their stride and fifteen minutes in when Cook, Leigertwood and Vine combined with some slick passing it was Vine that had the opportunity to put an effort in once again but his shot was blocked and went out for a corner.
How the scores were still level after 25 minutes I will never know but after all the high tempo passing and creating of chances it looked like Derby had weathered the Rangers' storm that was much worse than the rain that was pouring down on them at Loftus Road. The visitors managed to slow the game down and frustrate the R's and plugged the gaps in midfield that Rangers' were exploiting. This lead to a final 20 minutes of the first half that wasn't very exciting and the crowd's noise dropped considerably during this time.
Rangers' were struck with a blow when Matt Connolly had to come off through injury, hopefully only a minor one, he was replaced by Matt Hill.
Rangers' did however manage to fashion two more chances before the break.
Taarabt jinked in and out of the Derby defenders and managed to create half a yard just inside the left side of the penalty area and dragged an effort just wide of Bywater's right hand post.
There was time for one more break before the half time whistle.
Taarabt got the ball just inside the Rangers' half and drove into the Derby half before passing an inch perfect through ball to Lee Cook who was in space to the left of him. Cook took a touch or two before unleashing a drive into the bottom left hand corner of the goal and giving Rangers' a deserved half time lead and probably made Warnock's half time team talk a lot easier. Cook's goal was very well taken, even PK couldn't take anything away from the strike and had to endure having Lofty and Jenson singing "there's only one Lee Cook" to him.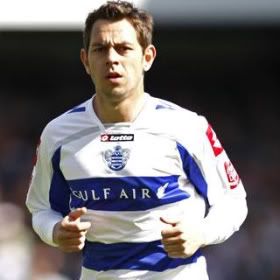 As the group gathered on the concourse for the half time chat it was agreed that we were simply superb and passed the ball around fantastically, it was probably the best passing football that we have put on display since October. There were no real worries about the second half ahead and we knew that if we kept on top of our game we'd be able to see the game out and maybe add another goal or two to our tally.
The rain in W12 progressively got worse for the second half and made conditions very hard for the players but it seemed as if Derby were enjoying it more as they came out to the second half and looked the better of the two sides.
Ten minutes into the half and Derby were nearly gifted the opening goal. Michael Tonge sent in a cross from the Derby left and when Ikeme went to claim the ball he spilt it inside the six yard box but luckily for him Damion Stewart was on hand to clear the ball from safety.
On the hour the first R's sub was made. A tired looking Lee Cook came off and was replaced by Antonio German.
Just seven minutes later Derby grabbed their equalising goal.
A very soft and questionable free kick was awarded to Derby 30 yards from goal. The ball was played into the box and with Rangers' failing to clear the lines it was Barker that took one touch to flick the ball over a Rangers' defender and then lash home from 12 yards out.
Following a series of contentious decisions by referee Wright the Rangers' crowd woke up and started to get behind the team more and drive them on towards a second goal.
Hogan Ephraim then entered the field of play for Jay Simpson.
The R's managed to go through the gears and managed to put Derby under a sustained amount of pressure for the final 15 minutes.
Taarabt managed to drive at the Derby defence before unleashing an effort just wide.
Rangers' then broke away down the left and when Leigertwood found himself running across the face of the Derby defence just inside the penalty area just as he went to pass to Vine he was tripped but opted to stay on his feet and attempt to create the opening for Vine, which went just wide. After seeing it you can't help but wonder if Leigertwood went to ground would a penalty of been awarded? I commend him for staying on his feet as we all hate to see players fall over for no reason but if you have to get the right decision then maybe it's the thing to do. To be fair if he did fall over then you could pretty much put your house on referee Wright not giving the penalty, that's just the way he was officiating tonight.
With five minutes to go Rangers' went on the break. Good play between German and Ephraim saw Vine being played in with a dinky ball over the top. As the ball dropped Vine decided to hit one on the volley from the edge of the box and his dipping effort smashed off the crossbar before being cleared to safety.
Just as it looked as if the game was heading towards being honours even once again Rangers' carved out a late charge. The charge came as Antonio German broke clear and raced towards the Derby 18 yard box. As German entered the penalty area he looked to have the beating of the Derby defender and has inadvertently pulled back for a certain penalty.......... but no! German had tried to stay on his feet to keep the attack going and wasn't rewarded for being honest. Apparently the linesman, who had a brilliant view of the tug that 11,000 Rangers' fans managed to spot, failed to spot the foul and denied the R's of getting a winner that they deserved for their play. Once again you have to ask, should he of gone down because obviously staying on his feet didn't help getting the obvious decision.
I've got to say that the opening to the game was fantastic and we really did look very impressive. If that's a sign of things to come then we have an enjoyable end of season ahead of us and the future looks bright once Warnock imposes his style and manages to get his players in and he have less loanee influence on the team.
It was a case of if only we managed to stay focussed throughout the game because for the opening 15-20 minutes of the second half we looked slightly complacent. Kaspers Gorkks wasn't at the races for the second game on the spin and looked to be a yard off the pace, if it wasn't for Damion Stewart on a few occasions then we could've been in a bit more trouble. Lee Cook, Adel Taarabt, Jay Simpson and Rowan Vine combined well as an attacking quartet in the first half but all three with the exception of Taarabt faded away in the second half. I must say I did feel for Taarabt as he was being kicked all over the place during the game and wasn't given any protect by our referee for the night, it just seemed that anytime Taarabt was fouled he felt obliged to not award a free kick.
We move onto tonight's
Man of the Match
.
Lofty
thought long and hard about this decision and despite there being some good displays out there by the Rangers' players he has decided to not give the award to any of them but instead give it to
referee Mr K K Wright
for his short sighted display and failing to forget that there are two teams in a football match and also miss what were two very clear penalties. Mr K Wright I would arrange an appointment at Specsavers in the morning if I were you!
QPR:
Ikeme, Ramage, Stewart, Leigertwood, Vine, Gorkss, Connolly (Hill 33), Cook (German 59), Faurlin, Simpson (Ephraim 78), Taarabt.
Subs:
Cerny, Buzsaky, Balanta, Priskin.
Goals:
Cook (45)
Bookings:
Faurlin
Derby County:
Bywater, McEveley, Green, Savage, Porter (Hulse 82), Barker, Pearson, Tonge, Hunt (Davies 61), Anderson, Sunu (Leacock 46).
Subs:
David Martin, Teale, Moxey, Dave Martin.
Goals:
Barker (67)
Bookings:
Leacock
Referee:
Mr K K Wright
Attendance:
12, 569