Mack's the Fox in the box.
Today we took to the road for what looks to be a very tricky encounter against a Leicester side that were fresh off the back of a fantastic comeback against Cardiff, we however were bang up for it having easily disposed of Ipswich during midweek.

The journey started at 9.20 as me and Sam got ourselves on the road toward Jenson but at late notice he had a friend that wanted to come along and ended up making his own way to the Walkers, so we then went on to pick up PK before arriving at Lofty's and then let him take control at the wheel so that I could resume duty in arranging the in car prediction competition, I was prepared to get some stick if I made it a 3rd straight victory and taking the money once more. Everyone was in confident mood apart from PK, who was predicting a 2-1 defeat.
We got to the Counting House pub just after 1 and met up with Iceman and also welcomed the return of Jack from his travelling around America. We also bumped into Jo G and Charlotte D as we enjoyed a pre match beer or two. We were greeted by the sight of a Leicester fan that many away fans can probably say they have seen before, he's a nutter! The photo that Sam took will prove it all to you........ I think Jo G took a bit of a liking to him though, could it be love?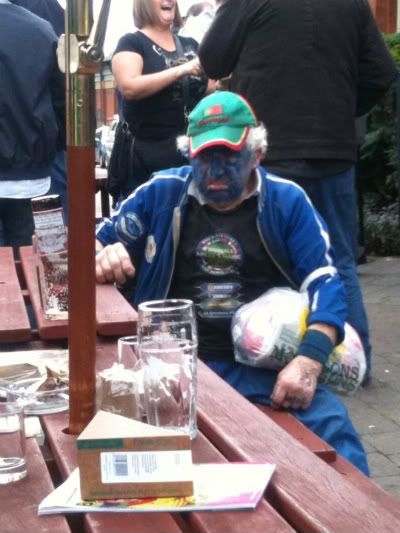 As we made our way to the ground we stopped by the "Gourmet" burger van and bumped into the lovely Charlotte P and Hannah for a quick chat and catch up before making our way into the ground to take our places along with the 2159 travelling fans.
Neil Warnock made one change from the side that won at Ipswich, Alejandro Faurlin being left out through injury and his replacement was Akos Buzsaky.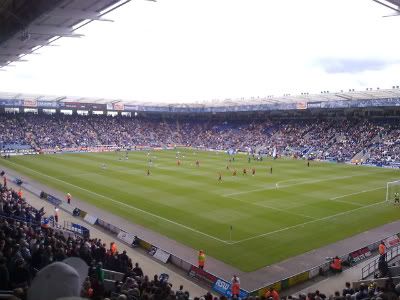 Rangers' started the half well and had a strong 15 minute spell where they created chances and on 12 minutes the best chance was made. Taarabt crossed in from the left hand side and there the in form Jamie Mackie who put his head on the cross and looped his header over former R's loanee Carl Ikeme into the top corner and sent the Rangers' fans mental.
Leicester started to take control of possession in midfield from the 25 minute mark and began to look dangerous when knocking the ball around quite nicely but they couldn't get things going in the final third due to Rangers' being so well organised and with five minutes of the half left we were left hoping the whistle for the interval would come as soon as possible just so we could re-group and try and break Leicester down before searching for an elusive second goal.
At half time we made our way to the concourse but had no chance of getting any refreshments so we just settled for each others company as well as enjoying catching up with Jenson, Michael, Nik and Luke.
We got to our seats just after the second half resumed and we hadn't missed any action, or so it seemed.
Leicester carried on where they left off in the second half and were troubling the R's midfield and keping the ball well and making it hard for us to even get the ball, let alone attack them.
Midway through the half it seemed as if Rangers' went a grabbed a second when Mackie held off a Leicester defender and let a high ball drop to a perfect height so that he could volley the ball into the back of the net with a sweet strike and aftera short celebration before realising that the ref had blown up for a foul....... what the foul was I would like to know, but anyways it didn't count and there was a battle on our hands.
Leicester once again took control of the game and looked really threatening as the minutes ticked on and we were wondering if today as the day that we would collapse under the immense pressure we were under.
Leicester fans were screaming for a penalty at one point, from where we sat we couldn't see a thing but according to some Leicester fans in the pub at full time apparently there was an elbow involved, it must've been obvious because pretty much the whole of the stand were appealing for the penalty.
In the 86th minute it was time to breathe a sigh of relief.
Rangers' broke away and a ball was played, seemingly to no-one and gots a "f@&ks sake" shout from me but out of no where Jamie Mackie sprinted through and collected the ball on the left hand side of the penalty area and had no where to go..... He turned inside one defender and was left with just Ikeme to beat from an acute angle and he did just that! Great finish from the man in form, made the chance to shoot all by himself! Game over.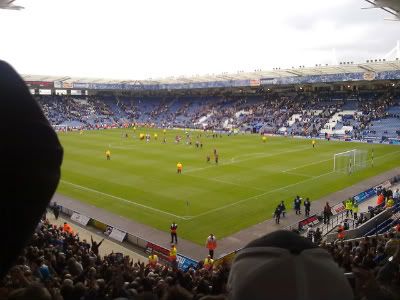 After todays game you can say that there are two sides to Rangers', the side that can play beautiful flowing football and the side that we saw today was the one that has the ability to grind out a result and soak up a lot of pressure.
Credit to Leicester they played extremely well and just needed something extra in the final third on this occasion. There wont be many teams that visit the Walkers and take something away from there.
Today's
Man of the Match
has a few contenders but there were two people that stood out for us today, Jamie Mackie wh took his two goals fantastically well but taking the majority vote today is midfield enforcer
Shaun Derry
. He was solid as a rock today and really epitomised the performance that the R's had to put in.
Leicester City:
Ikeme, Neilson, Morrison, Oakley (Howard 63), King, Dyer (Gallagher 58), Fryatt, Waghorn, Berner, Wellens, Hobbs.
Subs:
Logan, Vitor, Moreno, Abe, Moussa.
Bookings:
Berner (49), Waghorn (59)
QPR:
Kenny, Hill, Derry, Taarabt (Leigertwood 78), Helguson (Agyemang 73), Buzsaky, Mackie (Smith 89), Gorkss, Walker, Connolly, Ephraim.
Subs:
Cerny, Rowlands, German, Parker.
Goals:
Mackie (12 & 86)
Bookings:
Walker (68)
Referee:
Mr G Scott
Attendance:
22, 968
(2159 QPR Fans)
The result of the prediction competition saw Lofty and Sam tied on 21 points each after Sunderland's late equaliser cost Sam the overall win, so we had to pick out a tie break game to decide our winner, the game picked out at random was Elgin vs Montrose. Sam picked a 1-1 scoreline and Lofty opted for a 1-0 Elgin win........... The final score was Elgin 3 Montrose 2 and meant that Lofty won the money for the first time. Well done sir, spend your winnings wisely!