Tommy Leaves Toffees In A Sticky Situation
Today the R's faithful hit the road for their first Premiership away game in 15 years and hoping to put in a good performance on the back of last weeks defeat against Bolton.
As always the Lofty Heights gang were in attendance.
The gang were travelling in two cars today as there were so many of us were attending this fixture. In one car was me, Jess, Sam and Luke and in the second car was Jenson, Lofty, PK, Jo, Smithy and an Everton fan.
The journey was very smooth for both parties and we both arrived in Liverpool just 20 minutes apart.
We all met at the entrance of the Bullens Road Stand where we were due to be taking our seat and all had a good catch up on the street discussing the past few days at Rangers'. Its fair to say we all have renewed optimism now that Tony Fernandes has bought out the poison dwarf and the man from the you've been tango'ed adverts, to join forces with the Mittal family and Amit Bhatia returning to boardroom level.
One rumour we did hear outside the ground was that in the near future an announcement will be made in regards to the Club Crest. Apparently we will be reverting back to the old crest. One of the reasons behind this is because the majority shareholders want rid of anything that represents the former majority partnership so that we can begin the new era with a fresh, clear approach that has the fans and the communication to the fans a lot clear and not the smoke and mirrors approach of old.
All of the gang entered the ground at about 2 but myself and Jess had to hang around outside until Iceman arrived as we had his ticket for the game and also for next weeks game at Wigan. Whilst we were waited for him we bumped into Michael and Debbie before Jack then walked by with his family members.
Finally at 2.30 Iceman arrived so we could get an reunite with the gang before kick off. Lorna had arrived and was already with the gang before we all met up and took our place in our seats.
As we were waiting for Iceman the team news broke, all we saw was that Jay Bothroyd and DJ Campbell weren't in the starting line up, the latter not even on the bench.
It wasn't until I saw a tweet from Amit Bhatia saying
"gonna be v diff day, some bug hit the camp - DJ hasn't travelled, Jay sick, Adel sick but starting, Matty C sick but we need him. OUCH!!"
Explaining why we were starting with just Patrick Agyemang up front.
Starting 11 - Kenny; Orr, Hall, Gabbidon, Connolly; Derry, Faurlin; Buzsaky, Taarabt, Smith; Agyemang.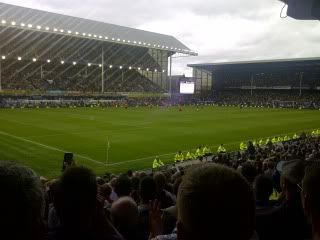 Rangers started off looking to impress and put together the passing football that made them such a force in the Championship last season.
Within five minutes we had our first chance.
Connolly and Taarabt combined down the left side before Connolly crossed for Tommy Smith in the centre and he side-footed his effort just past the left hand post.
Even though we were the away side we were finding our feet and growing in confidence and putting together string of great passing football before Taarabt got fouled on the edge of the Everton box.
Taarabt dusted himself down and swing in a wicked free kick that curled just wide of Tim Howard's goal.
Everton began to work their way back into the game and were awarded a soft free kick just outside the R's box.
Leighton Baines stepped up and curled his free kick over the wall and onto the bar before Rangers cleared their lines.
Minutes later and we had the opening goal.
After great passing, coupled with a great interception from Shaun Derry, Buzsaky found himself in possession and fed Tommy Smith the ball just inside the Everton box, he turned and had enough time to pick his spot and curl the ball around Tim Howard and into the bottom right corner. Cue jubilant and wild celebrations by us all in the away end!!!
For the remainder of the half Everton tried turning the screw and put more pressure on the R's defence.
On 40 minutes Everton had by far their best chance of the game. Beckford crossed to the back post to Cahill who was unmarked and he somehow missed the target from three yards out.
When the half time whistle blew you can easily say that the 2,000+ travelling fans were extremely happy with the slender lead that in all fairness we deserved for all the hard work, movement and fantastic passing that we were putting together.
Fitz Hall and Danny Gabbidon were immense at the heart of the defence whilst Shaun Derry was putting in a determined and gritty performance as he guarded the space just in front of the back four.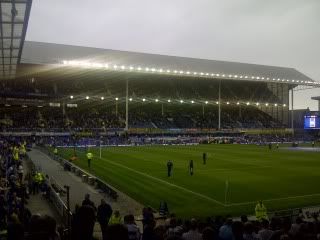 Everton must have had a bit of a talking to before they came out for the second half as they came out all fired up and had the first chance of the half.
Rodwell found space down the Rangers' left and his shot was safely gathered by Paddy Kenny.
On the hour mark Agyemang looked as if he landed heavily when challenging for a header and he was down getting treatment for five minutes before being stretched off to a warm applause from the R's fans and a minority of the Everton fans booed him as he was taken off. The ill Jay Bothroyd replaced him.
Everton fans were getting restless and 10 minutes into the half David Moyes tried playing his first trump card as he took Jack Rodwell off and Mikel Arteta replaced him.
Ten minutes later and the home fans were booing even more as they showed their disapproval of striker Jermaine Beckford being replaced my midfielder Fellani (I'm not even going to pretend to know how to spell his first name!)
Everton continued to pile on the pressure and the resilience of the R's defence as well as Shaun Derry marshaling the rearguard and making challenges all over the pitch.
Rangers still looked to break but they were spending large parts of the remainder of the game in their own half. When Louis Saha came on with 15 minutes to go you just hoped that time would fly by and hope that the final whistle would hurry up and arrive!
When the board went up with the injury time on it we found out we had five more minutes to hold on, FIVE!
Everton just carried on trying to break down the R's defence but despite their best efforts they could not deny us of our first away win in the Premier League since we won at Hillsborough in 1996 (thanks Iceman for that fact!)
What a fantastic few days for everyone at the R's this week! The Tony Fernandes/Mittal era began on Thursday and just two days later we go to Everton with a squad badly affected by illness and we go and fight our way to a 1-0 victory, it just does not get any better!
Some of the football we played in the first half was fantastic and if we continue to knock the ball around in that manner and then get a few bodies in the box to cause defenses more problems then we will fair really well this year.
The names being linked to the club are very exciting and this really is a great time to be a QPR fan.
Man of the Match today was a unanimous decison. There were brilliant performances from Danny Gabbidon, Fitz Hall and Akos Buzsaky(considering he's not played 90 minutes for quite some time). However our decision went to the charismatic, battling and evergreen
Shaun Derry
for his determined display, putting his foot in on everything and working tirelessly through the game.
Everton:
Howard, Baines, Heitinga (Saha 74), Jagielka, Distin, Beckford (Fellaini 64), Cahill, Neville, Barkley, Osman, Rodwell (Arteta 55).
Subs:
Mucha, Hibbert, Vellios, Anichebe.
Booked:
Osman (81)
QPR:
Kenny, Orr, Derry, Hall, Gabbidon, Taarabt, Faurlin, Buzsaky, Connolly, Agyemang (Bothroyd 57), Smith (Ephraim 66).
Subs:
Murphy, Gorkss, Perone, Vaagan Moen, Andrade.
Goals:
Smith (31)
Bookings:
Hall (39)
Attendance:
35,008
On our way home in the car, Jess marked the predictions across the leagues made by Luke, Lofty, PK, Jenson, Jo and myself.
It was a close contest but Luke marked his first prediction win as he won on 27points, PK and myself shared 2nd place on 25points, Jo came fourth with 23 points, Jenson 5th on 22 points and Lofty picked up the wooden spoon (usually owned by Jenson) with 17points.
The gang all arrived safely home at 8.40 and all in time to enjoy our performance on Match of the Day.