Lu-sing Is Not Such A Dyer Thing
Tonight the R's travelled to Luton Town to play the final pre-season friendly ahead of the brand new Barclays Premier League season.
The journey started off when I travelled to pick Jess up in sunny Caterham and proceeded to hit the M25 at 3.30 as we looked to avoid the rush hour traffic.
Just 15 minutes into the trip we found ourselves diverting off the M25 due to major delays and we hit the back roads in hope that we could save ourselves a lot of time by avoiding everything. After over two hours weaving around Reigate, Dorking, Guildford, Woking, Staines, Windsor, Slough, Beaconsfield, Amersham and Rickmansworth we finally re-joined the M25 to see nice clear roads to be able to put our foot down to try and arrive with a decent amount of time to spare so we could find a good parking space.
Shortly after reaching Hemel Hempstead and having a quick pit-stop, we were contacted by Lofty and Jo G informing us of the traffic that lay ahead and gave us directions to an ideal parking space that was cleverly being reserved by Lofty until we arrived.
Shortly after 7 the 4members of the travelling party were united and made the way to the ground via someones front door and climbing through a bedroom window to access the seating area of the stadium.
Neil Warnock named probably his strongest starting 11, which included yesterday's new signing DJ Campbell.
Kieron Dyer started in an unorthodox right back position as Warnock looked to experiment in the last opportunity he had.
Kenny; Dyer, Hall, Gabbidon, Hill; Derry, Faurlin; Smith, Taarabt, Campbell; Bothroyd.

Subs:- Cerny, Orr, Connolly, Perone, Ephraim, Buzsaky, Vaagen Moen, Doughty, Andrade, Helguson, Agyemang, Hewitt.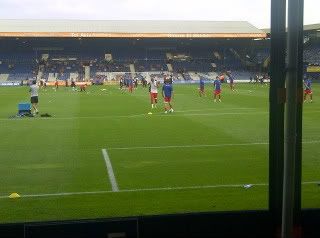 The R's got off to the best possible start, scoring in the opening 29 seconds.
Taarabt's cross was poorly dealt with by the Luton defence as DJ Campbell found himself free inside the 18 yard box and superbly finished to bag his first goal in a QPR shirt.
Rangers' were soon on the back foot and if it wasn't for a superb sliding block by Gabbidon and a brilliant reflex save from Kenny then the R's could have been pegged back quite quickly.
Luton were enjoying large amounts of possession and the R's defending was holding up to the challenge but if Luton's shooting in front of goal was a lot more accurate then it could have been a different story.
Gabbidon looked good in the heart of the R's defence, putting in many great challenges and blocks when it was needed. He seemed to read the game very well and sniffed out a lot of decent looking Luton attacks.
Bothroyd and Smith had some half decent chances to double the R's lead but both men saw their efforts flash just past the post.
Taarabt had the R's final chance of the half when his free kick from 25yards out stung the palms of Tyler in the Luton goal and when behind for a corner.
In terms of how the team played in the first half I would say that when we went forward we looked dangerous but we did give away possession very cheaply and defensively we did look shaky at times. However what I would say is that we had four new squad members on show in the first half and they will need time to gel.
What worried me the most is that Taarabt was supposed to be playing down the left side and left Clint Hill exposed on too many occasions. My personal opinion is that we cant play two strikers as well as Taarabt, if he plays then we can only afford to play with one of Bothroyd or Campbell and I can't see much point on having one of our quality signings this summer sitting on bench.
Nine changes were made during the interval as many of the fringe players and potential starters were given a chance to shine.
The line up was as follows :-
Cerny; Orr, Perone, Connolly, Hill; Dyer, Buzsaky; Agyemang, Vaagen Moen, Ephraim; Helguson.

Subs remaining :- Doughty, Andrade, Hewitt.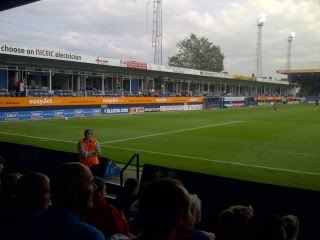 The R's started the half much the better of the two sides and really got some crisp passing together. Dyer and Buzsaky looked excellent in the centre of midfield and looked as if they have forged a real understanding together.
The R's were really threatening but if it wasn't for many poor first touches from Agyemang then we may have had even more opportunities to extend the lead on four or five occasions.
Rangers' did have the ball in the back of the net on a second occasion through Heidar Helguson finishing off with a sweet drive from 18 yards but the offside flag was raised and it didn't count.
Kieron Dyer, who was fantastic throughout the second half in midfield, was taken off on 72 minutes and was replaced by Michael Doughty.
Two minutes after Dyer was taken off, Luton drew themselves level.
Luton broke away down the left side and Morgan-Smith crossed for Barnes-Homer to head home from 6 yards out.
The Luton fans went crazy when they scored, anyone would have thought that they has won the FA Cup and not scored the equalizer in a pre-season friendly, was very funny from where I was standing.
Two minutes later and Luton came close to adding a second.
A swift breakaway saw Dance smash his effort on to the crossbar and how it stayed out I will never know.
Rangers' made their last two changes of the evening when Hill and Helguson made way for Andrade and Hewitt.
A minute after the substitution Luton put themselves in front.
Morgan-Smith chased Orr's back pass to Cerny and Cerny's clearance hit Morgan-Smith before bouncing into the empty net.
Five minutes later and Luton made sure of victory as Watkins shot took a deflection and found it's way into an empty net.
By now the Luton fans were swinging their shirts above there head and getting ready to celebrate with a street party down the dingy roads that lead to Kenilworth Road.
When the final whistle was blown the smug announcer said to everyone "Blue Square Premier Luton Town 3 Barclays Premier League QPR 1, I never realised pre-season friendlies meant so much to people these days. Next we'll find out that they are producing DVD's as a collectors item for the one and only time they beat Premier League opposition, in a friendly.
Fair play to them though, they did look good in the final 15 minutes of the game.
In summary, we had some positives to come out of the game. Firstly no-one was injured so we now have a full squad with a clean bill of health ready for Saturday's kick off. Secondly, Kieron Dyer in midfield tonight looked superb and we need to use him in a similar role if we are to get the best out of him. His class did show and he looks like a class act and if he stays fit we will benefit greatly from it. Coincidentally all three goals went in just after he came off.
Thirdly, I look like like of Gabbidon, he reads the game well, has a fair amount pace and can be a great signing for us. He could however be prone to the odd mistake but I hope I am wrong.
Lastly, the acquisition of DJ Campbell looks to be the perfect signing and is sure to become a real fans favorite almost instantly.
All I'm hoping for is that we find a system that will work for us and that can accommodate our best players in and not leave us so vulnerable at the back. We do look good going forward but its the defensive side that gives me the most cause for concern. If we do sign Ryan Bertrand on loan from Chelsea and the possibility of Jason Puncheon and Jermaine Jenas coming to Loftus Road then we do have a good chance of putting up a good fight on our return to the Premiership.
Luton Town:
Tyler, Gleeson (Watkins 64), Osano, Keane, Beckwith, Antwi (Asafu-Adjaye 64), Lawless (Lacey 90), Dance, O'Connor (Morgan-Smith 72), Crow (Barnes-Homer 64), Howells (Poku 90).
Subs:
Elder, Pilkington.
Goals:
Barnes-Holmer (74), Morgan-Smith (83), Watkins (88)
QPR:
Kenny (Cerny 46), Dyer (Doughty 72), Hill (Andrade 82), Derry (Ephraim 46), Hall (Orr 46), Gabbidon (Trialist), Taarabt (Vaagan-Moen 46), Smith (Connolly 46), Campbell (Helguson 46) (Hewitt 82), Bothroyd (Agyemang 46), Faurlin (Buzsaky 46).
Goals:
Campbell (1)
Attendance:
3,170 (621 QPR)