Jay walking into Loftus Road.
Finally after a long wait the R's have finally made a signing, yes its true!

After months of being linked with big money signings and high profile loanees possibly arriving like Joe Cole, Jermaine Jenas, Robbie Keane and Fabio Cannavaro, just to name a few.

Well today its finally happened, we have signed a striker, however no transfer fee is involved. Hardly a shock with the owners we have but let's get excited anyway shall we.
Jay Bothroyd becomes the first official summer signing for the R's and signs a 3 year deal with the club.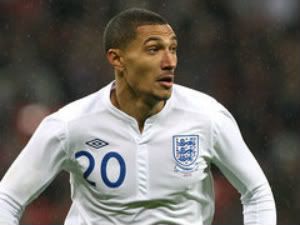 Bothroyd returns to the R's having been part of the clubs centre of excellence as a youngster before moving onto the Arsenal youth team.
Bothroyd moved to Coventry in 2000 and had 3 seasons there before moving to Italy and had a two year spell at Perugia before Blackburn came in and took him on loan in 2005.
Spells at Charlton, Wolves and a loan term at Stoke followed as Bothroyd struggled to settle at a club.
In 2008 Cardiff was the next destination for Bothroyd as they paid 300k for the strikers services.
It was this season that Bothroyd begun to show all the promise he showed as a youngster and had his best season to date.
With 20 goals to his name and an England call up in October behind his back in what was an eventful season in South Wales now Bothroyd is once again back in London and back home.
With Bothroyd back at his roots and now hitting the prime of his career we can be certain that Bothroyd will be doing all he can to let his talent be tested in the Premiership and hopefully add to the England cap he won last season.
Neil Warnock spoke to the Official QPR website and said the following.
"In bringing Jay in, we have managed to secure an excellent player which augers well for the forthcoming campaign.
"We have been chasing him for a number of weeks and it has been frustrating at times.
"We have had to have a lot of patience with this but, as the saying goes, good things come to those who wait."
Bothroyd is also the first England International that the R's have signed since Tony Currie in 1979.
Welcome to Loftus Road Jay and we hope you have a very successful time with us here!

U R'SSSSSSSSS!!!!!!!!!!!!!!