Slowly Faurlin Apart.
Today the R's went to StadiumMK for their first ever visit against MK Dons in the Third Round of the FA Cup.
Could Rangers' progress through for the first time in eleven years or would we suffer even more disappointment?
With Jess pulling out through illness and PK refusing to step foot inside the MK Dons stadium due to his Wimbledon connections the gang were slightly depleted for today's trip. Sam, Luke and myself set off at 12.30 on our journey across to Buckinghamshire in what was an easy and uneventful journey. The only thing to make us laugh was a dopey comment from Luke as we passed the Domino's warehouse opposite StadiumMK and Luke thought it was a massive shop...... bless him!
Upon getting to the entrance for the away fans I met up with Jenson and Lofty, who had brought along little Coral to her first away game and hoping that she would be a lucky charm for us today!
As we got onto the concourse we briefly met up with Michael for a quick catch up before bumping into Tony and Alan who had also made a short trip over to MK.
Five changes were made after last weeks Norwich game. Radek Cerny, Fitz Hall, Tommy Smith, DJ Campbell and Federico Macheda came into the starting line up for Paddy Kenny, Anton Ferdinand, Joey Barton, Adel Taarabt and Heidar Helguson.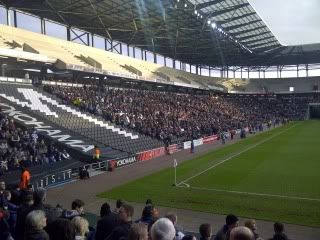 The first half started brightly as the R's created chances through DJ Campbell and Jamie Mackie both going close.
After the fifteen minute mark the game turned into a non contest and if I'm honest not a lot of interest was taken in the game by us as it really was a dire game of football.
On the 20 minute mark MK Dons thought they had broken the deadlock as Powell bundled the ball home from close range only to see that he had been flagged for offside.
Minutes later MK Dons were denied a clear penalty as Clint Hill slid to block a cross in by Powell and the ball clearly hit the outstretched arm of Hill, no penalty said referee Michael Oliver! Me, Sam and Luke all looked at each other admitting that we had got away with that, it would be interesting to see if we had got away with it in a Premier League fixture.
Just before the break DJ Campbell had a goal chalked off for offside.
At half-time we took a walk around the concourse and bumped into none other than our favourite QPR Press Officer Matt and its safe to say that he had drunk a drink or two! he general feeling at half time was that we were awful and really needed to buck our ideas up if we were going to win the game.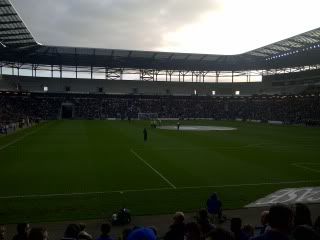 We got back to our seats just in time for kick off, I'm surprised we even bothered!
Things got slightly better and we really should of grabbed a goal when Macheda crossed from the left hand side and Campbell headed wide from three yards out.
With things not getting any better from our perspective, Helguson replaced Campbell on the in the 61st minute.
Three minutes later it was the hosts that took the lead.
Helguson tried to chest down and control a cross from the MK Dons right hand side, only to be dispossessed by Bowditch and the Dons striker struck home to give the home side the lead. It's fair to say that it was probably what the home side deserved.
Jay Bothroyd and Akos Buzsaky entered the game and as the game progressed into the 80th minute I can honestly say that the R's faithful were at a point where they had given the game away and were getting more pessimistic about proceedings.
If things could get any worse, they did on 81 minutes.
Alejandro Faurlin collapsed on the floor after putting his foot in on a challenge and landed awkwardly. You could tell that this was a serious injury as the R's stand in skipper was on the floor with his hands over his face and quite clearly in a lot of pain. Early indicatons that this could be a cruciate knee ligament injury and if confirmed then this could be the end of the season for Faurlin. Massive blow for us!
With Faurlin being stretchered off and all three substitutions being made, it meant that the R's had nine minutes plus injury time to try and get an equaliser with just ten men on the field.
Against all odds the miracle happened!
Helguson run onto a long clearance from defence, beat the Dons goalkeeper to the ball and headed it past him before taking control of the ball and turning before rolling the ball into the net! 1-1 and we really did not deserve it!
The replay of this game has been announced as being on the 17th January, just two days after our trip to Newcastle.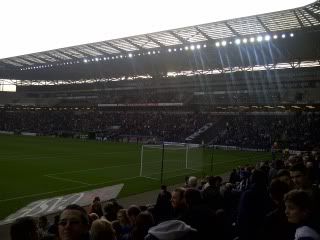 As you can tell by the lack of enthusiasm in this report, this was truly a terrible game and MK Dons failed to take advantage of what was a poor performance by the R's.
The performance lacked energy, enthusiasm and urgency. It was almost as if this was supposed to be an easy game for what was effectively our best eleven that we could pick. Last year we hassled teams an put them under pressure whilst creating so many chances as we were quick to break away and really damaged teams. The team we currently have lacked pace from the one we had last year. We played 4-2-3-1 all of last season and the three behind Helguson all had creativity and pace about them and we scared defences, this year the only pace in our side is that of Shaun Wright-Phillips and he does not get to play in his best position of right wing and is played either behind the striker or on the left.
In the second half Macheda was moved to the left wing which was very baffling and meant that we changed or formation from 4-4-2 to 4-2-3-1 and in all fairness it worked because he managed to find himself in more space and put in two or three brilliant crosses that just lacked the finishing touch in the six yard box.
It's evident to me that we need a quick, pacey winger like Junior Hoilett (who we have been linked with today) who will scare defences and create space for our other creative players. An out and out goalscorer is a must also, look at Yakubu of Blackburn. He's had 20 shots at goal this year and 12 of them have resulted in goals and thi s someone that was signed on a free transfer! Why not even look at Jordan Rhodes? A young striker with lots of flair and possesses the goalscoring ability that we lack currently and more importantly we can get many years of goals from him so why not try a £4-5million bid and tempt one of the countries best young prospects?
Defensively I feel that the targets being mentioned are exciting and if we can land two or three of them then we will certainly have a greater chance of keeping clean sheets in this half of the season.
Jay Bothroyd certainly isn't the answer to our need for goals, the lack of effort put in by him today when he come on was abysmal! He slowing jogged back when we were being hit on the counter attack and showed no attempt to help the teams cause and his only effort came when the ball was within two or three yards of him. When he did receive the ball his control was awful and the ball ended up three yards in front of him! He may as well play football in his uggs as he will probably be able to play a lot better then!
We need to get that team spirit and Warnock guile back into the team. We bust a gut to close people down and you could always see 110% was being given by the players yet currently you cannot see that and a few of them really need a kick up the backside!
As for hearing fans call for Warnock's head, I think that is a lot of rubbish and very fickle.
Warnock came in nearly two years ago and had a team that was struggling to fend off relegation to League 1 and just a year later we won the Championship and were clearly the best team in the Championship. We all knew this year would be a struggle with the players we took up with us and we would've all happily taken 17th place come the end of our first Premier League season.
Yet now all the money has been made available to the club our fans expectations have risen so much so that we are almost expected to be world beaters. We made a few good signings in the previous transfer window and will make another four or five more in this one that will (hopefully) preserve our status in the world's best league. In Warnock we should trust and if e do then we know we are in the safe hands of one of the best English managers in the country.
Moving onto
Man of the Match
. This was as tricky as its been all season due to the performance being so lacklustre. Only three votes cast as Luke refused to vote for this one. I pitched my vote for Mackie because of a hard working display and he never stopped trying. However with two votes from Lofty and Sam the winner today is
Shaun Derry
for he non stop running and effort towards the team cause.
QPR:
Cerny, Young, Hill, Hall, Gabbidon, Derry (Buzsaky, 77), Faurlin (84), Mackie, Smith, Campbell (Helguson, 61), Macheda (Bothroyd, 71).
Subs:
Murphy, Connolly, Andrade, Orr.
Goals:
Helguson (87)
MK Dons:
Martin, Smith, Lewington, Mackenzie (Kouo-Doumbe, 46), Gleeson, Potter, Bowditch, Williams, Powell, Ibehre, Chadwick.
Subs:
McLoughlin, Flanagan, O'Shea, Lobjiot, Alli, Collins.
Goals:
Bowditch (64)
Referee:
Michael Oliver
Attendance:
19,506 (*Stadium record)
I will return with my report from our game at St. James' Park on Sunday and hopefully I will be able to be a lot more positive on the game!
U R'SSSSSSSSSS!!!!!!!!!!!!!