Mason Does Bolton A Favour..........
On this Easter Sunday 2,700 R's fans (and 72,000 Man United fans) travelled to Salford to see Rangers' take on the 19 time English Football League Champions (do they shout about that enough??) Manchester United.
The Lofty Heights gang travelled in full force.
The gang departed in the usual two car formation with myself, Jess, Sam and Luke were joined by Jointy in my car as Jenson took a four strong team of himself, Lofty, PK and Ian in his car and we both took to the road at 8.15 to get a good head start on those United fans that would be heading up the M40 and M6 from the Surrey Hills.
Just over an hour into the journey we took a pitstop in the M6 Toll services as Jenson carried on up the motorway. Jointy was up to his usual antics when talking to a random R's fan whilst he was having a fag as the Rangers' fan swiftly left after Jointy had used the phrase "up there" in slightly the wrong context, the face on the R's fan was a picture before he sneaked off into the distance.
We then got back onto the M6 and proceeded to look to get back on the tail of Jenson and he decided to make a stop at Sandbach Services, where the group joined up and continued the rest of the journey in convoy.
We arrived at Old Trafford, the cricket ground, shortly after 11.20 and made our way to the bar which was open there. Jointy, Sam and Luke made their way to the ground as Jointy needed to pick his ticket up from the ticket office before he could enter the ground.
We got into the packed concourse an hour before kick off and met up with Lorna, Jack and Michael to share our optimism for the game, well that was until we saw the team selection.....
Bobby Zamora dropped to the bench as Joey Barton missed out completely as he was just a yellow card away from a two game ban. Those yellow cards get wiped away today (Monday) so he will be available now for the rest of the campaign, well that is if he does not get sent off or accumulate another five yellow cards.
Akos Buzsaky and surprisingly Jay Bothroyd were their replacements.
Having seen this it was clear that after yesterdays results that today was all about damage limitation whilst hitting United on the break.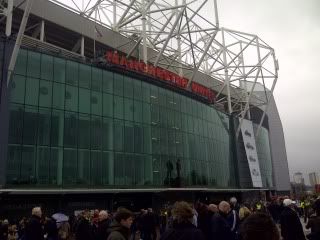 The opening ten minutes were all United as we struggled to gain any kind of possession. It was wave after wave of attack but with our defence being so tight and organised it just ended up being United passing around in our final third without taking any shots in anger at Paddy Kenny.
Just as it seemed that the R's had weathered the storm and started to string together some good passing football themselves, United got themselves a penalty in controversial circumstances (would you believe it!).
Ashley Young was a full yard or two offside before he gained possession and run in on the Rangers' goal. Derry put a hand on Young's back and he went down like Mr T had run him down in his tank before throwing a Snickers at his head and leaving Young on his arse and crying for a penalty. Before you knew it Lee Mason had his red card out of his pocket before you could say "Lee Mason is a Bolton fan".
The R's players were clearly annoyed by this because 1- Young was clearly offside,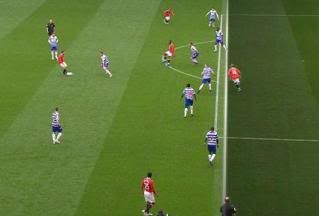 2- Young clearly dived, 3- Derry was not the last man as Onuoha was covering. Clearly Mason's agenda was to hinder the R's in an attempt to help his native Bolton and help United along to a comfortable victory and diminishing the R's goal difference.
Anyways, enough of me ranting......
Rooney stepped up and took a superb penalty and placed right in the bottom corner as Kenny got close to it, but not close enough.
With us being down to 10 men it effectively ended the game as a contest and not it really was about damage limitation.
Shortly after the sending off Rafael fouled Taarabt and clearly showed a massive amount of dissent as he jumped around waving his arms around in disgust but received no booking. Five minutes later he blatantly took out Taarabt and once again remained unpunished, now the frustration in the stands was beginning to set into the stands.
Rangers' did have a little spell to enjoy and we did have two corners to celebrate but United were in complete control.
At half time Jess and myself went downstairs and shared our frustration with Lorna and Michael but none of that was going to help us, we had 45 minutes to cheer on the team in hope that we would not have our pants pulled down and have our goal difference still in tact ahead of the two games against Swansea and West Brom.
As you would expect Man United came out and really bossed the game with Scholes really showing his class and pinging balls out wide, you would never of guessed that he had retired before the start of this season.
The R's defended resolutely throughout the second half with Paddy Kenny making several crucial saves and also the woodwork came to our rescue on more than one occasion. Anton Ferdinand and Clint Hill were keeping their impressive form at the heart of the defence as the R's somehow managed to keep United to their one goal advantage.
However on 68 minutes that advantage was doubled.
Taarabt failed to control his clearance and it went straight to Rafael. Rafael then laid the ball off to Scholes and with the R's failing to close him down quick enough he hit a dipping shot that just went under Paddy Kenny's outstretched arm and hit the bottom corner of the net. Great goal that is deserving of winning any game.
United continued to dominate the duration of the game and even the introduction of Wright-Phillips, Smith and DJ Campbell did not do anything to put the result in any danger.
United were clear winners of this one.
Again we come out of a game with another controversial talking point which has cost us a game which in all fairness none of us expected to get anything out of, however it would of been nive to of been given a fair chance.
I'm getting sick and tired of having to moan at poor officiating, however putting a ref from Bolton and a Bolton fan in charge of our game when we are in a relegation battle with Bolton seems very strange to me. I really wish I took the 4/1 on offer for there to be a sending off.
On to our
Man of the Match
. With two votes was Jamie Mackie for his tireless work rate. With three votes was Anton Ferdinand for a faultless display in the back four. However with four votes, today's Man of the Match is
Paddy Kenny
.
Two minutes after the final whistle the United fans soon emptied from the ground....
Whereas the R's fans stayed to applaud their team off the pitch......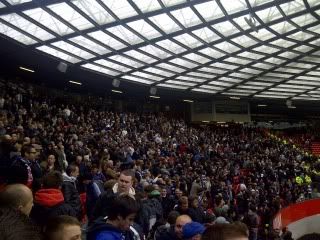 With most United fans having a 25minute head start on us you'd of thought that they would of filtered through to the M6 quickly but this was not the case and the traffic was a complete nightmare for us. Once we finally got going we stopped off at the M6 Toll services once again for some grub and stretched our legs before we parted company once more for our separate destinations.
We all arrived home safely some 12hours after leaving.
Lofty will return on Wednesday for his report against Swansea.

U R'SSSS!!!!!!