WBA - We're Bottom Again
Following a lovely Christmas with our families, the gang returned to Loftus Road hoping for a late present with 3 points and another victory to celebrate. In our way were high flying West Brom.
Today I took the journey from Jess' house with her dad Clive and Brother James making the journey with us. It was an absolute nightmare travelling along the M25 and took to the back roads, making our way through Woking, Addlestone, Chertsey, Staines, Hayes, Southall, Ealing and Acton before finally parking down the Thorpebank Road (hoping to avoid a parking ticket this time!) with half an hour to spare ahead of a delayed 3.15pm kick off due to traffic.
Lofty, Jenson and Lorna were all in the comfort of the Apex Rental box for this game so it was just myself and the returning Corp that were in our usual row, with also Pete behind us to keep us entertained during the game.
Sam and Luke made their own way to the ground as Luke was celebrating his 21st Birthday today, Happy Birthday!!
One change was forced upon Harry Redknapp was Ryan Nelsen falling under the flu bug and was replaced by Armand Traore. The other change made was Granero out for SWP.
The first half was a very dire performance from the R's, with West Brom and Mulumbu in particular running the show without really creating any clear cut chances, that was until the half hour mark.
Marc Antoine-Fortune's pass found Brunt in space as Taarabt had let him slip two yards in front of him and without breaking his stride the Northern Ireland International whipped his left foot and sent the ball flying past Rob Green into the bottom corner with no chance whatsoever!
This had come just after SWP made excellent progress down the right, beat two defenders (yes it definitely happened!) and delivered to the advancing Mackie, who in turn headed wide when it seemed easier to hit the target.
The 1-0 scoreline was probably a fair reflection on the game as Rangers' were poor for the majority of the half. Only M'bia looked like he could have a positive impact on the game, with the others getting frustrated a being unable to break down a well organised West Brom outfit.
The second half started a lot better than the first half and had a fantastic chance to level from a Taarabt corner in front of the Loft. The outswinger from the right found M'bia's head and unfortunately his effort from a full three yards out found Taarabt back out at the corner flag, where the Morrocan put another beautiful cross and M'bia was there again, only to put his second header wide!
West Brom went up the other end and doubled their advantage in controversial fashion.
The corner was headed back goalwards by Anton Ferdinand and Rob Green looked in complete control of the situation before Antoine-Fortune backed into Green, causing the R's stopper to flap at the ball and handle the ball into his own net.
How the Referee and Linesman missed this is beyond me! Last week we saw a foul given to West Ham when Everton scored and there was minimal contact on the West Ham goalkeeper, however Green was clearly held yet no foul was given! Where is he consistency in the Refereeing in this country?? It's a complete farce that once again we were on the receiving end of a s#!t decision. But what we didn't know was that there was more of this to come, as you will find out later.
On 65minutes Redknapp made some important changes as we looked to reduce the arrears. Diakite and Hoilett came on for Fabio and Faurlin as the R's changed to a 3-4-3 formation.
Within four minutes the changes had their desired affect.
Some good passing football resulted in M'bia sliding a perfect through ball beyond the West Brom defence and Djibril Cisse poked the ball over Ben Foster and gave the Rangers' faithful something to finally cheer about and give us all some hope.
The final 20minutes were tense as West Brom done all they could to waste time whilst the R's pushed and created chances, with Mackie and Taarabt testin Foster from distance before M'bia put another header wide.
In injury time the R's were denied their equalizing goal when Hill's header was cleared off the line by a combination of Foster and Mulumbu and cleared for another corner.
Rangers' were also denied a clear penalty when M'bia tried to square a header across goal and Ridgewell blocked the ball with his arm, which was above his head, as the ball went for a corner. The linesman was in a fantastic position to give the penalty as he had no obstructions in his way yet somehow failed to spot the infringement. Just about sums up the quality of officiating on show today, also what we have got used to seeing over the last few seasons as time after time decisions just continually go against us! It would be nice to see us get a consistent ref at Loftus Road that officiates a good game because I cannot remember the last time there was a good refereeing performance during one of our games.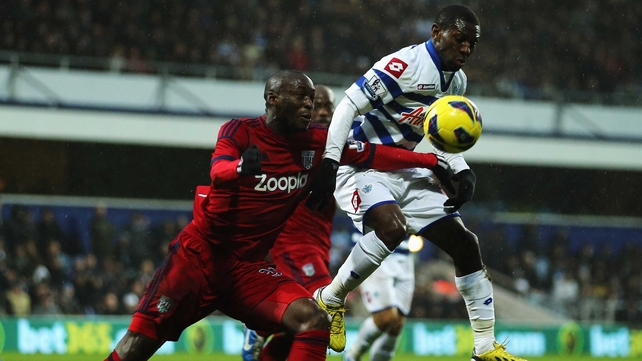 Unfortunately for us the second goal really did put ourselves against it today but we did wait until we went 2-0 down to really try to put a shift in and our main grafters of the day were Mackie and M'bia. Neither of these two stopped running all game and M'bia really impressed as he looked to get involved in everything and be at the heart of everything we created.
We have found ourselves left short by a poor piece of managing by our previous manager, leaving us with only 3 strikers in the squad of 25 and we only have one striker scoring for fun at the moment and he is on loan at Ipswich! Once January arrives we can welcome back a striker that will add some energy to our frontline and will bust a b@llock to get us out of trouble.
We also know that Mr Redknapp will also get rid of our underperformers that Hughes brought into the club and put on high wages, draining money out of the club faster than the water coming out of the Evian Mountain Spring! Players like Bosingwa will be pushed out of the club and the forgotten men like Luke Young will be given a chance to prove themselves and add some heart, desire and a will to win which we are so desperately lacking at this club.
Queens Park Rangers
01 Green

03 Traore

05 Ferdinand

06 Hill

20 Fabio

(Hoilett - 64' )

10 Taarabt

11 Wright-Phillips

32 Faurlin

(Diakite - 64' )

40 M'bia

Booked

09 Cisse

12 Mackie
Substitutes
33 Julio Cesar

02 Diakite

04 Derry

14 Granero

18 Dyer

28 Ehmer

23 Hoilett
West Bromwich Albion
01 Foster

03 Olsson

04 Popov

(Ridgewell - 35' )

23 McAuley

28 Jones

07 Morrison

(Tamas - 86' )

11 Brunt

21 Mulumbu

22 Gera

20 Lukaku

(Long - 76' )

32 Fortune
Substitutes
13 Myhill

06 Ridgewell

30 Tamas

17 Dorrans

08 Rosenberg

09 Long

24 Odemwingie
Our
Man of the Match
was a tight one this week with Mackie receiving one vote from Clive, Hill receiving two votes from Sam and Luke, however with three votes our winner today is
Stephane M'bia
.
Lofty will return with reports from the Liverpool, Chelsea and West Brom games over the next few weeks and I will be back for the Spurs game.
Until then I would like to wish you all a very Happy New Year and hopefully 2013 will be a much better one for all us R's fans!!

Keep The Faith!!!!!!!!

U R'SSSSSSSSSSSSSSSSSSSSSSSS!!!!!!!!!!!!!!!!!!!!!!!!!!!!!!!!!!!!!!!!!!!