A Royal Disappointment......
Rangers' looked to bounce back from Monday's nights no show at Derby as Reading visited Loftus Road as the Sky cameras once again came to spoil our party.
Jess and myself arrived at the usual parking place with just over an hour to go until kick off and we met up with PK before taking a walk down the Uxbridge Road and then met up with Lofty and Jenson. Within ten minutes the gang were in full force as Sam, Luke and Jointy joined us before heading in for a pre match natter ahead of a match that had a lot of pride at stake for Sam, Jenson and I.
The R's team had some much needed changes after Monday night with Hoilett, Traore and Keane coming in for O'Neil, Carroll and Johnson. In fact all three failed to even make the bench!
Before the match started both teams and the fans in attendance stood to give the legend that is Sir Tom Finney a minutes applause after the greatest product of English Football sadly passed away at the age of 91 on Friday.
Rangers' started brightly and enjoyed good possession without really threatening to break the deadlock, however when Reading had their first attack ten minutes in, they opened their account.
Slack defending saw Le Fondre have time to cross from the left wing and found Williams totally unmarked to head home past the outstretched arm of Green. The marking was atrocious with Assou-Ekotto having the choice of four Reading players to pick up as the rest of the defence just disappeared into thin air and gave away yet another soft goal.
Reading could've been two up minutes later as Williams yet again found himself unmarked but this time could only head his effort into the grateful arms of the R's number 1.
Rangers' got themselves back on level terms with twenty minutes on the clock.
Traore done superbly well down the R's left before drilling his cross into the path of Keane, who had his shot stopped superbly well by McCarthy before Pearce's attempted clearance at the loose ball came off Kevin Doyle and nestled into the back of the net. Doyle quite rightly celebrated his second R's goal in front of the Reading fans.
The R's took great confidence from this and nearly grabbed a quickfire second when Hoilett's effort was deflected by Gorkss onto the post before going out for a corner. Assou-Ekotto's perfectly whipped in corner was met by Keane and his header was directed inches over the bar.
Keane and Doyle looked to be forming a good partnership as the Man United loanee showed some excellent touches as he looked to play in his strike partner on several occasions but was just falling short on each occasion.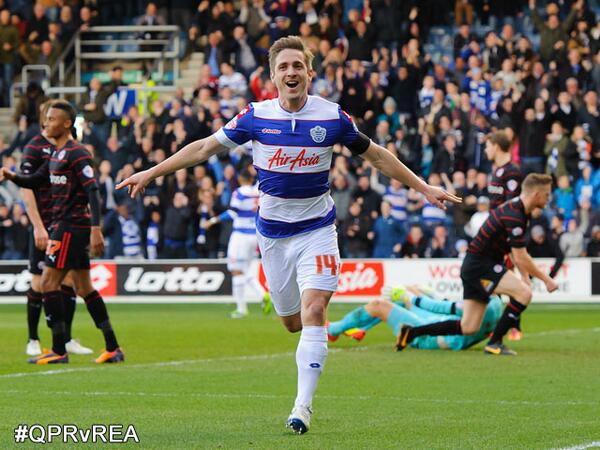 At half time we were all pretty confident that we could build on an encouraging end to the half and go on to win the game.
During the half time interval we also met up with birthday boy Michael who was enjoying a half time beer as a few insulting guesses were given as to how old is was before we found out that he is in fact a youthful soul.
As we made our way back to our seats Lofty took up a new seating position several rows in front of us with Laura, who also joined as at half time, and was given a bit of banter by the gang and the row behind us before we all shut up and let him enjoy the company he was in, little did he know what was to come..... more on that later!!
A good start is what the R's needed and that lasted all of ten minutes!
A Reading corner from the Rangers' right hand side was floated to the back post and there was Pearce totally unmarked to head home from close range and make the most of some more terrible defending.
Minutes later the final nail in the coffin was hammered in.
McClearly advanced on goal as Assou-Ekotto just kept backing off and backing off before McClearly unleashed a powerful effort from thirty yards out into the top corner. I hate to say it but it was a brilliant goal and worthy of winning any game!
With that being said Will Keane made way and was replaced by our knight in shining armour, Bobby Zamora! What does he do in training to get himself ahead of Maiga??
Rangers' continued to battle and when Hoilett's pinpoint cross seemingly looked to be destined for Doyle's head from a yard out, however the Irishman somehow failed to make any contact and the chance was wasted.
We were given a glimmer of hope when Gorkss was given a red card for his challenge on Hoilett as he looked to break away down the right hand side. Again I have to be honest and say that it wasn't a red card for me, yes the challenge was a little late but we've seen worse challenges than that this season go unpunished!
Despite Hoilett and Traore's best efforts to create any danger going forwards the game just drew out to the final whistle and Reading were the deserving winners.
With five minutes to go the person sat next to Laura in the rows in front of us started to take his frustration out on the fans around him like the idiot that he was before making the outrageous outburst "How many of you go away? You're not real fans......." With that being said Lofty had to be held back by Laura as PK, Jenson and myself soon shot up before being joined by the row behind us and many others around Block NU in telling the jumped up little prick to shut up as he tried to out all of us. It's amazing how a few shandies in a kid can begin to ruin an afternoon's football for everyone. It shouldn't matter whether you attend home, away or not, we all support the same team and need to get behind the team we all love, not take it out on fellow supporters and act like a complete c@nt.
He was rightly kicked out and has apparently a short stadium ban will be dished out, or so we've been told by the stewards after the game.
We are currently looking really out of sorts and have many loanees in the squad, much like we did a few years ago with the likes of Carl Ikeme, Marcus Bent, Tamas Priskin etc played like strangers and it's very much the same with the second half of this season.
We look at the second half and really wonder what Harry can do with the squad he has and the answer is not a lot. Unfortunately he's brought in a lot of players that lack any energy and pace that is so badly needed to be injected into this team. With the likes of O'Neil, Benayoun, Krancjar, Henry, Jenas, Carroll around the midfield and the width coming from Hoilett, Traore and potentially SWP, we really do like any pace when we break forward.
I have to say as well, a lot of people called for 4-4-2 this season however since we have played it we look very weak in midfield and we do not control game the way we have previously this season. I would love to see us go back to the 4-2-3-1 formation that we have been used to seeing over the past few seasons as it gives us more protection in front of what is a frail defence at present and if we play with two pacy wingers in Hoilett and Traore we will look more of a threat going forward as well.
Mistakes have been made in the transfer windows and we now have to do our best with the squad we have at present, with a potential 8th loanee in Ravel Morrison to come in on Friday and provide the firepower he need from the number 10 position.
Man of the Match time. This week we see another landslide vote with
Armand Traore
being the shining light in a terrible performance as his attacking threat looks to be creating plenty of trouble for opposition defences.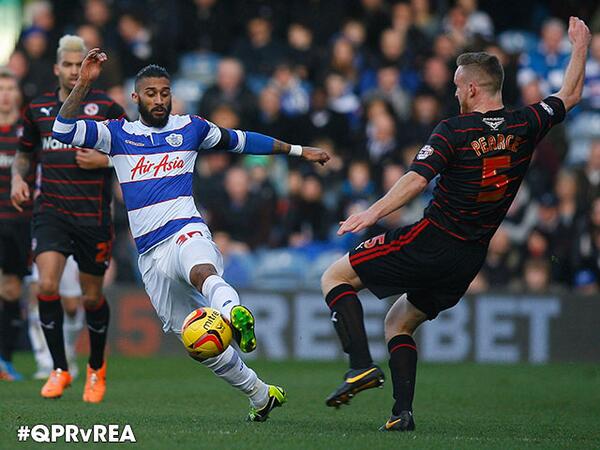 Lofty will return next week as we make the short trip down to The Valley as we take on Charlton.