Not Very Draw-matic.....
The R's returned to Loftus Road hoping to recover from last week's atrocious performance at Charlton. Our visitors on this occasion were none other than the Champions of Europe(cough), Leeds United, with the added joy of the SKY cameras once again being in attendance to attempt to continue their curse on us.
The gang, which consisted of Jess, Sam, Luke, Lofty, PK, Jenson and myself were joined also by Nik, assembled just outside the Upper Loft entrance with just over half an hour left before kick off as we made our way in for the usual pre match banter and review of current performances, which have been shocking as we all know! We were joined by Michael and Paul during the course of the pre match build up.
Surprisingly only one change was made to the losing side last week as Karl Henry replaced the ever disappointing Tom Carroll.
Rangers' started the game very tentatively as they looked very nervous against one of Europe's giants(cough) and it was Leeds that were given the first opportunity to break the deadlock.
Good link up play between Leeds loanee Connor Wickham and Ross McCormack saw the latter breeze past Dunne and poke the ball in front of the R's defender before being taken down for a stonewall penalty, or so it looked from my position. I'd be very interested to see this one again as several of us thought it was a penalty, however there are those who argue against it being awarded. We shall see later on in the highlights!
McCormack himself brushed himself down and very tamely bobbled his effort towards the bottom left of Green, who gratefully smothered the ball.
Just minutes later Leeds were given the second opportunity to open the scoring and this time duly obliged. Chris Foy awarded a free kick after Traore was adjudged to of fouled a Leeds player when it seemed clear that he got a large piece of the ball and fairly.
However that man McCormack stepped up once again to this this curl his free kick around the R's wall and into the left side of Green's goal with him being rooted to the spot. A very good free kick in all fairness, just very frustrating that is came from what looked like a contentious decision.
Rangers' did struggle once again in the midfield area as Austin and Murphy of Leeds continued to pile the pressure on the R's midfield and almost run proceedings for the opening half an hour of the game.
The final fifteen minutes of the half saw the R's try to play more like their usual selves as we saw more of the ball being knocked around on the floor with more movement coming from our wide players Hoilett and Traore and once they switched wings we saw a lot more success from our wingers providing more service for Doyle.
Morrison was enjoying a lively half also as his attacking runs from the halfway line made the Leeds backline back peddle quickly, however on many occasions we saw Morrison take on one player too many before losing the ball and putting us on the back foot. Morrison himself was involved in the R's best move of the game as Traore linked up with Morrison before a neat piece of trickery played in Doyle, who in turn presented a great opportunity to Jenas, but his header wasn't timed well as his header looped into the arms of Jack Butland.
A minute before half time the scores were levelled!
Doyle showed great strength on the edge of the penalty area before he laid the ball off to Jenas, who in turn stroked home from twenty yards out and relieve some of the tension within Loftus Road and give the home fans some belief finally!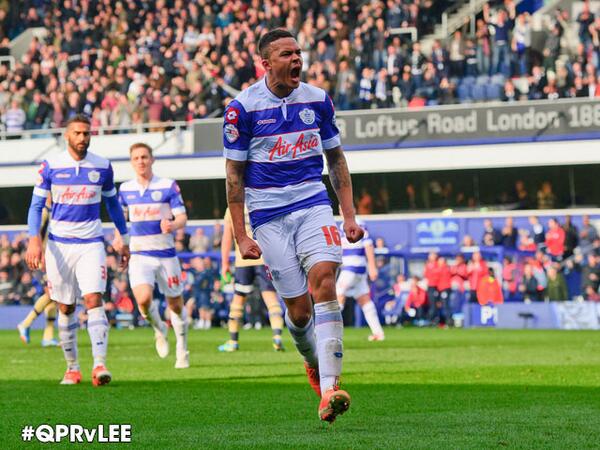 The goal just before the break made the interval more enjoyable that's for sure and was pretty much a fair reflection of a half with few clear cut opportunities for either side.
Just minutes into the second half Rangers' could and should've taken the lead through Traore as he latched onto Morrison's through ball to go one on one with Butland but found the Leeds 'keeper too good to beat on that occasion.
Wickham carved a chance out for himself just after the hour mark as he managed to beat Dunne before shooting across goal and saw his shot slide just wide of Green's far post.
From this moment on there were very few chances created by either side as Leeds looked happy to settle for a point in the end, however they were not put under any great threat from the R's front line as Keane's arrival in place of Hoilett did nothing to inspire us in front of goal despite his hard workman like performance.
All in all a draw was a fair result for both teams as the contest fizzled out in the final half an hour as both teams looked too scared to over commit and potentially make the mistake that would lose them the game. The Leeds fans were in fine voice, well those that travelled anyway(decent for a 12.15 kick off though), as they sung all of 4 songs throughout the 90 minutes with a few in the crowd wearing yellow suits, what is all that about?? All that being said, they made more noise than we did all game..
One other thing.... can SKY just leave us alone??? They seem to want to ruin our season whenever we look to be putting in half decent performances in our quest to gain promotion. We've not won a home game whilst being on the TV this season and in fact we've only won two out of our nine games televised on SKY, which were our first two against Bolton and Leeds. #BuggerOffSky
On to our
Man of the Match
. A majority vote has seen a landslide decision as Lofty voted for Nedum Onuoha, PK voted for Rob Green but with votes from Jess, Sam, Luke, Jenson and myself our winner today is the R's Air Asia Player of the Month
Armand Traore
for being the most threatening R's player on the pitch and being at the heart of anything we done right on the day.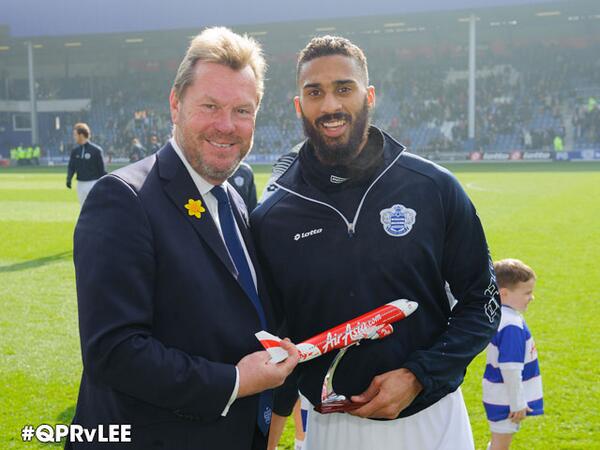 Lofty will return next week as we head into a quick double dose of away games versus Birmingham on Saturday and Brighton on Tuesday.