Rangers' Enjoy a Bit More Rob of the Green.........
Tuesday evening the R's looked to continue their winning ways having been fortuitous at Middlesbrough courtesy of the bobble late in injury time as we played hosts to a team very much in form, Wigan Athletic.
With this being an evening kick off the gang were slightly depleted as Sam looked after her twins and PK attended his work duties. Jess missed the opening 20 minutes of the game due to train issues. Lofty, Jenson and I all met up at the usual parking area before heading to the new Jerk Chicken van which is now at the end of Sawley Road and sampled the new flavour on offer from there. I have to say we all highly recommend it for food, it was certainly appreciated by us three and they will certainly get more custom off of us in the future!
We then took the short walk down to the box office to meet Luke and Trev for a catch up before we entered the ground to take up our usual positions as we then met Michael and Zach who kindly let us know what happened at Boro on Saturday and rubbed in how we missed out on seeing Zamora's wonder goal.
Two changes were made to the starting eleven from Saturday as Richard Dunne returned in the place of Saturday's Man of the Match Yun Suk-Young. Also there was a starting place for the rejuvenated Bobby Zamora in place of the ineffective Will Keane.
Rangers' started the opening exchanges well and always looked threatening down our left hand side with Clint Hill almost playing the role of a wing back, however Wigan were also looking extremely dangerous on the counter attack, with McClean's pace and trickery always threatening to turn Dunne and Hill inside out as he beared down on the R's defence on the counter attack.
It was Wigan who come the closest first of all as Chelsea loanee(or reject as we like to call him) Josh McEachran's free kick fizzed just wide of Rob Green's left post from 20 yards out.
The deadlock was broken on the quarter hour mark in what was a great team move by the R's.
Carroll's corner was cleared out to Barton, who was 30yards from goal. Barton then thumped a cross field ball to Kranjcar, who controlled the ball on a sixpence before threading the ball to Carroll. He then pulled the ball back into the path of Clint Hill, who then superb back heeled the ball past the Wigan defender and into the path of Yossi Benayoun who slid well before poking home past Ali Al-Habsi to get the all important first goal of the game.
This did very little to break the spirits of the visitors who looked to get back on level terms and continue their 10 game unbeaten streak.
James Perch was next to take aim at the R's goal but only found Green in good form as he beat the ball away to safety.
Wigan came even closer just past the half hour mark as Collison wriggled free down the R's right side of defence and saw his shot hit the legs of Green before the R's goalkeepers trailing arm prevented the ball rolling into the back of the net and out for a corner instead.
The final let off of the half came when McClean broke clean through to be one on one with Green and took one too many touches before firing the ball across goal and wide of the far post, massive let off!!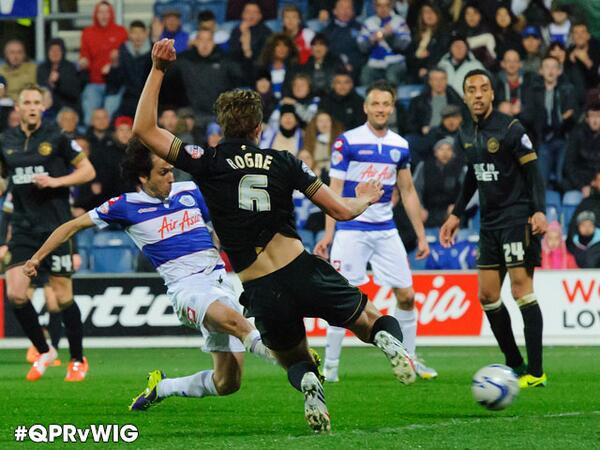 At half time there was a pleased gang as the R's performance showed the grit and determination that had previously been lacking in our performances. We were saved on many occasions by Nedum Onuoha and Clint Hill as they swept up any potential Wigan attacks that were threatening. The R's were also very grateful to Rob Green and the five saves he was forced to make in the first half. We also saw flashes of effortless brilliance from Ravel Morrison that gave us the attacking impetus as we looked to break on the counter. The one that sparked debate in the half time discussions was the performance of Tom Carroll. Lofty and I were full of praise as he was enjoying his best half of football for us in a long time, however Luke and Trev were not as convinced as us.
Onto the second half and Wigan picked up exactly where the first half ended, with the visitors in clear control of the game and if it wasn't for some desperate yet effective defending from the R's then we could've found ourselves back on level terms.
Five minutes into the second half and it was very nearly all level as Ramis header looped towards goal before hitting the top of the crossbar!
Rangers' finally started to find some rhythm past the hour mark and had a glorious chance to double their lead as Zamora broke clear of the Wigan defence and had all the time in the world to pick a place for his shot to end up, however he took too much time despite being one on one with Al-Hasbi. He ended up teeing up Benayoun, however his shot was blocked by the Lactics defence.
It wasn't until this point that we realised that Gary O'Neil had actually come on at half time for Niko Kranjcar.
Rangers' again presented them with a great chance to extend their lead as Aaron Hughes' cross was met by Benayoun, however his effort sailed over.
The game was becoming increasingly stretched out and just when it looked like McClean had squirmed his way through on goal once again it was that man Hill that made a perfectly timed challenge to deny them of what would've been a certain goal.
Then came the turn of Ravel Morrison as his free kick, after Barton had been fouled, was struck beautifully before beating Al-Habsi, only to smash the underside of the crossbar and bounce as far as Zamora, who could not convert into a partially open goal.
As the game entered injury time Jordi Gomez attempted to run at the R's defence from deep in midfield, however as he ran across Benayoun he decided to take an easy tumble under minimal contact which earned Benayoun his second yellow card and sent for a slightly early bath.
There was still time for one more Wigan attack after this when substitute Nicky Maynard looked to of placed his header wide enough of Green, however the R's 'keeper flung himself to his left to pull off a stunning save and protect the three points for the R's.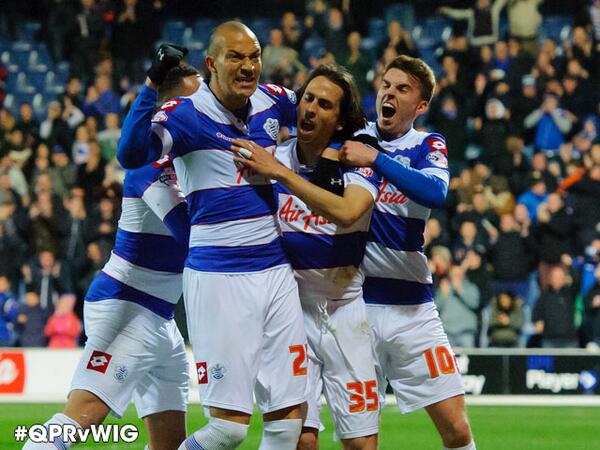 Usually I would make a sarcastic comment amount small travelling away support, however I will applaud the 200-300 travelling fans that made the long trip to Loftus Road on a cold Tuesday night. They certainly done their best to get behind their team.
I can quite easily say that had the game ended in a draw then it would've been what Wigan warranted as they are a very good side that plays good attacking football which was coupled in with hard work for once another, you can see how they went 10games unbeaten. They will definitely be in the play offs come May if they continue playing in the fashion in with. They have a great manager who will to good things to the club as well.
Man of the Match
time now. Mentions go to Bobby Zamora for his hard work and really putting a shift in over the course of the 90 minutes. Nedum Onuoha are also worth of mentions from us, however a vote from Jess for Clint Hill's immense defensive performance. The remainder of the votes are a clean sweep from the gang tonight means our Man of the Match is
Rob Green
who made countless saves in order to keep us in the lead and bringing the three points home.
I shall return on Saturday as we look to continue the good run of form when Blackpool visit Loftus Road.