Wat It's Like To Be Lucky!.....
This afternoon the R's played host to a Watford side that still had play-off aspirations this season having enjoyed a good win against Ipswich in their previous outing. The R's were looking to gain confidence having resting the majority of the first team at Leicester on Saturday. What R's side were going to turn up today??
The gang assembled outside the Blue and White bar before kick off and we were extremely pleased to see that Redknapp had decided to take this game seriously, with a strong and attacking looking side being picked against a Watford side who have shown good form as of late. The selection actually left Jess, Sam, Luke, Lofty, Jenson, PK, Jointy and Lorna all feeling that this was going to be a good three points earned come the end of the ninety minutes and definitely a momentum builder going into the final two games of the season before the play-offs.
For Lofty, Luke and myself this game had a bit of pride resting on it, with friends and work colleagues being Watford fans, so we were all looking for a positive result, especially me with my boss being a Watford fan!!
The team was much changed from the Leicester game, as previous stated, with eight changes being made.
Out went Hughes, Yun, Assou-Ekotto, Henry, O'Neil, Kranjcar, Benayoun and Maiga making way.
Starting Eleven (3-5-2) - Green; Onuoha, Dunne, Hill; Simpson, Barton Carroll, Morrison, Traore; Doyle, Austin.
As you can see above we strangely lined up with a 3-5-2 formation that has previously seen us lose 1-0 at Charlton and draw 1-1 at home to Blackpool, with the team looking like they had no clue on how to play the system, lacked any width and lost the midfield battle.
Well much of the aforementioned was on show today, with Simpson and Traore not being at all comfortable as wing backs with no support in front of them and once the ball was played in behind them there was no idea who should cover, leaving us exposed both out wide and in the centre of midfield.
This meant that Watford, who were passing the ball around at ease, enjoyed the lion share of possession and were looking the most likely to create any decent scoring opportunities, whereas we were happy to play on the counter attack, without really posing too much of a threat.
Doyle and Austin were working hard up front but with a lack of service coming into them, it was always going to be a long afternoon for them.
With the visitors on top, it still took them fifteen minutes to get their first real chance on goal when Deeney's effort was well saved by Green as he tipped it around the post.
For the first time in five games it looked like we had actually practised defending corners, well it was either that or Watford were terrible at set-pieces, if anything I think it was the latter of the two!
The visitors were then gifted a glorious chance to open the scoring as Dunne was easily dispossessed by Deeney, who then played in McGugan but the former Forest midfield could only blaze wide when it was easier to hit the target.
On the stroke of half time the R's finally forced a save out of Almunia as Tom Carroll's free kick was beaten away by the Spaniard.
At half time it was a very different atmosphere amongst the group in the interval as the half that we witnessed was far from entertaining from a home perspective and was a matter of time until Watford carved out a decent chance and punished us for it. It's clear to see that 3-5-2 is not a system that works for us and has been used in order to accommodate Dunne and Hill alongside Onuoha, however this does leave us wide open in midfield and means we lack any attacking width, something that has been a strength of ours and with Austin back leading the line we need to ensure we are providing the service that he needs to fire us to being victorious.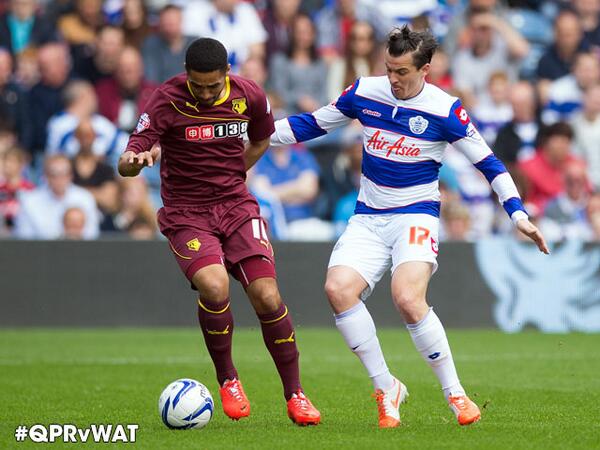 The second half continued in the same vain as the first half and we had not learned any lessons from the opening period and within five minutes Watford capitalised on their pressure.
Deeney flicked on to his strike partner Ranegie and he turned Dunne inside and out before striking across Green into the bottom corner to give Watford a deserved lead.
Watford them seemed to be happy to contain the game and allowed the R's to gather a bit of momentum and apply some pressure on their defence for the first time in the game.
On the hour mark Rangers' nearly got themselves back in the game when Austin's brilliant header was hacked off the line when it seemed to be a certain goal.
With twenty minutes remaining Redknapp gambled as he made a double change with Doyle and Simpson making way for Zamora and Hoilett. Frustratingly we continued to play with the same formation!!
As Watford continued to stand off and allow us to grow into the game it meant that Morrison was having more of an influence in an attacking sense and was looking like the likely source of an equalizing goal.
It was Morrison who was fouled on the edge of the box with fifteen minutes to go that gave the R's a fantastic opportunity to level the game. From a central position, twenty yards out and a five man Watford wall to contend with, it was Joey Barton who stepped up to take responsibility. Austin placed himself just on the right side of the wall and as Barton begun his run up, Austin dragged the defender on the end of the wall away and Barton curled his shot through the gap and past a helpless Almunia.
The goal sparked a bit of life into the Loftus Road crowd who had been quiet for the vast majority of the game. The Watford fans on the other hand were very vocal throughout and tried to create an atmosphere on their own, however it all went very quiet once Barton's goal went in.... woops!
All joking aside, the lead nearly lasted all of thirty seconds and it took a brilliant goal line clearance from that man Nedum Onuoha to ensure that we had a stranglehold on gaining a point.
Despite Watford needing a goal to continue their push for the a play-off place there was not the urgency that we thought they would bring to the closing stages and in all honesty it was Rangers' that looked the more likely to win the game in the final five minutes.
Hoilett and Morrison continued their recent good form and were the ones who looked like they were going to create an opening for the winner and they did not disappoint.
The R's counter attacked and were four on three with the Watford defence as Morrison run from deep before playing in Zamora, who was dragged to the floor for a certain penalty however that was waved away and within seconds of the decision being waved away Austin had collected the ball once again, turned and then curled a sumptuous effort into the right corner with Almunia standing no chance whatsoever and the three points were wrapped up!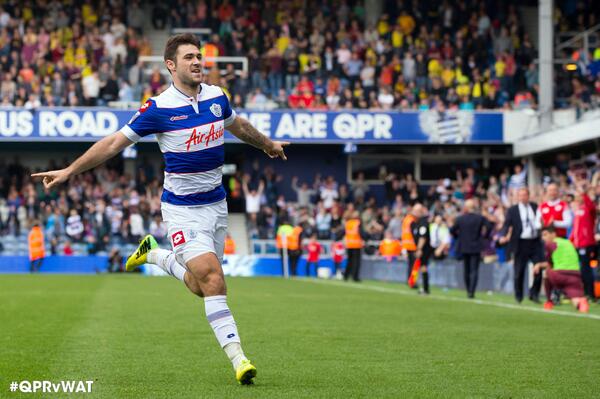 You have to say that Watford definitely deserved something from the game, however we've played better than that this season and lost, so I'm not going to shed any tears for them as I'm sure they wouldn't feel guilty if they had produced the smash and grab that we have.
It was far from vintage, very gritty but we are definitely going to have to do better than that once the play-offs come around in a few weeks time.
I will most definitely be enjoying catching up with the Watford fans at work tomorrow, although I do expect them to be very quiet it the morning!!
This win meant that Jointy had seen us score whilst he was sitting in the Loft for the first time in six games and this was the first victory he had seen when sitting in the Upper Loft for over two years!! Sweet!!!
As for the Watford fans, I'm not sure what it is you hold against little ol QPR, we're from London and you're from Hertfordshire so it's not a London Derby we partake in, we just enjoy the banter you bring. Maybe you can take your anger to Luton as you'll be playing them in a few seasons......
Onto our
Man of the Match
. Quite a one sided contest here. Lofty voted for Morrison and his excellent second half performance, Sam and Jess voted for Onuoha and his superb defensive covering for our old boys in defence. All remaining votes from Luke, Jointy, Jenson, PK and myself all went to the ever reliable
Joey Barton
for putting in a massive shift in the centre of midfield and being a leader when all was not necessarily going well for us, the man was immense!!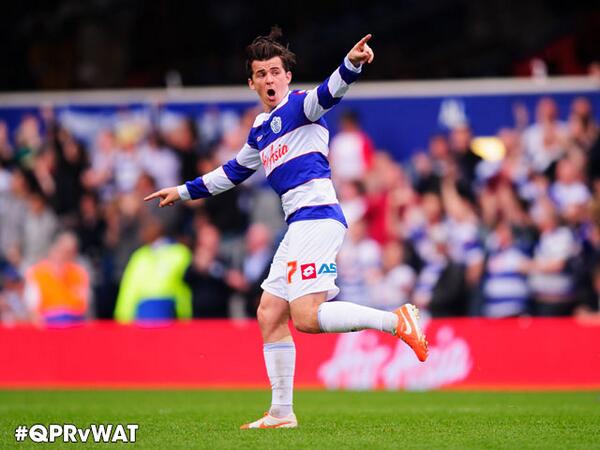 I will return next weekend after the Millwall game, providing I stay alive after their visit to Loftus Road!