Rangers Give Us Three Points for Christmas...
QPR 2-1 Colchester

A quality double strike from Akos Buzsaky ensured that Rangers won't be spending Christmas in the bottom three, in a game where the R's started with a sprint, but ended up hobbling over the finish line. But at the end of a 'must win' game, I am sure that Rangers fans everywhere will agree that today, the result was ultimately more important than the performance.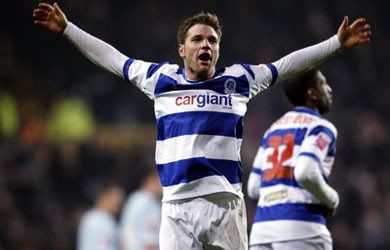 Not surprisingly, after another positive week in the media, the talk around Loftus Road was mainly about the latest investment from the Mittal Family, which ultimately led to the slightly amusing chant/s of

'1-0/2-0 to the billionaires'

, from the Rangers faithful.

Onto the game and Rangers dominated for 52 minutes and following plenty of chances, had what seemed, a comfortable 2-0 lead. Akos Buzsaky continued his one man crusade for the goal of the season award and struck twice. His first on 27 minutes, saw him recieve a throw, steal a yard on the defender and then struck a superb left footed drive into the top corner.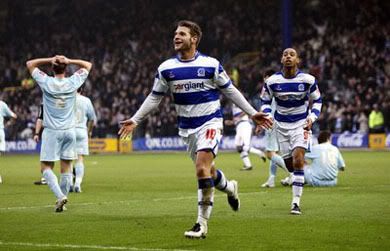 The second, was a superb, slick, footballing move. The impressive Rowan Vine raced 40 yards before laying the ball to Blackstock, who in turn layed in Buzsaky to calmly slotting the ball past the keeper. It was then surely the cue for a 3, maybe 4 nil victory... but far from it.

Rangers went to sleep for 10 minutes and simply let Colchester back into the proceedings. Mark Yeates pulled a goal back with a tidy finish on 62 minutes and from there on in, Rangers struggled to get out of their own half. Desperate defending and yet again, Lee Camp kept the visitors at bay but we held on, despite the going down to 10 men for the last eight minutes after Damion Stewart received his second yellow card from the quite awful referee, Mr D Whitestone.

QPR: Camp, Barker, Stewart, Bolder, Blackstock (Nygaard 75), Buzsaky, Ainsworth, Malcolm, Vine, Rehman, Leigertwood (Walton 83). Subs: Cole, Moore, Balanta.

Lofty's Man of the Match - Akos Buzsaky, who's goals today would have graced any stadium and were worth the admission money alone.

In summary, I guess we can forget the majority of the second half and be thankful for the 3 lovely points. But I have to say that it was more than disappointing to see Rangers sit back and let Colchester come at them, when they were definitely there for the taking. But hey, it's Christmas and instead of picking bones out of the performance or another diabolical referee, I am more than happy to take the early present of 3 points.

Finally, whilst I am on the subject, I would like to wish you ALL a VERY HAPPY CHRISTMAS and here's to what is going to be an EXCITING 2008!!