Rangers Sting the Hornets...
Watford 2-4 QPR

The injury time defeat against Plymouth on Boxing Day became a distant memory, as Rangers turned the Championship table upside down. Football supporters everywhere experience a rollercoaster of emotions whilst following their teams all over the country and moans and groans become all too familiar in many an after match discussion. But every now and then, your team will give you something to make everything else worthwhile and yesterday's win over second placed Watford was one of those times - in a game where being there felt like an absolute privelage and made you feel very, very proud.

But before the game, it seemed like anything but, especially when the R's team was announced - Buzsaky, Walton and Vine dropped to the bench and a VERY strong rumour (which didn't happen) of Marc Nygaard playing centre back! This news soon had Rangers fans furiously adjusting their betting slips.

But the sold out Rangers end needed not to worry as Rangers gave their best performance of the season so far in a game that will live long in the memory. Instead of the normal match report, I will just briefly run through and give a pictorial view of the events...
13 minutes - Watford 0-1 QPR - Dexter Blackstock was felled in the box by Jordan Stewart and Martin Rowlands tucked home the resulting penalty - and yes, I finally got a Rangers goal photo!!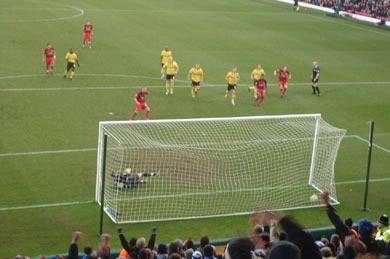 29 minutes - Watford 0-2 QPR - Damion Stewart headed home Rowlands near post corner.


40 mins - Watford 0-3 QPR - the goal of the game - Bolder, Rowlands and Balanta excahnged passes before the teenager touched back to Rowlands, who took one touch to control the ball and then lashed a fearsome left footed drive past the sprawling Lee.

52 mins - Watford 1-3 QPR - Damien Francis headed towards the goal from close range, Rehman's clearance hit Camp for the ball to ricochet into the net for an unfortunate owl goal - this despite a friend who wasn't even at the game, insisting by text that it wasn't an own goal at all.

82 mins - Watford 1-4 QPR - a fine passing move saw Rowlands feed Buzsaky, who rounded the keeper and drilled home from a tight angle for his 6th goal for the club.

85 mins - Watford 2-4 QPR - former R's hero, Dan Shittu smashed the ball home from close range for a small consolation for the home side.
QPR: Camp, Barker, Stewart, Bolder, Blackstock, Ainsworth (Vine 63), Rowlands, Malcolm, Rehman, Nygaard (Walton 92), Balanta (Buzsaky 74). Subs: Cole, Moore.

Lofty's Man of the Match - Martin Rowlands - an outstanding performance!!

If there was any disappointment, it was that Dexter Blackstock was denied a goal that was so deserved by the Rangers front man. But that was it!! What a fantastic day and a great way to say goodbye to 2007!

With that in mind, I would like to take this opportunity to thank you all for your continued support and wish everyone a VERY HAPPY and EXCITING 2008!!!