Happy New Year...
QPR 3-1 Leicester

Rangers got 2008 off to a perfect start, with a both impressive and comfortable win over former gaffer, Ian Holloway's Leicester. All things considered, 6 points out of nine over Christmas was a good return and this result and performance was the perfect warm up for Saturday's FA Cup tie at Chelsea.

The only thing with a New Years Day fixture, is that the crowd seem very subdued, no doubt following the previous night's celebrations. So I guess that the resident drummer in Q Block, wasn't the most popular man at Loftus Road this afternoon!? The talk amongst the supporters before he game was not only the impressive win at Watford, but also, the visit to Stamford Bridge next week. But the result today over fellow strugglers was just as important and the 3 points from Saturday would mean little if we were to lose today.

Typically, there were two new strikers starting against us in the shape of Steve Howard and the most annoying player I have ever seen play. Having already had to endure his moaning and groaning twice already this season, it was somewhat disappointing to see Barry Hayles line up for the Foxes and continue his love affair with Ian Holloway.

But any concerns were soon blown away as Rangers went onto to dominate the first half - and the now prolific Damion Stewart's header from Akos Buzsaky's corner, gave Rangers the lead after a quarter of an hour.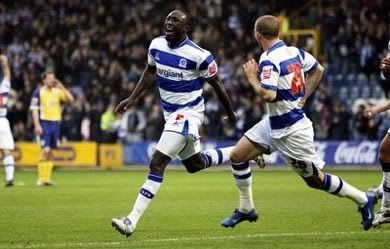 Rangers extended their lead on 27 minutes when Dexter Blackstock, who so deserved a goal at Watford, must have thought he had got his reward - the R's striker headed Vine's across towards goal but Adam Bolder nodded the ball home from close range to make it two nil.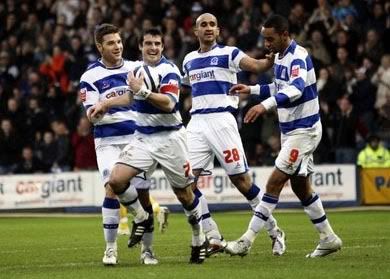 Despite a bright start to the second half from Leicester, Rangers made the points safe on 56 minutes and Dexter Blackstock, finally got the goal his recent performances have deserved! Vine was again the provider from the left, beating his man twice before crossing for the R's number 9 to power his header home from close range.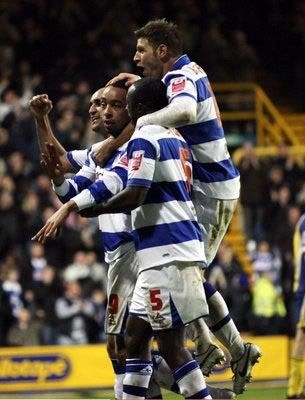 Just a minute later, Leicester pulled on back with a superb free kick from Iain Hume and as the game progressed, Howard hit the post and Camp saved brilliantly from Fryatt late on. But in truth, Rangers were pretty solid and held on more than comfortably.

QPR: Camp, Barker, Stewart, Bolder (Nygaard 74), Blackstock (Walton 92), Buzsaky, Ainsworth (Mahon 67), Rowlands, Malcolm, Vine, Rehman. Subs: Cole, Balanta.

Lofty's Man of the Match - Rowan Vine was outstanding on the left for the R's and Buzsaky again, was involved in just about everything. But for his performance and needless to say, his goal, today's accolade goes to Dexter Blackstock.

Well, to sum up, this was pretty much a perfect start to what is bound to be an exciting 2008 for QPR - and with 4 wins in the last six games, we have finally started to find a bit of form. There are going to be plenty of new faces arriving over the next few weeks and as mentioned, we travel to Chelsea next weekend in the cup. All in all, it feels pretty good being an R's fan at the moment :-)