Rangers and Were Proud of It!!!!
Chelsea 1-0 QPR

Rangers bowed out of this seasons FA Cup, but did so with their heads held high, as a fluke goal proved to be the difference between the two sides on the day. But the R's performance against Premier League opponents, was not only impressive, but made the future look very bright indeed and I have no doubt whatsoever, that the 6,000 plus Rangers fans left Stamford Bridge feeling very, VERY proud!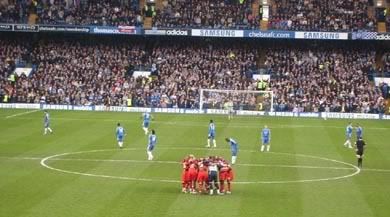 The winning goal came in the 29th minute - Pizarro's low drive came back off the foot of the post and with Lee Camp diving full stretch, the ball bounced back and ricocheted off his side before spinning over the line.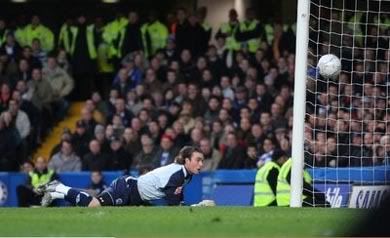 But overall, Rangers pushed Chelsea all the way, and to see Didier Drogba killing time at the corner flag in injury time, spoke volumes for the Rangers performance. I know Chelsea are our local rivals, but let's not forget that they are also a top five Premiership team, who haven't lost at home in 2 years - and we were beaten by a lucky goal and more than matched them today! Also, as expected, the Rangers support was fantastic and we certainly showed our neighbours just how to support a football team and on today's evidence, boy do they need showing!!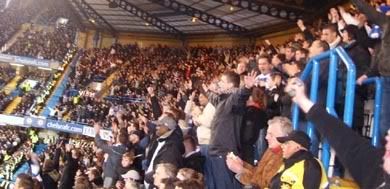 Instead of writing the normal type of match report, I will continue by posting a few pictures from what was a memorable day...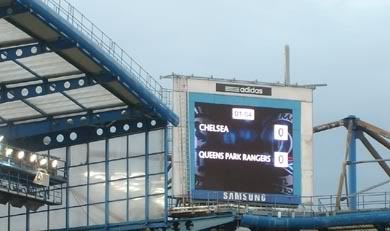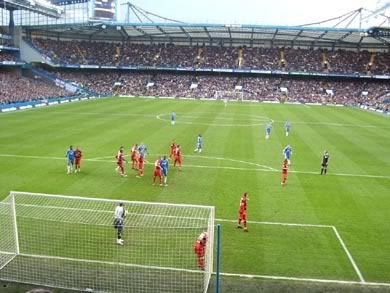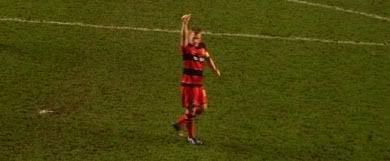 QPR: Camp, Barker, Mahon, Stewart, Blackstock, Buzsaky (Lee 50), Ainsworth (Agyemang 46), Rowlands, Connolly, Ephraim (Balanta 66), Hall. Subs: Bolder, Walton.

Lofty's Man of the Match - well, all the way home, I have been racking my brains and trying to get the gangs opinions - but after all that, I just cannot divide the two choices I have made so will award it to both of them - Martin Rowlands and Gavin Mahon.

Special mention must also go to debutants, Matthew Connolly and Fitz Hall who had tremendous games and when he came on, Patrick Agyemang looked like he could be a real handful!

Anyway, the ONLY disappointment of the day was of course, the result and we certainly deserved another crack at them at Loftus Road at the very least.But before I sign off, I will just add two more photos of Rangers next signings who were sitting in the Rangers end this afternoon...

Rowan Vine

and Lee Cook, who is returning to Rangers and signing on loan on Monday :-)
COME ON YOU R'SSSS!!!