Zzzzzzzzzz...
Coventry 0-0 QPR

Rangers followed up their outstanding win over Stoke on Sunday, by clinching a point against struggling Coventry in a quite awful game at the Ricoh Arena.

Now, before I go on, I have been in many a discussion with friends about a new stadium for QPR and the general consensus amongst the gang is - sort the team out first,fill Loftus Road week in, week out and then, think about a new stadium. I think the photo below enhances the argument...
Onto last night and apologies for the lateness of the report, but if I'm quite honest, when I got home from the Ricoh last night, I took the same attitude to that of the QPR team - I couldn't be arsed - a bit harsh maybe, but that was how it seemed at times.

Well like anything, there are positives and from the night was the performance of the R's defence and Lee Camp in particular, who was almost single handedly responsible for winning the point. A third clean sheet in a row speaks volumes.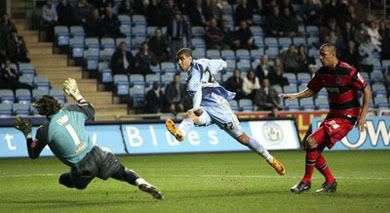 As for other positives, well, the journey was a breeze for myself and PK and also, Coventry must be congratulated to serving the finest hot dogs in the Championship! As for the game itself, well, it ended 0-0.

QPR: Camp, Delaney, Mancienne, Buzsaky, Rowlands (Ainsworth 91), Connolly, Agyemang (Blackstock 86), Ephraim, Vine, Hall, Leigertwood. Subs: Barker, Stewart, Pickens.

Lofty's Man of the Match - Lee Camp! Outstanding!

In summary, this game was everything the Stoke game on Sunday wasn't. Against the Potters we passed the ball superbly, keeping possession for long periods, probing the opposition, wearing them down and creating chances. Tonight we passed the ball once, for two minutes, midway through the first half. That was it. Against Stoke we looked like we wanted to win, tonight we looked like we wanted a draw.

The 'Italian Way' that De Canio is bringing to QPR is now beginning to be forming a pattern. At home we do everything we can to win, away we do everything possible not to lose - and tonight against(with respect) a poor Coventry side.