QPR in Away Goal Shock...
Plymouth 1-1 QPR

It's finally happened!! After more than 13 hours without one, QPR finally ended their away goal drought with Heider Helguson hitting the back of the net and giving the R's the lead after 16 minutes at Home Park.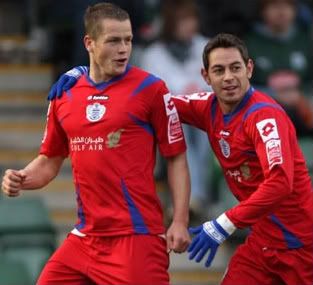 Well, I'm truly ashamed to say that I also missed this one too. With PK stocking up for Christmas on a booze run across to France and a distinct lack of interest from anywhere else, I didn't fancy the long and cold journey alone. So, instead my boss used it as an opportunity to drag me into work and thankfully, I will not be boring you with the life and times of an alarm engineer on these pages. With the above in mind, HUGE respect and acknowledgement goes to the 657 R's fans who did travel to Home Park today despite many, many problems on the rail and road!

I did however, manage to catch some of the commentary on QPR World and much was discussed with regards to Martin Rowlands disallowed goal, which it seemed, was wrongly chalked off for offide!? As time went on, it looked as though the R's would hold on for three valuable and most welcome away points, but on 83 minutes, substitute Steven MacLean levelled the scores.

QPR: Cerny, Delaney, Stewart, Mahon, Leigertwood, Agyemang (Blackstock, 76), Gorkss, Rowlands, Ramage (Hall, 81), Cook (Ephraim, 68), Helguson. Subs: Cole, Tommasi.