Lee's Latest - Wycombe Friendly Report...
Wycombe 1-2 QPR

Once again, big thanks to Lee Brown who brings you his report from last night's friendly win over Wycombe Wanderers.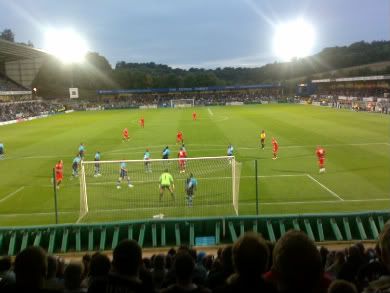 In the first of 3 friendlies this week, all of which covered here on Lofty Heights, QPR took the short trip down the M40 to League 1 new boys Wycombe Wanderers.

Roughly (a rough guess by the Henley mob) 1,300 travelling fans made the trip to Adams Park to witness the event unfold.

Jim Magilton again named a strong squad as he begins to get a rough idea of which starting 11 for the start of the season. In fact it was the same starting 11 from the previous friendly at Oxford United on Friday night.

Gregory Vignal joined the squad on a weeks trial and took his place in the squad as he looks to earn a contract with the Superhoops. The left back has previously played for Montpellier, Liverpool, Portsmouth and Lens. He has also had loan spells at Bastia, Rennes, Espanyol, Rangers, Kaiserslautern as well as Southampton last season.

Team (from right to left):- Cerny; Ramage, Hall, Gorkss, Connolly; Routledge, Mahon, Rowlands, Balanta; Vine, Agyemang. Subs- Putnins, Alberti, Brown, Oastler, Vignal, Parker, German, Taarabt.

Barely had the game begun and the Rangers fans were celebrating. After some good passing Routledge found himself out on the right hand side and put over a delightful ball which found the new goal machine of our team Gavin Mahon and he put his diving header away from all of 4 yards out, leaving opposing 'keeper Jamie Young with no chance.

Rangers were playing the slick passing football that we have got used to seeing over the last few pre season games and Angelo Balanta was again causing all sorts of problems for his former team mates.

On 8 minutes Wycombe had their first attempt on goal, which Cerny dealt with pretty easily. It was from there that Rangers launched their next counter attack. Balanta broke away down the left hand side and fed in Vine. Vine crossed in from the left hand side, it was half cleared to Agyemang who took one touch and drilled home is effort from 10 yards. 9 minutes gone and it was already 2-0.

Rangers really were in control, passing the ball around with ease and looking to break away with pace once we found the space in behind the Wycombe midfield. It really was all Rangers for all the 45 minutes, Wycombe had no real attacking threat to test the defence which looked pretty comfortable throughout the half. Rowlands and Mahon really bossed the midfield well and this looks like the centre midfield partnership to begin the season with. Routledge was causing problems down the right hand side, Balanta was excellent once again causing all sorts of problems for the Wycombe defenders. Vine and Agyemang do work well together up front. Vine is a very good provider for Agyemang and they do have a near telepathic connection when they are both firing.

We were treated to a half time penalty shoot-out from Seer Green under 8s team, 4 of which were wearing QPR shirts. I am glad to say that all of them did score their penalties in front of the large away following. The kids were given huge cheers and hopefully given them a fond memory of their 15minutes of fame.

So the second half started and Rangers started exactly as they left the first half, in complete control. Jim and John really have got the troops playing good football, all on the floor at a quick tempo.

In the opening 10minutes of the second half Mahon had a 25 yard effort go just wide and that man Balanta placed a shot wide when he really should've hit the target. On 60 minutes the first Rangers substitution came around and it was unplanned. Connolly picked up a slight knock during a challenge so Magilton replaced him with the trialist Vignal.

This failed to halt Rangers dominance, in fact it just added another dimension to their attack. Vignal was looking to attack the left hand side at any given opportunity and was practically hugging the touchline. Balanta and Agyemang had efforts that were fired wide as Rangers starting to take the foot off the gas.

Vine was replaced by Taarabt on 68 minutes to try and liven up proceedings and he was up to his usual tricks and causing problems for the opposing defenders but Rangers were just toying around in the midfield and were not in any danger at all. On 83 minutes Wycombe grabbed a goal back. A free kick on the right hand side was drifted over to the far post, Michael Duberry headed back across goal and found Luke Oliver unmarked and he tapped home from a few yards out.

Rangers made 3 more changes taking off Routledge, Rowlands and Agyemang. In their places came Parker, Alberti and German. The final minutes were played out with Rangers passing around with ease, yet they did not create any open opportunities.

Overall it was by far the best performance of pre season. We looked comfortable on the ball, passed the ball around with ease and for the first time we actually got out of first gear and asserted our authority on lower league opposition.

This is how I rated the individuals...Cerny-
Had little to do and looked good.
Ramage-
Kept things simple. Attacked the right hand side when we were going forward. Made a few mistakes but nothing to worry about.
Hall-
Had a pretty good game. Only 1 silly foul and minimized the long ball tonight. Got skinned once but apart from that he was ok.
Gorkss-
A non dramatic performance. Didn't put a foot wrong.
Connolly-
Comfortable at left back. Really would prefer him at centre back.
Routledge-
Lively, created enough problems for the Wycombe defence. Didn't run at people as often as usual but didn't need to.

Mahon-
Took his goal well. Hussled the midfield well, looks a good partner for Rowlands to start off the season.
Rowlands-
Put in another good shift on his return to full fitness. Bossed around and looks to be well on his way back.
Balanta-
Fantastic once again. Magilton will find it hard to resist not starting him off against Blackpool. Man of the match.
Vine-
Floated around and linked up well with the wide men.

Agyemang-
Took his goal well. Drifted in and out of the game to much.
Vignal-
Made a good start. Was very attacking and put in 2 or 3 decent crosses. Defensively looked sound.

Taarabt-
Tricky, linked up with the midfield well, would like to see him get longer so we can properly judge him as a centre forward.
Parker, Alberti and German-
These 3 were not on the field long enough to really make an impact. Parker had one decent run down the right, German chased around and Alberti put in a few decent challenges.