Brizzle drizzle on our parade
As Rangers made their 3rd away trip to the west country in a week, having previously won 5-0 and drawing 1-1, this time Lofty Heights took the trip to Ashton Gate for tonight's game against Bristol City. Lee Brown brings you a round-up of the night's action.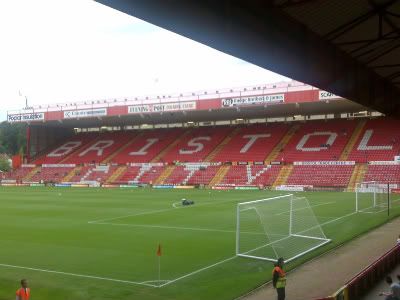 We decided to leave early for the trip down to Bristol and this time we had a new driver with us, Mark, who was making his first trip to Ashton Gate see what he has been missing out on. Sam and Justin were also in attendance.
The journey was a smooth one for the four mob members and all of us were in a confident mood. I predicted a 0-0, Sam 1-1, Mark 2-2 and Justin just predicted a loss. After an hour and a bit down the M4 we arrived at our destination with nearly two hours to kill before the big kick off. There is not much you can do when you arrive to the ground as there is nothing around it apart from a retail park and nothing entertainment wise around the ground so we took the one option we had in front of us...... KFC! Once we finished wiping the grease from our chins we had a quick bet and made our way into the ground. As the facilities aren't the best in the world at Ashton gate we decided to grab ourselves a few cokes and make our way to the stand and pick out a premium view, if we could find one, but instead settled for getting a place where we could just see both goals and be done with it.

Jim Magilton made three changes from Saturday's 1-1 draw at Plymouth. Damion Stewart, Mikele Leigertwood and debutant Alejandro Faurlin came in for Kaspers Gorkss, Gavin Mahon and Heidar Helguson; all three were named on the Rangers bench.
As the game started it looked as if Rangers were flirting with a new 4-2-3-1 formation. Leigertwood and Faurlin being the two holding midfielders and Routledge, Taarabt and Buzsaky playing just behind and supporting Agyemang up front.
Rangers were the team that got off to the brighter start. Agyemang and Buzsaky both had efforts flying over the bar. Faurlin made a promising start and looks to be a battling midfielder who isn't afraid to put a foot in where needed. He also looks to read the game pretty well. I must admit that at times it looked as if he struggled with the pace of the game but as he gains more experience in this league he will become an important part of the team.
After a good 15 minutes of pressure Bristol City started to come back into the game and it was Rangers who had to ride the waves and at times ride their luck.
It seemed as if the QPR left hand side was being targeted and with Danny Haynes' pace giving Borrowdale a lot to think about it was from here that the hosts had their first real chance. Borrowdale fouled Haynes just outside the 18 yard box. From the free kick Maynard had a glorious chance saved by Cerny. Soon after a Bristol City corner flew into the box and was met by Lewin Nyatanga's head, it looked as if this was going to go in at the far post but Buzsaky was on the line to head clear and Rangers lived to save another day.
City were soon on the attack once again. Haynes slid Maynard in and was one on one with Cerny; Maynard's shot beat Cerny and was heading towards the far post....... Rangers fans soon breathed a sigh of relief as we saw the effort roll just past the post. Major let off!!
Rangers were struggling to take a stranglehold on the game and after a wildly late challenge from Faurlin, he picked up his first booking his career in English football. Bristol City were also forced into their 1st substitution of the game soon after due to an injury.
Rangers managed to see the half out and it was a relief to get into half time still at 0-0.
At half time I went down to see Gobi and we got straight into the tactical talk. We figured out that Rangers were playing a new style formation but failed to understand why Taarabt was moved into the central strikers role and have Agyemang drop in at left wing. We were also scratching our heads at the fact that we had our best two defenders, Gorkss and Connolly, on the bench. It just doesn't seem to make any sense. I'm sure Connolly is as baffled as we are! After a good natter deliberating what could happen I resumed my place in my back, which had no back to it, and the second half got under way.
Rangers again started brightly and it seemed as if Magilton had given them a good talking to during the interval.
After good play between Faurlin and Buzsaky, Buzsaky played a lovely pass to Routledge whose shot at the neat post was saved comfortable by the keeper.
Rangers started to knock the ball around quite nicely and Buzsaky, Taarabt, Faurlin and Routledge were at the heart of most of Rangers attacking play.
Rangers best chance soon came. Routledge played a fantastic ball in the box which caused problems in the City defence and evaded everyone until Taarabt met the ball at the far post and, with the goal seemingly being empty from our angle, he managed to poke the ball goal wards but it agonizingly hit the post and come out. How this was missed was simply unbelievable! I still don't know how he didn't score.
Bristol City made their 2nd change of the game and this was soon followed by a double Rangers substitution. Pellicori and Vine came on for Taarabt and Agyemang.
Soon after the substitution Rangers were back on the attack. A cross came in from the right and Pellicori rose above everyone and spotted Vine coming into the box unmarked, he nodded down but a City defender just got in front of Vine and cleared the danger.
City were forced into their 3rd substitution of the night, new boy Velicka who had only signed on loan from Glasgow Rangers 24 hours previously looked to take a heavy fall and was stretched off only 18minutes after coming on as a sub.
In what looked a cruel injury this seemed to turn the game in City's favour as they pressed Rangers back. And it was five minutes later were the damage was done.
After some neat work and opening up the Rangers defence and midfield down the left hand side the ball made its way to Maynard just outside the box, he dropped his shoulder to turn past Hall (I think) and unleash an unstoppable drive past Cerny. Was a very well taken goal!
City continued to press Rangers and two minutes later Maynard nearly got his second. His shot again beat Cerny but once again the effort went just past the far post.
In the last desperation act Faurlin came off after a decent 85 minutes and was replaced by Helguson. Rangers pushed for the last minute equaliser that they deserved for the second half performance. The first glorious chance came when a fantastic came in from the right and was destined for Helguson's head but for some unknown reason he didn't throw his head at it and just watched the ball skim past his forehead. All he had to do was make contact and hit the target and it had goal written all over it. Just as it seemed the game was over there was one final chance. After some neat passing Leigertwood found himself in the box, took on 2defenders, got free, all he had to do was blast it, instead he took 3 touches and when he tried to lift the ball over the keeper he was too close and the effort was clawed away and the best effort had gone.
A frustrating end to a deeply frustrating game!
Just to top it off I thought the Ref and Linesmen had shocking games. The linesman in the 2nd half didn't seem to have a clue what offside meant and raised his flag at near enough any opportunity he could.
Today's Man of the Match goes to .... Fitz Hall.
He followed up a good performance at Plymouth on Saturday with another decent performance here.
QPR: Cerny, Ramage, Stewart, Hall, Leigertwood, Routledge, Buzsaky, Agyemang (Pellicori 67), Faurlin (Helguson 85), Borrowdale, Taarabt (Vine 66).

Subs: Mahon, Gorkss, Connolly, Heaton.
Goal: Maynard (77)