Lee's Latest - Kettering Friendly Report...
Kettering 0-2 QPR

Again, my thanks go to Lee Brown for another excellent report, this time from a very rainy Kettering...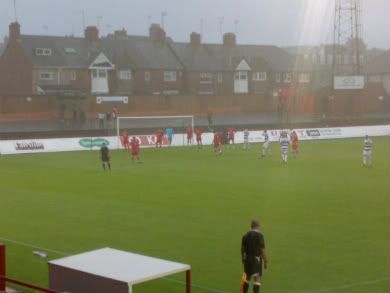 Rangers were on their travels for the second time in 24hours, this time the destination was Rockingham Road, the home of Kettering Town.

Jim Magilton took a squad with a mixed bag of first team players, youth and three trialists (Marshall, Vignal and Pellicori) as he looked to give as many players valuable playing time ready for the start of the new season.

A new experimental formation of 4-1-3-2 was used with the following players :- Marshall; Ainsworth, Stewart, Borrowdale, Vignal; Oastler; Alberti, Taarabt, Ephraim; Helguson, Pellicori Subs- Putnins, Brown, Harris, Rose, Davenport, Parker, German

Within minutes of kick off the heavens opened and the downpour we witnessed was almost monsoon like and lasted a good 8-10 minutes. This downpour created very difficult playing conditions which affected the quality of football for the remainder of the game.

Despite the difficult conditions Rangers still tried to play the passing game that Jim Magilton and the coaching staff have installed into the team and was working with good effect. On the 10 minute mark Oastler and Taarabt exchanged passes before setting Vignal free on the left hand side. Vignal put in a cross to the back post and Helguson met it heading the ball into the ground and beating former R's keeper Lee Harper.

The next 10minutes were fairly scrappy and fairly even. Rangers carried on trying to play slick football on the sticky playing surface. Oastler was playing in a holding midfield role, receiving possession every time he could and has looking to play in one of our attacking midfielders before trying to set off on another counter attack. The experimental back four with Ainsworth playing right back (as he did for the reserves last season), Stewart was as dominating as ever, Borrowdale was slowly getting used to playing centre back and Vignal followed up where he left off last night and was running up and down the left flank at any opportunity he could.

Rangers next attacking threat came on 23 minutes. Taarabt found Ephraim who ventured into the Kettering half taking on 2 opposing players and saw the advancing run of Pellicori. Pellicori took the ball in his stride with some great control which took him clear of both defenders and bared down on goal and his unstoppable effort from close range made it 2-0 and Rangers really were cruising.

The last 20 minutes of the half were played in midfield and it was the Superhoops that enjoyed the lion share of the possession. Taarabt was enjoying himself in his free role and was given his fair share of the ball but he often took one touch too much or was closed down extremely quickly. Half time soon come along and it's fair to say Jim and John would have been fairly happy with the players efforts over the 45minutes.

There was only one change at half time, Vignal coming off as he played over half an hour last night as well. Lee Brown was his replacement.

If I'm perfectly honest it's going to be hard to pick up the key points of the second half as it's pretty difficult but I'm going to try...

Ten minutes inside the second period Helguson and Pellicori linked up well which sent the Italian clear. Unfortunately his effort flew wide of Lee Harper's goal. The last memorable action of the half was a very dangerous challenge on Ainsworth. In true Gaz style he picked himself off the floor and run the knock off. The usual mass substitution frenzy came upon both teams which broke play up as the game petered through the closing stages of the match.

In summary the game was ruined by the early downpour and we never really show the true potential of the team. Both goals were very well taken. Vignal showed good potential going forward but wasn't tested defensively. It was a good run out but in fairness it would've been nice to see us in full flow in better conditions.

An individual round up of performances......Marshall-
Had very little to do but he was very vocal in organising his defence. If he is signed up he will provide excellent back up to Cerny.
Ainsworth-
A typical Gaz performance, full of passion and commitment. He is an excellent example to all the youngsters. It would be so good if everyone had his desire to win.
Stewart-
Was pretty solid at the back and led the line pretty well.
Borrowdale-
Didn't do much wrong. Mis-placed a few passes but overall wasn't too bad.
Vignal-
Was excellent going forward and provided an excellent cross for Helguson's goal.

Oastler-
Played fairly well as a holding midfielder. Always looks for the simple ball and never panics under pressure.
Alberti-
Wasn't his best game, came into the game a lot more towards the end.
Taarabt-
Had a lot of possession but often took a touch too much. Wasn't his best game.
Ephraim-
Played ok. Was full of running. Played the assist in the 2nd goal.
Helguson-
Played ok. Put his chance away well. Looked to get involved wherever he could.
Pellicori-
Done fairly well. Took his goal extremely well. Will do better with the likes of Buzsaky, Rowlands and co in the same team as him.
Brown-
Attacked the left hand side well during the second half. Wasn't tested out defensively.
German-
Was full of running but had no real sight at goal.
Harris-
Looks as if right back isn't his strongest position. Will be interesting to see him progress in the reserves at centre back this season .
Davenport-
Done well when he came on. Decent prospect for the future.
Parker-
Attacked the left hand side well and his pace is frightening. Good future ahead of him.
Rose-
Done well when he come on.