Rangers beaten again, this time by the snow!
Earlier on this afternoon the home fixture was postponed due to the snowfall that the country has witnessed during the course of the week.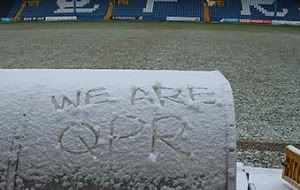 Despite the pitch being passed as playable the club released the following statement on the
Official QPR website
"The safety of the supporters is of paramount importance to the Club and following an inspection of the surrounding areas by the Club, local authorities and police on Friday morning, a decision was taken to postpone the fixture."
All promotional tickets that were bought for the game will remain valid for the re-arranged fixture.