R's Sign Serbian International Tosic.
This afternoon QPR announced the signing of Serbian International defender Dusko Tosic on loan until the end of the season from troubled Premiership club Portsmouth, subject to Football League approval.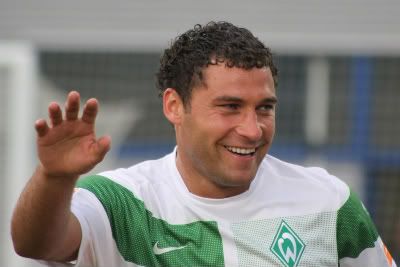 Tosic plays mainly as a left back but can also operate as a centre back.
Tosic began his career in his native Serbia playing for OFK Beograd before moving to French club Sochaux for the 2006-07 season but only spent one season with the club as other European clubs from Italy, Germany and Spain were expressing an interest. He transferred to Werder Bremen for the 2007–08 season, where he signed a contract until 2011. On 1 February 2010 his contract with Bremen was dissolved. Tosic then went on to join Portsmouth in 12th February 2010 but due to the clubs financial problems the Premier League witheld his registration and prevented the Sebian from playing for the club.
It was agreed that Tosic could join another English club, as long as they were not in the top flight. The Serbian had been training with Swansea over recent weeks but saw the deal held up by the Football Association. This allowed Rangers' to come in and approach the defender and have convinced him to join us in W12.
Tosic told the Official QPR Website "All I want to do is play games, and hopefully I will get that chance here with Queens Park Rangers. I didn't want to play for any Championship team, it had to be right. I have watched a couple of QPR matches and there are some very good players here. The Club has a great tradition also, which is important."
Lofty Heights would like to welcome Dusko Tosic and hopes he enjoys his time here between now and the end of the season.