What do we know?
Play Off chasing Cardiff came to W12 looking for revenge for their defeat in the reverse fixture back in October and further cementing their place in the Championship shoot-out in May. The Lofty Heights gang were in full force and hoping for Rangers' to secure a double over one of their fiercest rivals.
En route to the ground me and Sam met PK and Corp in Hayes and made our way to the Springbok via a visit to the club shop to enjoy a pre match drink and enjoy the sunshine for the first time since late August. It was an earlier than usual arrival due to us wanting to see the ushering of what we thought would be many of the Cardiff mob, unfortunately there was more police than anything else and the fun was spoiled. As we awaited the parade we were joined by our usual regulars Lofty, Ibiza (who I always forget to mention), Jenson, Luke, Nik and we also welcomed our Welsh R's Richard and Sophie.
Neil Warnock made one forced change from the team that started against Crystal Palace. Jay Simpson came in for the injured Damion Stewart, who has thankfully been discharged from hospital and will be now focused on his recovery and is pencilled in to return ready for pre-season.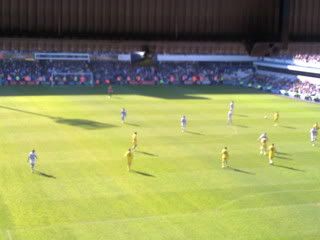 Rangers' and Taarabt in particular started the game firing on all cylinders and within the first 3 minutes Taarabt had already taken aim on goal twice but failed to hit the target on both occasions.
Rangers' enjoyed the lion share of possession and looked the most likely to score against a Cardiff side that were playing with two deep banks of four and looking to counter as and when they could.
On 17 minutes came close to our first goal of the game. Faurlin and Taarabt combined and the tricky Moroccan ran at the Cardiff defence unchallenged and decided to hit another shot from 25 yards out, this time he agonisingly saw the ball bounce off the inside of the post before being cleared to safety.
Taarabt was an absolute menace during the first period but he and Rangers' failed to hit the back of the net against a Cardiff side that were offering nothing less than the occasional counter attack and the game drifted into half time with the scores level and the R's untroubled and looking pretty comfortable.
We decided to enjoy our half time get together downstairs in the sun and the mood within the camp was relaxed and one that thoroughly believed that this game was ours for the taking and no other result looked possible. We enjoyed the sun a little too long and missed the beginning of the second half.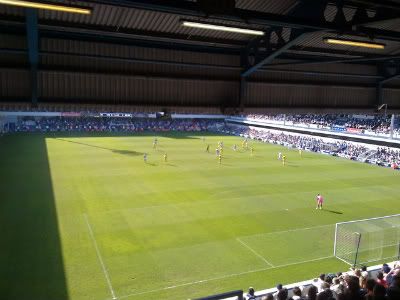 The second half was much of the same; the R's being the more attacking and most likely to score but never really threatened Marshall in the Cardiff goal.
Cardiff had their first real effort on goal when a Whittingham free kick wasn't dealt with by Cerny as he flapped at it but luckily for him the ball was then cleared for a goal kick.
Rangers' were then denied of what looked like a certain penalty when Taarabt broke clear down the right and advanced into the penalty area before being brought down by a Cardiff defender. For once none of us thought there was any hint of a dive but unfortunately for us the referee didn't agree and promptly booked Taarabt for diving, I would like to see it again because it looked stonewall from where we were sitting.
Despite enjoying all the possession and attacking play Rangers' just never took any of the chances and it came as no surprise when the killer blow was dealt on 80 minutes. Cardiff counter attacked Rangers' down the left with Kennedy after Faurlin had given the ball away with a mis-placed pass and his deep cross found Joe Ledley at the back post to send what was an unusually quiet Cardiff crowd, absolutely mental. Déjà vu from Sheffield Wednesday?
Taarabt continued to do all he could to get an equaliser and when he shot over from 25 yards out a few boos rung out from the loft end and Taarabt reacted and saw that two subs were lined up ready to come on a signalled to the bench that he wanted to come off in frustration. Warnock ignored the Moroccan's pleas as Lee Cook and Josh Parker came on for Jay Simpson and Hogan Ephraim.
Rangers' nearly hit back almost instantly when that man Taarabt picked out Cook and he volleyed towards goal to find Marshall pulling off a great save from the R's substitute.
All in all it was a very frustrating day for the Rangers' players and fans alike as this was a game that we didn't deserve to lose at all! For all our attacking play we deserved something and to be fair today we have once again highlighted the need for a striker or two that can finish off the chances we create.
Lofty's Man of the Match
for today is going to
Adel Taarabt
for the way he pulled the strings in the Cardiff defence all day and was at the heart of most of what we created all day. His reaction and wanted to be taken off nearly cost him today but he does deserve it so he can have it.
It's worth saying that Ramage at centre back looks more comfortable and has put in two stellar performances there.
After the game Adel Taarabt was outside the ground talking to two of his friends and luckily Sam and PK approached him, Sam for a photo and PK to ask what his reaction was about and we have managed to get a Lofty Heights exclusive with two questions being asked to the Spurs loanee.
Sam asked the ever burning question of "What aftershave are you wearing" and his reply was "Armani".
PK asked Taarabt what his reaction to the fans was about and got the following reply "You boo me, you know nothing about football" PK did then ask whether he'd be staying at the club and got the reply "I don't know".
PK walked away from Taarabt dispondant and as if he had just received a telling off from his school teacher. But something important was revealed today, PK knows nothing about football (sorry mate!).
We all made our way down The Queen to enjoy the sun a bit more with a drink and see Spurs beat Chelsea whilst reminding PK that "you know nothing".
QPR:
Cerny, Ramage, Leigertwood, Buzsaky, Gorkss, Faurlin, Simpson (Cook 83), Ephraim (Parker 85), Tosic, Priskin (German 90), Taarabt.
Subs:
Vine, Hill, Oastler, Putnins.
Bookings:
Ramage, Taarabt
Cardiff City:
Marshall, McNaughton, Kennedy, Whittingham, Bothroyd, McPhail, Burke (Etuhu 67), Gerrard, Ledley, Blake, McCormack (Chopra 63).
Subs:
Gyepes, Capaldi, Enckelman, Matthews, Wildig.
Goals:
Ledley (80)
Referee:
Mr M Oliver
Attendance:
12, 832 (1613 Cardiff)