To Hull and back......
Today the R's travelled to Hull looking to build on their 2-1 victory over Coventry. The gang were in attendance for the long drive to Yorkshire.
The day started off with me waking up late and delaying the departure of Sam and myself, wooops! After my unplanned lay in we finally reached Jenson at 10 and departed with PK already in the car and made our way to Lofty's before hitting the M1 hard and let Jenson get his drive on and fight through the mountain of roadworks.
Halfway into the journey we got our prediction competition underway and the usual lively debate commensed as everyone wanted to try and topple Lofty having won it last time out, PK was determined to regain the crown that he was unable to defend previously.
As we neared the end of the predictions PK was given a rare treat as two Elvis songs played and distracted PK for the next six minutes, after this all of us decided that all of PK's predictions would be Elvis or anything else related, such a funny moment that liven us all up in time for our arrival at the KC and we where in very good sprits.
We got into the ground and enjoyed a quick beer before we bumped into Michael for a quick chat and then we met with Iceman and then was joined by Lorna(clingy) and her friend Kelly. We all took to the stands in hope of an entertaining game.
Neil Warnock made one change from the team thay won against Coventry, Ishmael Miller started as Heidar Helguson dropped out through injury.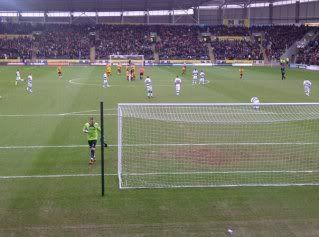 As the teams took to the pitch for the pre-match line up and photos with the officials can you believe that over the PA system played Elvis's song "Can't help falling in love with you"...... You can imagine the joy that was on PK's face and with him dancing around the first half got underway.
The game started of as a lively encounter with both teams looked to push forwards only to be thwarted by the defensive line on every occasion.
Hull had a good spell after the opening exchanges and looked quite threatening but were not able to create any clear cut chances as Kaspers Gorkss shone in the Rangers' back four throughout the first half.
About 25 minutes in and the R's finally began to getj their passing game together and created more space and problems for the Hull defence.
Rangers' thought they had gone ahead when Miller was played in after some great passing in the Rangers' midfield, Miller poked the ball past Brad Guzan in the Hull goal but having intially starting the celebrations we finally noticed the offside flag, no goal. I received a text from Jess shortly after and apparently the decision was a very tight one, will be interesting to see it again later on.
The R's continued to push but to no avail as the half come to a close.
The major talking point came five minutes before the end of the half.
A ball failed to reach Taarabt, who was having an ok game at the time, the young Morrocan took his gloves off and started walking down the touchline with his head down and then signalled over to the dugout that he wanted to come off. After getting no reaction the first time around he proceeded to do this a second time, much to the annoyance of Warnock who shook his head and just wanted the half time whistle to sound.
After the half time whistle blew Keith Curle walked straight up to Taarabt, put his arm around him and looked to calm him down as they went down the players tunnel.
At half time we all done our best to warm up by using various techniques, Iceman went for the pie option, PK and Jenson went for the hot drink and I got a coke and started jumping around and probably looked mental whilst doing it.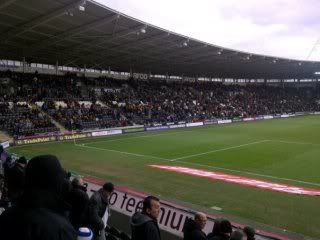 The second half started and Rangers' were soon had their head in their hands.
A great cross to the back post aimed at Orr looked destined for the net as he made a great leap, unfortunately he misjudged it completely and barely made contact as the ball tricked out for a goal kick.
Orr once again had a great chance when a free kick was aimed to the back post and this time he met it with the side of his right foot and his shot flew over. Had either of the chances been on target then Rangers' would have taken the lead in my eyes.
The game continued to ebb and flow as both side were just cancelling each other out.
The R's were then given two worries for the upcoming games as Alejandro Faurlin looked quite badly injured as he took a knock to the knee, he did try running it off and after five minutes he looked more mobile but was replaced by Petter Vaagen Moen, hopefully as just a precaution.
The second blow came as Tommy Smith went down with what looked like a hamstring strain, he was replaced by Rob Hulse.
Both teams seemed looked as if they did not want to lose the game and less risks were being taken as chances were very few and far between.
The final fives minutes saw Hull pose more threat than at any other time during the game and Rangers' had to battle hard to keep the scores level as it looked like Rangers' begun to panic.
Hull had a golden opportunity to win it in injury time as they beat the R's back line for the first time, only for the resulting shot, from Fryatt I think, was blazed over!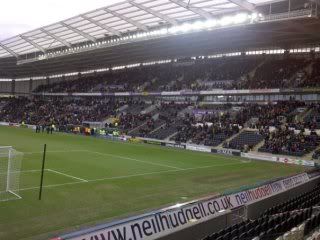 At the beginning of the game I think most people would've been more than happy to take a point at the KC and having seen that Hull have only scored 11 and conceded 6 in their 13 home games this season we all knew this was not going to be a pretty game.
Having had a good spell in the first half we thought that if we stepped it up another gear in the second half then the game was ours for the taking. However the two Orr chances were the best chances we had of scoring and failed to take it, we need a goal from open play away from home, the last one, if you don't include Coventry away, was at Palace away if I remember rightly(I have to give Clive the credit for that fact).(The goal at Bristol City came from a corner)
The Taarabt saga will be spoken about a lot tonight with people obviously going to have strong opinions on the issue. I believe that Warnock done the right thing and did not give in and made sure Taarabt knew he has to play for the team and just play through the frustrating periods of the game, he done it against Coventry before scoring and then putting in a great second half performance and the week before at Burnley he was kicked left, right and centre but ploughed on through before coming off the pitch looking like a rugby player. I'm sure everyone will sit down with him and put his head right before Portsmouth on Tuesday night.
Todays
Man of the Match
has three contenders from us. Kaspers Gorkss was solid at the heart of the defence and didn't put a foot wrong. Tommy Smith was superb throughout the first half and his movement throughout the game was second to none. The award today goes to
Ishmael Miller
for his great hold up play, rarely did he lose a header and was unfortunate not to score today having had two offside decisions go against him when they looked very close. A great start for Miller and if he keeps this up then he will prove to be a great signing for the club.
After saying goodbye to Iceman, Clingy and her friend we went back to the car to get the results of our prediction competition in what was the closest finish we have had for some time. Jenson led the way into the final round before the final positions ended as follows- 5th place Sam 12points, 4th place PK 15points, joint 2nd Lofty and Jenson 17points and finally after months without a win I finally got bacl on track with a winning score of 21points.
Jenson had a superb effort in the car coming home, our arrival time back home was at 21.33 and as we speak that time is down to 20.16. We are in Milton Keynes now and will be back home soon!
Hull City:
Guzan, Dawson, Harper, Fryatt, Chester, Koren, Gerrard, Evans, Rosenior, Stewart (Devitt 73), McLean (Barmby 65).
Subs:
Duke, McShane, Cairney, Simpson, Belaid.
Bookings:
Harper (69)
QPR:
Kenny, Orr, Hill, Derry, Taarabt, Faurlin (Vaagan Moen 68), Gorkss, Routledge, Connolly, Smith (Hulse 73), Miller (Ephraim 85).
Subs:
Cerny, Hall, Chimbonda, Shittu.
Referee:
Mr KD Hill
Attendance:
20, 601
Lofty is back on Tuesday with thoughts on the game against Portsmouth.
U R'SSSSSSSSSSSS!!!!!!