R's fail to leave Preston in Deep-er trouble.
On this cold Saturday the Rangers' faithful took to the road as our table toppers travelled to bottom of the table Preston. Could the R's take the opportunity to potentially extend their lead at the top of the table as the chasing pack play each other, or will the fixture prove to be a banana skin, much like Nottingham Forest found on Wednesday night against Scunthorpe.
Jenson was in charge of the driving today as Lofty and PK arrived at Hillman HQ at 10 before meeting me, Sam and Luke at the second meeting point at 10.30 and heading to Deepdale.
We first hit traffic as we entered Birmingham on the M42 and took a quick pit stop just before the M6 Toll and got in supplies ready for another dash up the M6. In the services we bumped into many a Crawley, Brighton and Man United fan. PK managed to catch a few words with a Crawley fan as he was asked who we were playing and just as you thought the conversation was going to end PK uttered words that you just wouldn't ask, "who are you playing today?" PK replied, its only the most talked about FA Cup tie and PK forgot about it! Its fair to say that he has not lived it down all day, poor git!
We carried on up the M6 and we were held up in sheer weight of traffic due to the 9000 Crawley fans driving up from West Sussex and the other 40,000 Man United fans travelling up from Surrey, I have come to the conclusion that Man United should have bid for the Olympic Stadium so that they are closer to their fan base!
Having battled through and arriving at Preston at 2.15, we made our way into the stadium to grab a pie(or two in my case) and have a quick chat before making our way up to our seats. Lorna made her arrival as we were having our chat on the concourse with Michael and Debbie.
We were in a cautious mood and know that this could be a very dangerous fixture and had to be professional in order to pick up three points today.
Two changes were made from Sunday's game against Forest, one of which was forced. Tommy Smith missed out with his hamstring injury and Rob Hulse dropped to the bench. Their replacements were Ishmael Miller and Heidar Helguson.
The opening ten minutes were pretty even with Rangers' struggling to get a hold of the game but it wasn't long before they slowly asserted themselves on the game with Faurlin in particular pulling the strings and being as influencial as possible from his holding midfield role.
Taarabt tested Turner in the Preston goal with a few efforts, the best one being a free kick that was tipped wide for a corner.
Rangers' were so in control and at one point they knocked together around 40 passes with Preston unable to get hold of the ball.
Myself, Lofty and PK were saying that what we needed to do was stay patient and we would get the breakthrough, two minutes later that breakthrough came.
Derry passed to Miller and the big striker ran to the left edge of the penalty area and drilled a ball across the six yard box and there was Helguson to grab a goal on his return to the first team after recovering from injury.
Rangers' could have been two up minutes later. Taarabt danced down the left and played in Miller behind the Preston defence and he played the ball across the box once more and this time Helguson was unable to get a touch and the ball was cleared from danger.
At half time Lofty and PK made their way downstairs for refreshments and a crafty fag as the rest of us stayed in our seats. Sam and Lorna were dancing away to something, it definitely wasn't the band that played at half time, the music was bad enough to make your ears bleed! I was being entertained over bbm as Jess was informing me of how well our accumulators were getting on as we were on course to win in four seperate accys, as you can imagine the excitement really got my blood pumping.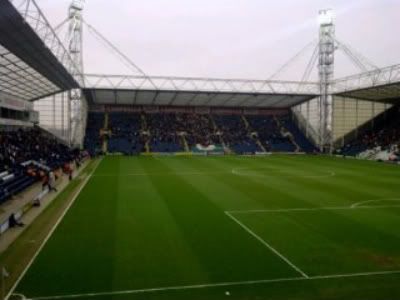 The second half got underway and Rangers' continued to look in control as Taarabt tested Turner once more.
Ishmael Miller was then replaced by Petter Vaagen Moen.
When Miller left the field it looked as if we lost our balance in attack and this allowed Preston the chance to retain more possesion in defensive areas.
We all knew that we could not remain confident with a one goal lead and needed to push for it so we could not give Preston a chance of rallying back, unfortunately that didn't not happen and Preston started to grow in confidence and put us under pressure. Instead of trying to stifle Preston we stood of them and let them play and give them the hope they needed in search for an equaliser and sure enough the leveller came.
Barton's ball was well controlled by Nicholson before he then proceeded to lob Paddy Kenny in what was a very well taken goal. Game on!
Preston took good heart from the goal and went close to taking the lead a minute later when Ellington fizzed one just over from 25yards out.
We were looking nervy in defence but positive in attack as Adel Taarabt done his best to try and win the game for Rangers' and went close on a few occasions and also had a few shots blocked. In some instances we were screaming for him to pass to people in space but you could see that all he wanted to do was ensure we didn't drop two points against the leagues bottom club.
Taarabt and Rangers' were twarted in their efforts as the game ended 1-1.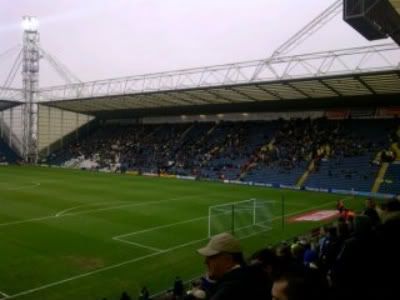 In summary, having dominated the first half and looking so comfortable it is extremely disappointing to only come away with one point from the game, however Preston deserve a lot of credit for battling away and upsetting us in the second half and trying to win the game.
I feel that the absence of Smith was a blow for us today and when Miller was subbed we looked to lose a balance in the attacking third. As mentioned earlier, I feel Taarabt probably tried too hard to get a winner for us and we needed to be a bit more patient and knock the ball around on the floor more because that is where we are at our most comfortable. It seems like sometimes we hit the panic button and tend to go long too early when we need to just build up and break teams down with patience and we will benefit more from it as we have the players to do this.
It was good to see Buzsaky back in action again at the end of the game and he will have a big part to play in the final 14 games of the season.
Lastly I'd like to mention Rob Hulse. Hulse has come under scrutiny from Rangers' fans as of late and is being made a bit of a scapegoat when things aren't going well. If people looked at his work rate rather than the amount of goals we are scoring you will see how much of a good player Hulse is and now he is pretty much match fit we will now hopefully see him flourish, he needs our support and once he gets back on the scoresheet we will see him come good for us. Keep the faith in Mr Hulse.
Finally we go onto our
Man of the Match
. Matt Connolly and Kaspers Gorkss looked very nervous in defence after Mr Warnock's critisism on the defence last Sunday and didn't do too much to help their cause today. Adel Taarabt wanted to be a winner today but unfortunately for him he had to settle for a point like the rest of us. Despite his attitude we will once again award our Man of the Match to a person really showing his class and pulling the strings from the holding midfield, that man is
Alejandro Faurlin
.
Our journey home had a determined Jenson wanting to get us home extra fast so we could enjoy our evenings. We ticked off the results of todays prediction competition, which had a record pot on offer of £30 to the winner. Going into the final division we had myself, Lofty and Sam all tied at the top with PK just one point behind. The final scores read that Lofty and PK were tied at the top on 21 with the Man United remaining and with them both predicting a convincing United win we had to go to the tie break game, Montrose vs Berwick Rangers(the big game of the day!) Lofty predicted a 1-1 scoreline as PK went for a 2-1 home victory. The final score was 1-1 as Lofty won, or so it seemed, in a late twist we noticed that Luke could tie level if the final score of the United game was 2-0 as he had his banker placed on this game. As it was the game finished 1-0 and Lofty claimed the money(when it all get paid to him).
Finally I'd just like to mention the fantastic driving of Jenson tonight. We left Preston at 5.30 and we were stuck in traffic until we hit the motorway at 6 and then flew home. Usually I write and publish the report in the car but because I started the report slightly later than usual and Jenson's fast driving I am finishing this off at home(at 8.25), he managed to get us from Preston to our meeting point in Marlow in two and a half hours, quite incredible driving! Its safe to say that his spot as the driver for Middlesbrough is safe ;)
Lofty will return for the Ipswich match report on Tuesday night and I will be publishing the R's on the Road to Middlesbrough at some point(either Monday, Weds or Thurs).

U R'SSSSSSSSSSSSSSSSSSSSSSSSSSSSSSS!!!!!!!!!