R's Go For A Barton As Kaspars Exits
This afternoon QPR have announced that the R's have bagged their first big name in the Fernandes/Bhatia era as we unveiled Joey Barton as the newest addition to the R's revolution.
Barton joins on a four year deal and with no fee being paid to Newcastle, this really could be the bargain of the season!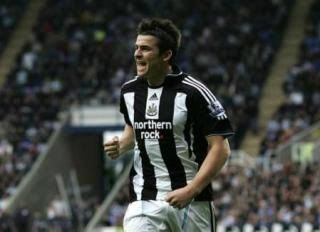 Barton, often surrounded by controversy, has not had the quiestest of careers its safe to say and his off-field antics have often hit the headlines for all the wrong reasons but there is no doubting the ability of the man. Had he stayed clear of trouble previously then its safe to say that Barton could've been a multi capped England International as he is a sensational player when all that is put aside.
The most entertaining moment of the charismatic midfielder is during the time of his England call up which was just after he openly critisised the 2006 England teams failure and as he sat down for breakfast on his first meeting Frank Lampard got up and moved elsewhere, Barton's response was pure genius "I'm not going to steal your breakfast you fat prick", just say it how it is Joey, I like that style!
What I am personally looking forward to is having Barton in a team with Adel Taarabt and Joey trying to tell Adel that he's done wrong. Could it be a potential for another on field brawl between team mates or will Joey provide Adel the kick up the backside that Taarabt sometimes needs? All I know is that the leadership and battling qualities being brought into the club by Barton will be a massive positive for this club.
Barton told the
Official QPR Website :-
"It's been quite a whirlwind, so to get things finally sorted and draw a line under it all is a great relief.

"The ambition of the Club really impressed me.

"There's obviously a great set of lads here already and that's why they had such a great season in the Championship.

"The gaffer is talking about adding two or three more bodies and that, combined with the potential of the Club and the new owners' ambitions, bodes really well for the future."
Bringing Barton in really does signal our intentions to not only survive in the Premier League but to also go on and establish ourselves in the top flight for many years to come.
Barton will wear the number 17 shirt.
Welcome Joey, we hope you provide much inspiration and have a very successful time in the Blue and White Hoops!
-------------------------------------------------------------------------------------
On to a more downbeat note.
On Wednesday Kaspars Gorkss swapped the Blue and White Hoops for the blue lines on a white t-shirt and joined Reading for an undisclosed fee.
Gorkss has been a fantastic servant to this football club since his 250k move from Blackpool three years ago.
Gorkss was undoubtedly the best back up we had for the first choice partnership of Fitz Hall and Danny Gabbidon so why was he sold? Was it to balance the books? Was it because we've tied down Shittu and Ramage to year long contracts on decent wages under the previous regime and now we need to balance up the wages? All I know is that if we do get an injury to either Hall or Gabbidon then we currently only have Matt Connolly that is capable of taking their place and beyond that we would struggle.
Tuesday nights performance against Rochdale showed that Perone and Shittu are not up to scratch and would need vast improvement if they are to stand a chance against any Premier League strikers.
Its sad to see Kaspars go but we wish him well and hopefully soon he will get the crack at the top flight that he deserves, I just hope its not with Reading!