That's Not Di Way It Was Supposed To Go
Today the R's fans made the 200+ mile journey to Wigan in the early hours of the morning hoping that the positive news of the signings of Joey Barton and Luke Young would help inspire the R's to a win ahead of the two week International break.
The Lofty Heights gang made the trip to the DW Stadium.
Once again we were in two cars with myself driving Jess, Sam and Luke and Lofty took to the wheel with PK and Steve as his passengers.
Lofty's journey started extremely early as he had to travel from Hemel down to Burnham and then head north to Wigan. In my car we had a slightly longer lay in, till 6.15, before taking to the road. In a highly uneventful journey (not counting Sam's bout of morning sickness on the side of the M6) we then pulled off the M6 to the inevitablilty of a few clangers being dropped. Firstly upon seeing the sign for Wigan Pier Luke immediately asked if we were near the coast which cracked everyone up. The second one to make everyone laugh was my apparent excitement of seeing an Asda and a Sainsbury's in the same retail park, in my line of work its rare to see so I did get slightly more carried away than I should've, this prompted the gang to goad me for the duration of the journey (luckily it was short) every time we passed a supermarket, gits!
We all arrived in Wigan just 15 minutes apart at 10.30 ish and parked at the Red Robin pub only to find that it was not due to open until 11am, so we made our way over to the Frankie and Benny's joint just opposite.
During our time in Frankies we all had a good catch up and everyone was feeling very positive about the game. We were even treated to some Spanish lessons everytime we went to the toilet, if anything I think it made us all want to go in there more often than we usually would!
Come 12:00 we all made the short walk over to the DW Stadium and got pretty wet in the process.
When we got inside the stadium we queued up for what seemed to be a lifetime for our drink and sample of the famous Wigan pies, that in all fairness weren't all that they were hyped up to be, we then made our way to our seats just in time to see the teams emerge from the tunnel.
Only one change was made to the side that won at Everton last weekend. Bradley Orr sat out through injury and was replaced by Bruno Perone. This meant the R's defence was make shift with all four being central defenders. This meant that Danny Gabbidon played at right back, Bruno Perone and Fitz Hall paired up in the centre and Matt Connolly took up his role at left back.
With the virus still rife in the squad, DJ Campbell once again didn't travel and Jay Bothroyd stayed on the bench as he still isn't 100% fit.
Starting 11 :- Kenny, Derry, Hall, Gabbidon, Taarabt, Faurlin, Buzsaky, Perone, Connolly, Agyemang, Smith.
The game got off to a pretty lively start and was fairly level even though it was Wigan that were creating the more threatening attacks.
Emerson Boyce strolled from right back all the way through the R's defence until he reached the edge of the penalty area before laying the ball off to Victor Moses who took aim from six yards out you thought that the deadlock was about to be opened, luckily for us his shot (or was it a cross?) evaded everybody in the box and ended up nearly going out for a throw in.
Straight from that the R's broke away and Derry found himself 25 yards out with the goal at his mercy. The evergreen midfielder unleashed a fantastic drive and Ali Al-Habsi in the Wigan goal had to be at full stretch to deny Derry his first QPR goal.
The R's seemed to grow in confidence from this and just a few minutes later came even closer.
Buzsaky fed Taarabt the ball on the left edge of the penalty area as we looked at it and the R's captain curled a sublime effort that seemed to be curling in at the far post, all the travelling R's thought it was in, but it cannoned off the post only for Agyemang to pick up the rebound and promptly pass it back to Al-Habsi.
Rangers came close again when a corner was only cleared as far as Buzsaky and his cross found Perone at the back post, but the Brazilian could only put his header into row Z and another chance went begging.
The R's were made to pay for their missed oppurtunities on 41 minutes.
Figueroa passed to Di Santo on the edge of the R's penalty area while the R's appeared to back off and invite Wigan to attack. Di Santo hit a decent shot towards goal that took a slight deflection and spun into the top corner of Paddy Kenny's goal. A well taken goal but the deflection definitely wrong-footed the R's goalkeeper.
Just before the half time whistle Taarabt had a free kick from 35 yards out. He decided to take it Ronaldo styli and hit it as hard as he could with a toepunt. The free kick took a wicked deflection and Al-Habsi scrambled across his goal line to tip the free kick onto the post before Wigan cleared their lines.
We may of been 1-0 down at half time but the sprits in the camp were still high. We should have gone in level and definitely played well enough to be going in at 0-0. You can rue the chances and having hit the post twice its fair to say that we were unlucky to be losing.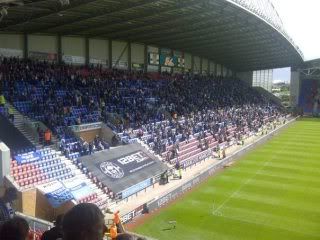 It was more of the same again in the second half with the R's pressing Wigan but also with Wigan hitting us on the counter attack with Rodallega and Moses.
On 61 minutes the R's make shift back line were dealt with another blow with Fitz Hall being forced off through injury and was replaced by Michael Harriman who was making his Premier League debut. This meant Harriman moving to right back and Danny Gabbidon reverting to his more familiar role of centre back alongside Bruno Perone.
Just five minutes later the R's were dealt with an even bigger blow.
Rangers relinquished possession far too easily and Di Santo found himself in possession 25 yards out and took aim, unfortunately for Bruno Perone the shot flicked up off the end of his boot and found the top corner of Kenny's goal once again. Two goals, two deflections, too harsh on Rangers.
Shortly after the goal Jay Bothroyd come on for Akos Buzsaky.
Bothroyd's introduction gave the R's more attacking impetus and made us look a lot more threatening, in fact Bothroyd done more in two minutes than Agyemang had done for the previous 70!
The R's last notable chance went to Perone. His header cannoned off the Wigan bar and out to safety.
It was then that you just knew it wasn't going to be our day!
Bruno Andrade came on for the final eight minutes in the place of Tommy Smith.
Andrade looked to be a real livewire down the left wing and looks to be one to look at for the future. Andrade was unlucky not to be able to claim an assist on his Premier League debut when his mazy run resulted in him sliding a great ball across the Wigan six yard box but no R's striker was on hand to tap into an empty net.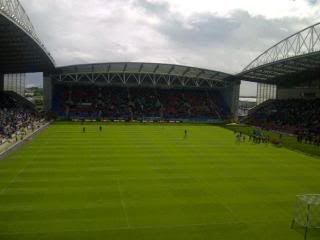 The scoreline was harsh on us today. Two deflected goals, we hit the woodwork on three separate occasions and had to play a weakened side due to the virus still lingering in the club. Perone looks to be well out of his depth in my opinion and looked to be a rabbit in headlights a lot of the time. His team mates did all they could to help him along the way but that only got him so far. For me Taarabt just doesn't look comfortable in the Premier League at the moment. Every time he ran at the Wigan defence in the first half he just ran into a defender and lost possesion. He appears to be getting knocked off the ball far too easily and is seriously lacking match fitness.
Faurlin also seems to be looking a shadow of the player that we saw in the Championship last season too. I think he's fallen over more times than he has successfully passed to a team mate this season. Having said that he did seem to improve in the final 15 minutes but he really need to improve the physical side to his game asap.
On to
Man of the Match
and there are plenty of positives for this. The gang were split with this today and it just goes to show how we all viewed the performance. Steve voted for Shaun Derry and another great battling display. Jess and PK opted for Tommy Smith and his energetic performance. Lofty opted for Matt Connolly who put in another good show when being played out of position again. The winner however with three votes from me, Luke and Sam is
Danny Gabbidon
. Gabbidon played extremely well at right back and when switching to centre back he looked extremely comfortable. He didn't put a foot wrong and read the game very well today.
Wigan Athletic:
Al Habsi, Caldwell, Watson, Di Santo (Sammon 68), Moses (McArthur 68), Gomez (Stam 86), Boyce, Rodallega, Diame, Lopez, Figueroa.
Subs:
Kirkland, McCarthy, Thomas, Jones.
Goals:
Di Santo (41 & 66)
Bookings:
Lopez (33)
QPR:
Kenny, Derry, Hall (Harriman 61), Gabbidon, Taarabt, Faurlin, Buzsaky (Bothroyd 72), Perone, Connolly, Agyemang, Smith (Andrade 80).
Subs:
Murphy, Helguson, Ephraim, Hewitt.
Referee:
Mr M Oliver
Attendance:
17,225
After the game we made our way back to the cars and got very wet once again! It's just typical that we travel up north with the weather looking good at home but as soon as you go north of Birmingham the weather is always grey and miserable. Its safe to say we were all very glad to get away from Wigan and get home in time to relax with a curry in front of the tv at a decent hour!