The FA Controversy Continues As The FA Live Up To Their Name........
Yesterday the FA made the hugely controversial decision to not rescind Shaun Derry's red card against Manchester United on Easter Sunday and it has left many people, not only QPR fans, wondering what the hell is going on at FA Headquarters.
Lets briefly run through what happened.......
Ashley Young is shown to be offside as Wayne Rooney plays the ball beyond Shaun Derry, the linesman is completely in line with this yet fails to raise his flag. Young then manages to get just level with Derry before seemingly wriggling free to be one on one with Paddy Kenny when all of a sudden Young decides to take a tumble when Derry barely managed to lay a fingernail him. If Derry could lift Young off the ground and turn him over with the slightest of touches then I think Derry is in the wrong profession and sound swiftly look to enter the Worlds Strongest Man competition because that is some some hidden talent to do that.
So with the video replays all in our favour, a referee that supports Bolton that is appointed to officiate a game that involves a team that is thick in a relegation battle with his team and also a team that his brother used to play for.
Who made the decision to make that appointment in the first place? You begin to smell a rat when those kinds of decisions are made but before Ashley Young had finished pirouetting in a Strictly Come Dancing on grass moment (which he has become quite an expert at), Lee Mason had already fetched his red card out of his pocket and Derry was dismissed. Was it a decision made because of the "foul" or because it was the ideal opportunity to allow Man United to rip into QPR and see the R's goal difference melt away, to the advantage of his hometown team Bolton?
The R's lodged an appeal and rightly so. Pundits up and down the country were saying that poor decision making led to the sending off and that Ashley Young went down far too easily, surely that gave the management team at Loftus Road the confidence that we would get somewhere with an appeal..........?
Then we get to today and the red card decision is upheld??
A statement on the FA's official website read:
"Queens Park Rangers midfielder Shaun Derry will serve a one-match suspension with immediate effect after his claim of wrongful dismissal was rejected by a Regulatory Commission today [Tuesday 10 April].

"Derry was dismissed for denying a goalscoring opportunity in the Premier League match against Manchester United on Sunday 8 April 2012."
So Derry denied a goalscoring opportunity to a player that was offside and then took a dive.............. GIVE ME A BREAK!!!!!!!!!!!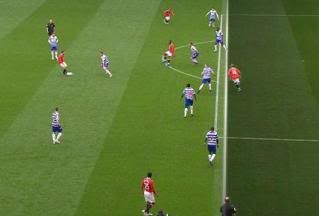 This is the same FA that are not punishing Mario Balotelli, who could've broken Alex Song's leg and then made two dangerous challenges on Bacary Sagna and earned two yellow cards to get himself sent off, when really he should've earned three red cards for all those challenges. Where's the consistency??
This is the same FA that are charging Branislav Ivanovic with violent conduct for punching Shaun Maloney in the build up to Wigan pushing for a winner on Saturday and when that attack broke down Chelsea went on to score their winner(which was offside).
So a violent conduct charge could lead to a three game ban........ you can bet that the FA will duck that decision and fine Ivanovic a tenth of his wages and ensure that the Serbian International struggles to put food on the table for his family.
Talking about the Chelsea game, yet again a dodgy offside decision, or lack of as was the case, cost Wigan not once but twice! You can understand the second decision as it was a tight call but the first one was a joke!
There have been so many poor calls this season by the referee's assistant/linesmen/bungling idiots on the touchline that they could end up costing teams places in the Premier League this season. QPR have had their fair share of dodgy decisions against them but look at the bigger picture, many of the other so called 'smaller clubs' are having to deal with these decisions on what seems like a weekly basis.
This is the same FA that are defending Wayne Rooney and battling for his red card that he received against Macedonia when he kicked out at an opponent.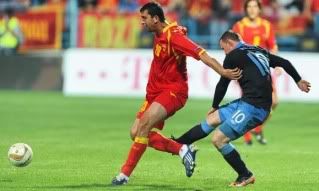 So this FA think that kicking out at an opponent and receiving a red card is harsh. That sending a player off when Ashley Young clearly dived is a worthy red card. That thinks that because Balotelli was punished during the course of the time he was on the pitch on Sunday, that he is exempt from further punishment.
So what the FA have said to Ashley Young is "keep on diving Ashley, we won't punish it", what the FA is saying is "Mario, keep intentionally fouling people on the pitch and we won't give you any further punishment", what the FA is saying is "Wayne, kick out if you want, we have your back" and also the FA have said to John Terry is "we won't punish you, even though you have been clearly spotted being a racist by tv cameras, we will back you because you are a player from one of our 'big clubs'.
When will the FA show some consistency, some balls to make decisions that are equal to everyone? I could rant on and on about how they continue to conspire against not only QPR (especially after last years hearing over the Alejandro Faurlin case, I won't bore you with that again though) but it's also the other smaller clubs that are suffering because of it. Who's to say that one of the clubs that goes down from this season may suffer the same kind of financial difficulty that Leeds, Southampton and Portsmouth (to name a few) have done. Those clubs have nearly hit that wall due to their relegation down the leagues. Portsmouth are gripping by the skin of their teeth but do any of the top clubs care about this? Are the FA looking at how this could be prevented in future?? Are they f@#k, they are just looking after themselves and if anyone suffers outside of their bubble then it really doesn't matter.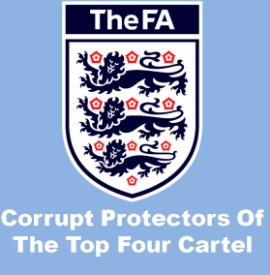 Its about time our governing body actually grow a set and show some equality to every team, not just the top five or six clubs.
It's about time the cheating stops, the Premier League is the greatest league in the world and the diving, intentional fouling and poor refereeing needs to stop.
We need technology to play a part and assist the officials to ensure a fair game is played and that the cheats in the game do not benefit in any shape or form. Why not throw the book at the cheats? Give them a six or eight game ban with no wages, they earn enough money to be able to afford it, why not put that money back into the community and let them benefit from the over paid person that decides to cheat to win. Harsh? Maybe but it will stop it all from happening and the football fans will have less to argue about, mean that frustrations do not boil over in the terraces and more importantly just let them enjoy the game that they have paid to see and once the final whistle has blown just allow them to revel in the moment of winning, brag to their mates and then we can just get on with the rest of the weekend. Sounds boring?? Trust me it'll make life as a football fan a lot less stressful.
Will it happen? Of course it won't, the FA are exactly what their initials state........ F@#king Arseholes.