Lofty Heights Awards 2014.......
It's that time again where the Lofty Heights Gang have assembled their votes on the season that has passed by and voted on their Player of the Season and the highlights we have had whilst travelling up and down the country over the course of the last nine months.
LH Player of the Season -
Joey Barton
Runner-Up -
Charlie Austin
LH Young Player of the Season -
Ravel Morrison
Runner-Up -
Tom Hitchcock
Signing of the Season -
Charlie Austin, who else!!
Worst Player of the Season -
Will Keane
Goal of the Season -
Charlie Austin vs Charlton
Best Home Game -
Nottingham Forest
Best Away Day
- Blackpool
Worst Game of the Season -
Charlton Away
Biggest Wanker of the Season -
Assou-Ekotto
The Alan Knight Latecomer Award -
Lee and Jess, for arriving half an hour late into the Millwall game
The Gordon McNamara Corporate Award -
Lofty and Jenson
Song of the Season -
Dunne, Dunne, Dunne (to the sound of Paul Johnson - Get Down)
Assist of the Season -
The Riverside Bobble for Bobble Zamora's goal at Middlesbrough
Surprise Package -
Charlie Austin for his 'bulge' as pointed out by Jess and Sam
Best Celebratory Injury -
Sam's massive bruise on her leg following Onuoha's goal line clearance at Leicester
Best Striptease -
PK changing from shorts to jeans in the car park in Leicester
Most Hungover -
Jenson after many a late night booze up
Newest Good Luck Charm -
Coral after she attended her first game against Nottingham Forest and we ended up winning 5-2
Geographical Genius -
Jess for thinking Bournemouth is up near Manchester/Liverpool
The Fastest Driver Award -
Jenson for his whizzing up and down the motorways for away games
The Safest Driver Award -
Lee, never in a rush
Most Shocking Admission -
Luke admitting he'd swallow Charlie Austin's 'special sauce'
The Neil Warnock 'Who Can Wear Shorts the Longest into the Winter' Award -
Lofty and PK
The 'I'm Honestly Watching the Game with my Eyes Closed award' -
Lofty for looking as if he was asleep when caught on camera at the game at Leicester. (Top left corner)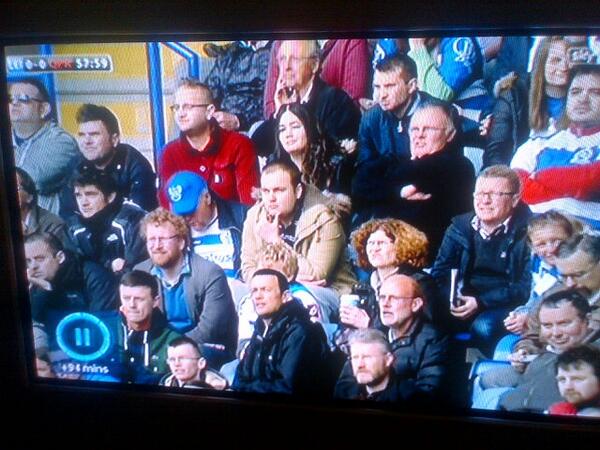 The Viagogo Award -
Lorna for the usage for selling home tickets this season
LH Supporter of the Year -
Lofty narrowly wins this one by attending just two games more than his closest rival.
LH Hardcore Fan of the Year -
Zach Sutton. He's there through thick and thin and even grows his own hat.