QPR Fans Forum.... The Result
Lofty and myself attended the Fans Forum yesterday evening on behalf of Lofty Heights in what was an excellent occasion hosted by the Club.
We arrived at the ground in good time and managed to catch up with Zach and Malcolm before the doors were open just after 6.30.
Plenty of familiar faces were in the room with other Fan Sites being represented, with Clive Whittingham of Loft for Words and Paul Finney from Indy R's to name a few. There was also a good number of people from the LSA also taking their places in the forum.
On the panel for the evening were Mark Donnelly(COO), Philip Beard(CEO), Tony Fernandes and QPR Legend Rodney Marsh.
A variety of topics were discussed with some very honest answers being given on subjects like the upcoming Financial Fair Play (FFP) decision, current Club financial situation with the majority of the debt being with the shareholders and not a bank, current squad and youth policies, before then questions coming from the floor.
Rodney Marsh was excellent and added a good light hearted touch to proceedings and talked a lot of sense.
Tony Fernandes handled some difficult topics well and has definitely learned from mistakes made in the past and talks with a lot of passion about getting the club onto the big stage once again, whether its this season or next, with plans in place for Premier League or Championship status next season.
Mark Donnelly spoke about the Stadium and the feedback given so far from 6500 replies that have been sent so far and ensured that further feedback will be collated once the land had been acquired and then further details such as disabled facilities would again have fan feedback collated to ensure the new stadium we have will be built with all views taken on board. Tony Fernandes also confirmed that we are looking at a 30-40,000 capacity, with no decision yet made on the actual size.
If you missed the forum then just click on the link below to catch up with it all -
Overall a very good evening, with a lot of transparency being given by our Senior Management at the club and given us all plenty to look forward to in the future.
Once the Forum was over Lofty Heights managed to gain two quick and exclusive interviews from two of the panel, Rodney Marsh and Tony Fernandes.
Lofty to Rodney Marsh -
LH -
Well done Rodney, really enjoyed it
RM -
Ah thank you, my pleasure!
LH -
Would it be ok to have a photo please Rodney?
RM -
No problem, but first let me go and see that bloke over there (Gobi)
*waits five minutes* photo then taken
LH -
Thanks Rodney
RM -
No problem mate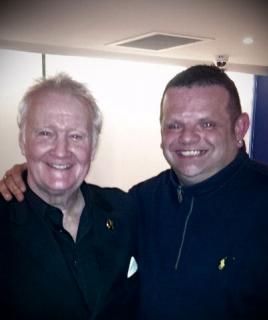 Me to Tony Fernandes -
TF -
Did you enjoy the evening?
LH -
Yes, it was really good and gained a good insight into what is happening at the club. How are you?
TF -
Shattered.
LH -
That's the joys of being a Chairman eh.... (silence)
*photo taken*
LH -
Thanks Tony, nice meeting you
TF -
Thank you (exits room)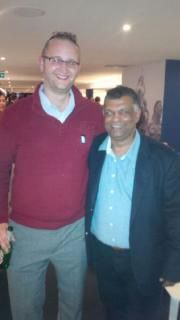 Once the photos were done we managed to catch up with Ian Taylor to thank him for inviting us along before then catching up with our old friend Matt for a catch up and share our play off views before heading to the exit with our EQ8 goodie bag.
A really good evening and we shall look forward to being in attendance in future forums!