United We Fall......
Today saw a traditional fans London Derby as the R's played host to the red half of Surrey as Man United made the trip to Loftus Road. Both teams were looking to get back on track after defeats for both sides last weekend dented their momentum and desperately needed a win to ease the pressure that has been surrounding both clubs for different reasons at different ends of the table.
This weeks focus has largely revolved around Harry Redknapp and the increasing pressure he is under at the helm as the cracks behind the scenes have begun to filter out as the unrest around the club grows from players out of favour and impatient fans expecting more. Shaun Wright-Phillips came out this week to reveal that Redknapp swore at him after he asked what he needed to do in training to give himself a chance. Firstly what I say is SWP needs to man up, if Redknapp swore at him then he such stand and fight for his right as an employee of the club and secondly the interview that he spoke in he came across very well, I'm not defending him as he's not been a great player for us over the past three to four years but at least he seems to have some fight about him and that's more than some others have shown in recent weeks!
I'll have a rant after I've given a lowdown on the match.....
A customary late entrance from Jess and I meant that we could not have the usual pre-match talk outside and instead we met up inside with Lofty, Sam, Luke, PK and Jenson for a brief but good catch up and share our views on what we felt would happen today, especially after seeing the team!
It was also good to see some old faces as Dan showed up for the big game knowing that the pre and post match entertainment in the pub could far outshine the events of the ninety odd minutes we were about to witness, nonetheless it was good to see the old bugger! I also managed to have a good chat with Kempy, Kris and Bob, with my and Bob putting the Rangers' world to rights and a lot of good points being made by Bob and I will share some of those after the game as well!
Onto the team news.
Two changes were made from the Burnley defeat as Caulker was dropped following his terrible showing up north and following him on the bench was Taarabt, who in Harry's words "Had a good game and worked hard for the team" great to see his work ethic paying dividends by dropping to the bench! Onuoha and Zamora came in as the replacements.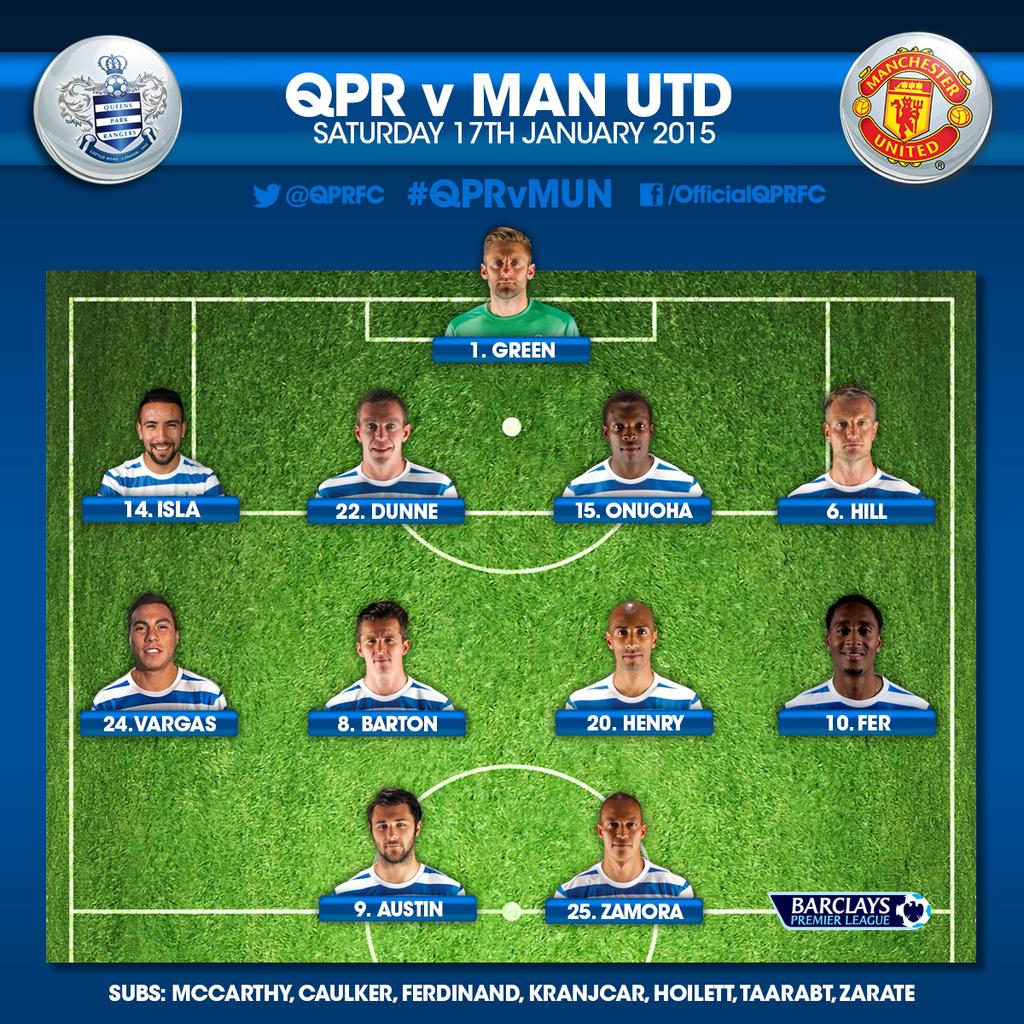 The R's started the game tentatively and it was clear to see that the United midfield were outnumbering the pairing of Barton and Henry as they continuously got stretched by the movement in the middle being orchestrated by Rooney and Mata whilst relying on the pace of Di Maria to catch out our centre backs and provide space for Falcao to penetrate into. It was clear to see that we needed the help of an additional body in the midfield and this saw Austin drop deeper to help out but this also left us short on the counter attack and more often than not the out ball was a long ball to Zamora and the ball would come straight back at us.
United's passing, as much as it pulled players out of position, did not mean that they troubled Rob Green's goal all too often but when he was called into action he was on hand to make a phenomenal double stop from Falcao from point blank range!
R's did have chances to go ahead themselves once they started to keep the ball on the floor and use the footballing ability that some of our attacking players have.
Firstly Vargas' deft lob following Zamora's flick on skimmed just over the bar and then that man Zamora flicked the ball into the path of Austin and the volley was well saved by De Gea as he palmed it away.
Austin forced De Gea into a great save on the half hour when his volley swerved in front of De Gea before the United 'keeper superbly tipped over the bar! It's a shame it was so close to him, but a good stop regardless!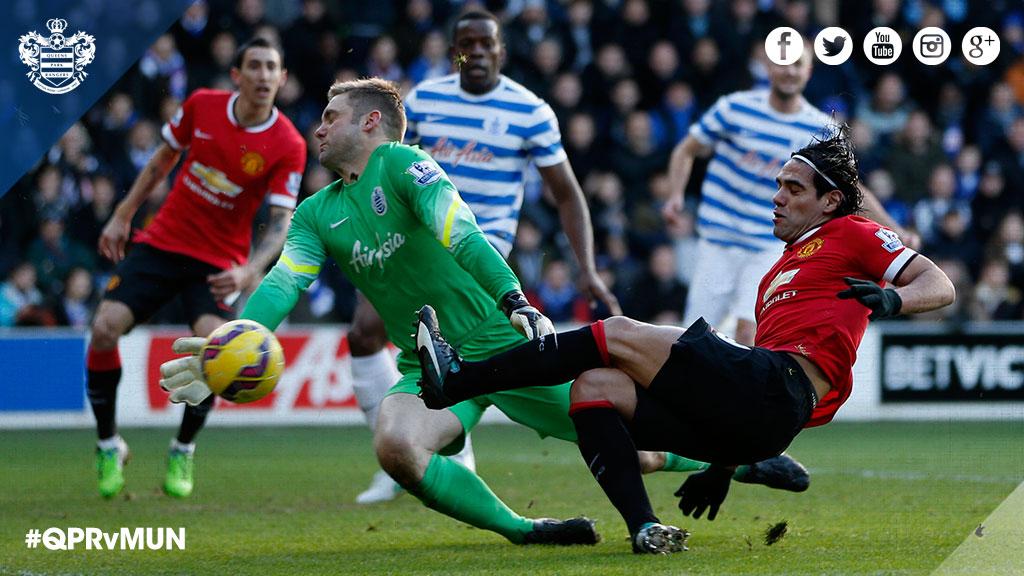 We went into the half time break pretty happy with what we'd seen, the effort was definitely there for the players and they looked to be fighting for their under pressure manager and were deservedly level. We met Michael who was happy to confirm what Lofty, PK and Jenson were saying, the current performance was much improved from last Saturday but we needed to remain switched on and not make any silly errors if we were to get anything out of today.
Both teams made a change at half time with Richard Dunne making way for Caulker, we can only assume this was due to an injury? Felliani came on for United in the place of Mata.
Soon after the interval United had a golden opportunity to take the lead as Falcao beat the offside trap and looked to head Di Maria's cross past Green, only to see the R's 'keeper in fine form once again and palm the ball away to safety! A truly magnificent save that we can all enjoy watching on Match of the Day tonight.
However this did not deter United and they took the lead on the hour mark.
Valencia's run down the United right saw him gain space to pull back to Felliani and somehow the ball found it's way to the Belgian's feet and he smashed the ball into the roof of the net past the despairing Green, who got a hand to it but simply could not prevent the powerful drive hitting the back of the net. Felliani rushed off to celebrate in the United dugout, for a brief second we thought he was celebrating with Rio, but he remained seated in the R's dugout.
The R's pressed and looked to get the counter attack working once again and they had a glorious opportunity to level the game when Vargas cut out a loose pass on the halfway line and sprinted towards the United goal in a three on two attack. Vargas soon looked like he had no idea what to do as his team mates were in acres of space but instead he shaped to shoot before then deciding to pass and giving the ball straight back to Jones, who then cleared to safety. It really looked like a simple opportunity to pass to Austin or even shoot across goal and hope that if it was saved that it would be parried out in the path of Austin or Zamora, instead neither of the outcomes happened!
Rangers' continued to push and the late arrivals of Taarabt and Kranjcar, two similar players in our ranks, were not enough to break the United defence despite a late chance
that fell to Isla but once again De Gea was on form to save at the near post.
In the final minute of injury time, or Fergie time as we used to call it, the victory was sealed as United broke away on a quick counter attack saw only three R's player bother to chase back as Wilson left them in his wake only to see Green pull of a great save once again only for the rebound to be left for Wilson to pick up once again as the defenders stood stationary to allow Wilson to pick up the rebound and slot home.
Having completed my short journey home I have seen a lot of R's fans moaning about today but let's honestly look at this, we played well today, lacked the cutting edge up front and narrowly lost to a United side that are in transition and we fought until the very end. We as fans ask for the players to put everything into the ninety minutes and we can say that the majority of the players done that today and we just were not good enough to get the win on this occasion.
You can single out a few players for excellent performances today with Green, Isla and Henry picking up many of plaudits from the gang and I'll happily throw in Onuoha's name into the hat as he barely put a foot wrong himself.
Onto our
Man of the Match
. A close vote today, with only Luke going in a different direction to the rest of us as he picked out Barton today. With three votes from Jess, Lofty and Jenson was Karl Henry's excellent performance in the heart of the midfield. Also with three votes coming from Sam, PK and myself was Rob Green for keeping us in the game for the entire game and making several outstanding saves.
This means we go to Editors Choice for today and I am sticking to my original vote and giving the award to
Rob Green
!
So here we go, my rant as promised!!
Let's just remind ourselves of who we are, we are QPR, a great family orientated football club with fans who are used to experiencing more lows than highs and why do we put ourselves through the pain of being a QPR fan? Because we love the club, we love being an underdog and not because we are expected to be one of these poncy clubs that is going to win or going to being in contention for winning many trophies, we enjoy winning and we also take losing better than any other fan, we're used to it and expectations have never been too high as we are realistic about our club, the personnel and what we can achieve.
Unfortunately over the past ten years some people have got used to some of the success we have enjoyed with the promotions but with that have come relegations that others have chose not to accept when really we were expected to be in the dog fight from the start. We have been lucky enough to have some fantastic people in charge of the club with Tony Fernandes ploughing plenty of money into the club and the transfer activity and there have been times that he may of been mis-advised by his managers and people around him and he's been the main one to carry the can when in fact it's not his fault, he's just ensuring that he gives the managers the resources they want in order to make us as successful as they feel they can make us.
Fernandes along with Amit Bhatia, Lakashmi Mittal and the other high powers at the club want to make the club as successful as they can be and with that will be the highs and lows before they can then establish ourselves as a stable Premier League club.
With all this being said I see lots of people moaning directly at Fernandes and giving him some much un-needed abuse via Twitter when he's in the midst of trying to sort out the details of the tragic Air Asia plane crash that happened some weeks ago and his views are clearly on this as it was something that has affected many families and this is far more important than football right now. He has fellow board members taking control of the important matters at Loftus Road so he can concentrate on this. Despite all of this, are the events that happen on the football field all down to Mr Fernandes?? Of course they are not, they are down to Harry Redknapp with the squad he himself has assembled and the 47 strong coaching staff that Redknapp himself has appointed yet the basics of coaching simply are not happening when they cross that white line every Saturday. Simple defensive errors are being made week in, week out and what do we get at the end of every game, excuse after excuse which have been beginning to become tiresome with the majority of us and what we want to see is a team going out there, giving it everything they have and making us proud of them representing our team. If that is achieved every week then we have very little to moan about.
With all that being said, do we need a change of manager? If we are going to change things it needs to happen now whilst we have a two week break so a new manager can come in and assess the current squad and bring in a few players that they feel we need to freshen things up and get us performing to a higher level than we have been recently. Will it happen? Who knows!
With all this being said, regardless of whether Redknapp remains in charge or not I will be supporting this team with the same passion that I have for the last 25 years that I have been visiting Loftus Road because it's in my blood, just like I know all of you that are reading will.
QPR is in our blood, we are all here because our Mum's, Dad's and family members are all QPR fans and we were made to follow in there footsteps to support a proper club with great traditions and some amazing fans that know what being a Superhoop is all about.
Rather than bitching and moaning about some of the sh!t that we may witness, let's actually support the team, regardless of who is in charge and get behind the team that pull on those Blue and White Hooped(with a big white bit at the back) shirts and support, encourage and help them in the battles that we are going to be going into week after week! (Thanks to Bob for helping inspire this!)
We'll all be here supporting this club for many years to come so let's get behind everyone that comes into Loftus Road and more importantly.....
Keep The Faith!!!!
Lofty will return following our visit to Stoke. Enjoy the two week break!