Spurs Get Their Paws On Vital Three Points.....
Rangers' hosted their second London Derby in four days as Spurs made the short trip to Loftus Road to attempt to do what their North London rivals Arsenal done on Wednesday and take the spoils back up the road. Could Rangers' turn their fortunes around and help us stop bemoaning the 'bad luck' we are having to endure??
With Lofty's birthday just around the corner we had all planned to meet early on to enjoy a pre-match pint to help him celebrate his 25th birthday once again. Lofty, Jenson and PK all arrived at the Springbok to enjoy these but unfortunately due to traffic issues Jess and I did not make it in time and missed the opening twenty minutes of the game! Sam and Luke also could not make it due to a pre arranged trip to the theatre.
We hope you enjoy your birthday when it arrives on Monday!!
Two changes were made from Wednesday nights defeat with Rio Ferdinand and Maurico Isla returning to the side as Junior Hoilett dropped to the bench as Darnell Furlong missed out through injury.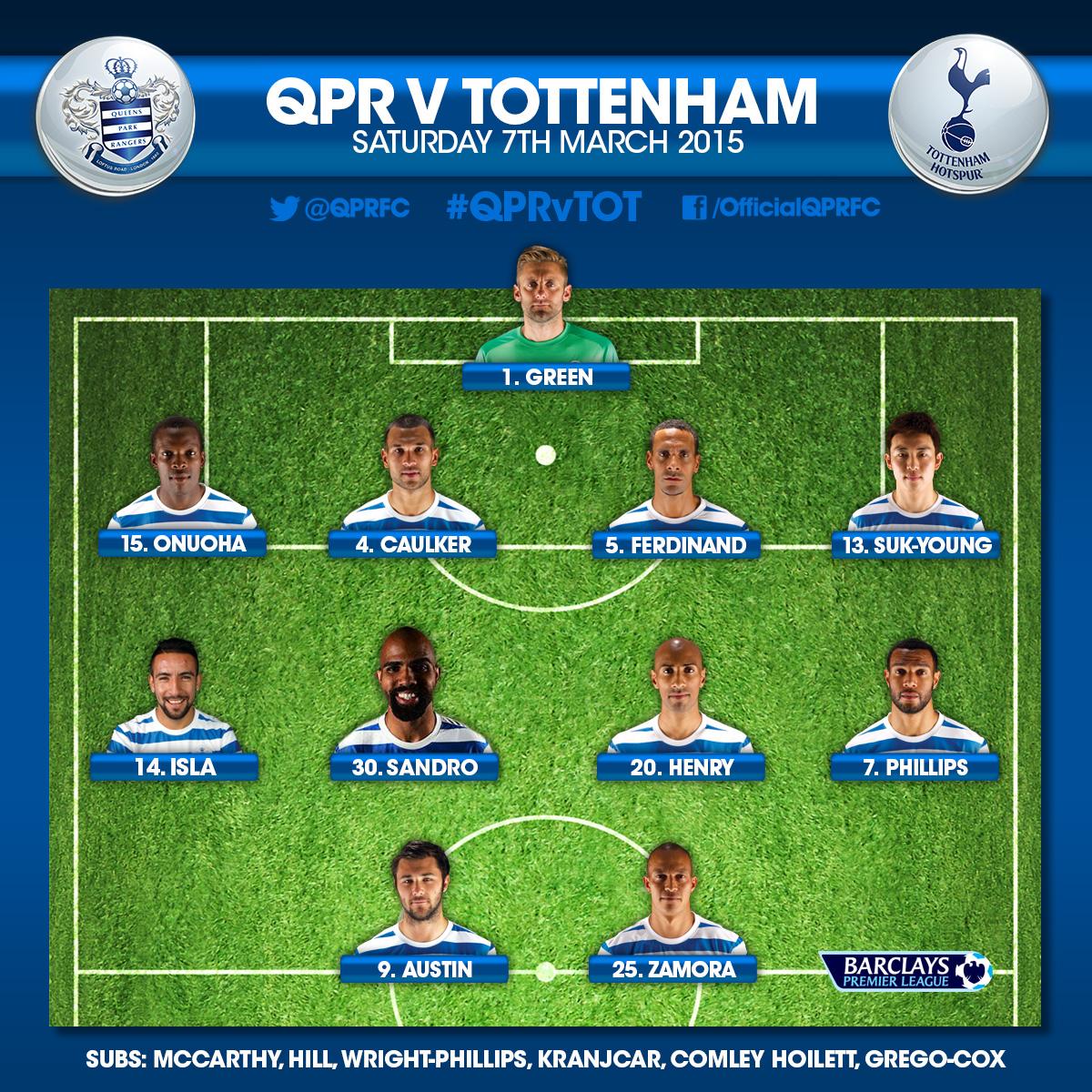 As aforementioned I missed the opening twenty minutes so cannot report too much on this, however I am reliably informed by the gang that Zamora had a good header well saved by Lloris, which led to Spurs being awarded a goal kick somehow!
Kane forced a fantastic save from our hero Rob Green as continues in the form of his life and single handily tries to keep clean sheets himself!
Finally briefly before my arrival Austin intercepted a back pass but could not get the ball in enough control to steer past Lloris, instead the French International denied the R's number 9 with a close range save.
When I finally arrived on with twenty three minutes on the clock I received several jeers from the gang and took my seat and felt like a jinx as Spurs begun to take some control of the encounter but it was the R's that came the closest to opening the scoring on the half hour.
Phillips', who was operating on the left wing due to Isla's inclusion, fed Austin the ball as he maneuvered himself into a goal scoring position and took aim only to see his rasping drive hit the underside of the bar and somehow cleared to safety! It's these fine margins that we curse our luck over and today was to be no different as Spurs went up the other end and scored five minutes later.
Spurs were awarded an extremely soft free kick by referee Pawson roughly thirty yards from goal. Former R's loanee Andros Townsend swung in his free kick as Kane found himself in acres of space having leaving his marker behind and beat Rob Green to the ball, heading into the unguarded Rangers' net. Another dagger in the R's fans hearts after playing well and being unrewarded!
Just before half time Rangers' had definite reason to believe they should have been awarded a penalty when Lloris' trailing leg clattered into Isla as he was about to finish off Caulkers flick forward. It was as clear as day but as you usually tend to see with Pawson, he favoured the bigger side and awarded chuff all! Pawson has a history of bottling decisions again lower table teams and it looked like today was going to be no different!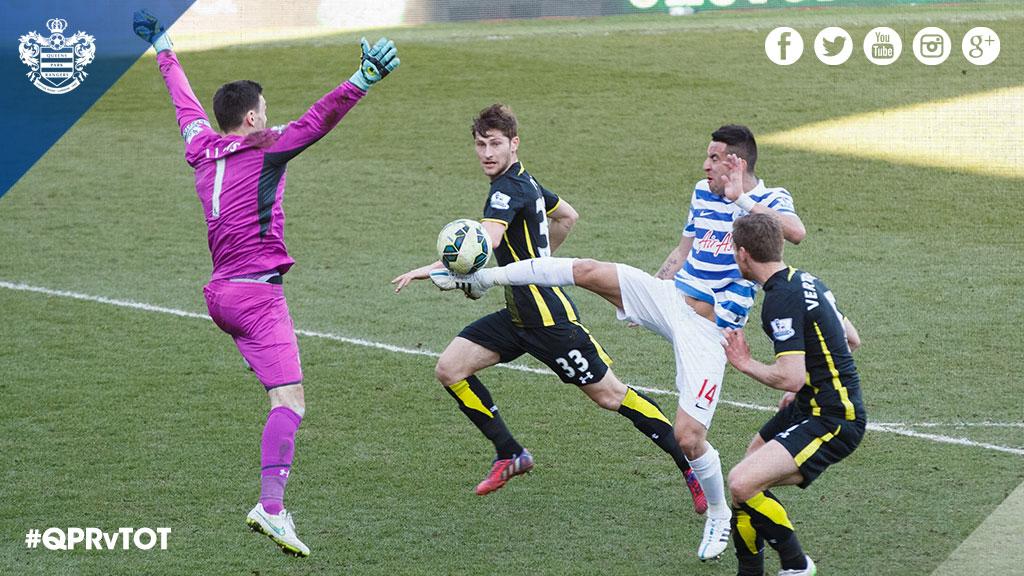 This led to the half time gathering being slightly frustrated by the lack of decisions going in our favour, especially with a free kick being awarded for winning the ball from Spurs leading to their goal and with the R's having a clear penalty waved away. We were certainly feeling that there was a sense of it wasn't going to be our day in the air and that the next forty five minutes being particularly difficult to digest!
Lofty's daughter Laura joined us for a bit of a catch up before we trundled back up the stairs to take our seats for the second half.
Spurs started the second half the better of the two sides and were a whisker away from doubling their lead when Eriksen managed to buy himself an inch when under pressure from Onuoha before taking aim and curling a superb effort past Green, only to see the inside of the post come to the R's rescue before being cleared. It would've been a contender for goal of the month that's for sure!
The visitors started to get more into the game and look the more superior side as they glided the ball around the midfield with ease and begun to stretch the R's with more ease.
Townsend was the next to come close for Spurs but luckily lost his composure in front of goal and sliced the ball well wide.
We were limited in terms of chances in the opening fifteen minutes but did manage to create something when Zamora's shot from an acute angle was parried behind via a combination of Lloris and the near post.
On the hour Spurs really should of been 2-0 up as a quick break away from Walker saw Eriksen certain to tap home having beaten Green but it was an unlikely source in Charlie Austin that was back on the goal line to slide and deny the little Dane from doubling the lead.
The visitors weren't to be denied and foudn themselves 2-0 up with just over twenty minutes to go.
A simple ball over the top by Mason saw both Chadli and Kane through on goal, with Chadli looking to be massively offside when the ball was played. Despite getting within a yard and clearly looking like he wanted to interfere with play, he left it for the in form Kane as he rounded Green before slotting home and giving Spurs what looked to be a certain three points.
Credit to the home side, there was some fight left in the locker and found themselves within a shout following some good wing play by Austin, who squared to Zamora who then found Sandro on the edge of the box and the former Spurs' player sidefooted his effort from the edge of the box just inside Lloris' goal to just give us a whiff of hope.
It was at this point that referee Pawson decided to take centre stage and award a host of soft free kicks to Spurs'. All that was needed was for a player in a black shirt to dive on the floor and that was enough for a free kick to be awarded against us, yet we had none of these decisions go in our favour!
What totally summed up his performance was with ten minutes to go the most blatant handball from Bentaleb, stopping Austin's header going goal bound was somehow missed by both the ref and the linesman! I think Hugo Lloris would've been proud of the save made to deny the R's of a grandstand finish and potentially clinch a point, if not all three! It wasn't to be and we are left to rue missed chances and poor refereeing once again!!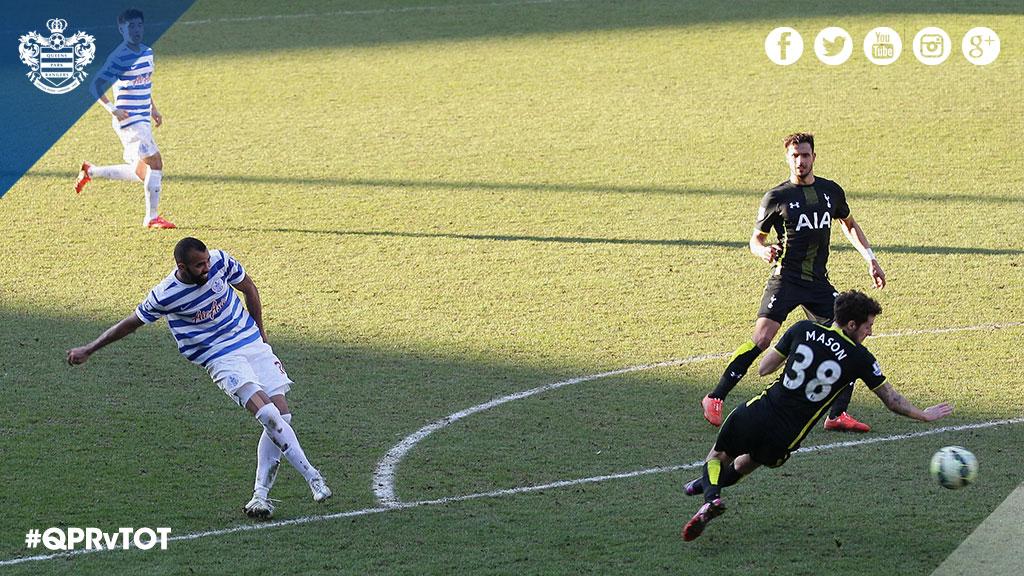 How many times do we have to say it? We were unlucky once again and went down by the odd goal for the umpteenth time this season!
What makes this one hard to take is that we have had two clear penalty shouts waved away, a soft free kick leading to the opening goal and decisions clearly favouring the bigger side in the tie. Take Ryan Mason for example, he clearly threw the ball away in dissent in the opening ten minutes of the half and was not booked for it and when he finally received a card for a crunching tackle in the final ten minutes it should've been a second, leading to the R's having a numerical advantage. Yes it may seem slightly bitter but had Barton/Henry or Sandro done the same he'd of been booked so why not the other way?
One of the things that is really beginning to frustrate me is the fact we continue to be persistent in playing long balls to Zamora and Austin, yet most of our goals come when we play passing football along the floor or when we get Phillips into wide positions and find Austin on the end of his excellent balls from out wide. Are we trying to play to Zamora's 'strengths' too much and hindering the good work that Austin is doing in front of goal? I'm of the opinion that as much as Zamora can be a nuisance we have to start making Austin the main man and play to his strengths. Let's bolster that midfield guile of Sandro and Karlinho and have the pace on Phillips on the right(where he is more effective) and the only other natural wide player we can have on the left is Traore(he proved this last year) and then have a Vargas/Zarate playing just behind Austin that add more pace and attacking threat to the opposition and potentially add more goals to the team whilst we have Fer out injured. We need this support around Austin as he is the single biggest goal threat we possess, whilst Green is doing it at the other end for us! Without those two we could have found ourselves in an embarrassing position this season, let's hope the players around them start to get up to their levels sooner rather than later!
Onto our
Man of the Match
. With PK leaving early I have not received a vote from him, despite this we do have a clear winner despite this. Jess voted for Yun after a good performance and keeping Townsend as quiet as he could whilst also venturing forward and creating several opportunities. However, with the remaining three votes from Lofty, Jenson and I, our Man of the Match is
Sandro
. He battled away at the heart of the R's midfield and has shown us exactly what we have been missing whilst he's been out injured for so long. He and Karlinho are making it impossible for Barton to walk back into the team surely?
Lofty will return next weekend as we play our third London Derby on the spin as we take the short trip to Selhurst Park in a vital game against Crystal Palace. Let's hope we can enjoy some of the magic that we witnessed on our last visit when Helguson sealed the points in our Championship winning season!
In the meantime......