One Elia Heartbreaker....
Yesterday the new era began as Chris Ramsey took temporary charge of the R's following the departure of Harry Redknapp the day after transfer deadline day. Arriving at Loftus Road looking to recover from a rare home defeat were Southampton.
Let's start of with Harry Redknapp....
I think the decision for him to go was the right one as he had clearly run out of ideas, kept playing his favorites and left several players hung out to dry and gave them no chance of playing their part for the rest of the season.
Personally I think Fernandes has learnt a massive lesson in opening up his cheque book and after looking at our squad you can see that we have enough quality at the club and were lacking another striker that would help provide the goal in a relegation dogfight.
With the club beginning to invest more and more in the academy and start to produce our own players, were they honestly going to get a chance when they had a wheeler dealer that continuously bought players that he had worked with before at either Spurs or Portsmouth, citing them as a 'triffic lad' and will add something to the squad? Not a chance! We have some promising players in Bruno Andrade(on loan at Stevenage), Michael Harriman(on loan at Luton), Michael Petrasso(on loan at Notts County), Jack Robinson(on loan at Huddersfield) to name a few that could come in and do a good job for us. We also have more promising youngsters on the books and we have been at risk of losing these because of the signings that have been made.
My personal opinion is that TF was not going to be forced into spending money on a squad that Redknapp had assembled and rather than having to spend compensation on sacking Harry, he forced the situation so much so that the only way to not have another expensive sacking was to not give Redknapp any money on deadline day, make him unhappy and wait for him to walk. That plan clearly worked and now we look likely to appoint Tim Sherwood, who will help to nurture these youngsters, give them confidence and we could see many of our own players come through and make an impact. I will happily support this as it will be something for us to build in the long term, get rid of our label of big spenders and not be such a laughing stock when it comes to transfer dealings.
Anyway, onto the game!
Jess and I met up with Lofty, PK and Jenson just before kick off, we were missing Sam and Luke as they were attending my Mum's 50th birthday meal.
The gang were in good spirits and definitely felt more confident following Redknapp's departure and the new approach could see us watching some more attacking football and not the negative shower that we have been subjected to in recent weeks.
Having said that the team news bought more surprises for us -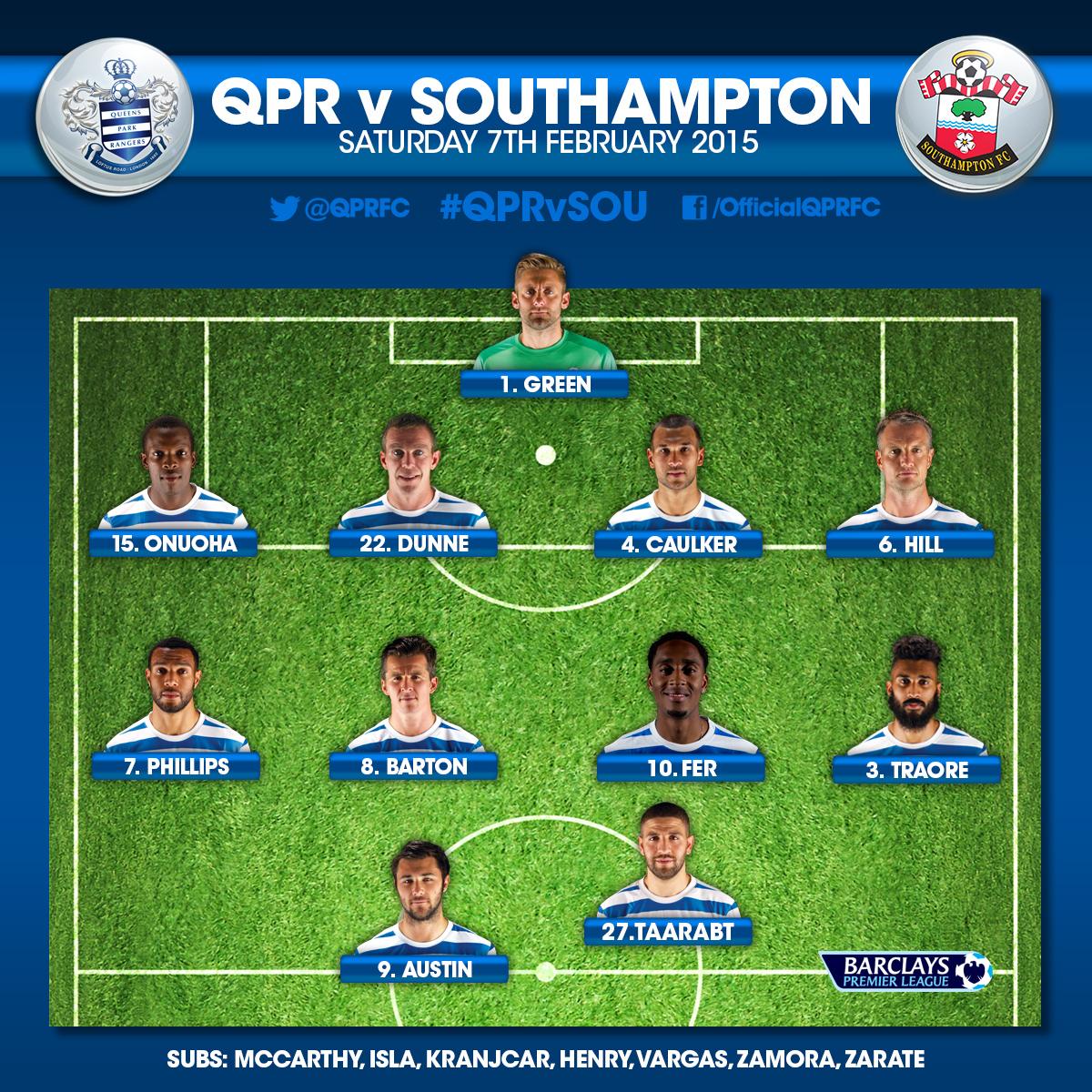 The 'unfit' Taarabt returned to the starting line up to show us if he really was as unfit as Redknapp told us! Traore came into a more familiar left wing role as Matty Phillips started, hopefully with the free reign to play his natural game! One surprise was Isla dropping to the bench.
Onto the match.
Well this wasn't the most entertaining of games and I cannot imagine there being too many highlights for me to see once I get around to watching Match of the Day later on.
Rangers' looked nervous in their approach and seemed to be afraid to make any individual errors as we have been heavily punished for mistakes in recent weeks. This is turn saw the midfield try to play small passes to one another and often were too short, giving easy possession back to the visitors. Taarabt looked to be hungry to impress as he continues to lose the three stone that he was overweight before the Christmas period, I'm hearing rumours that a DVD launch could be due ready for next Christmas to assist those of us who may need to lose some excess weight in double quick time like the magical Morrocan!
Southampton's two wide men Mane and Elia looked dangerous throughout, with Mane spending as much time on the floor as he did his feet! Hill never learnt his lesson and continued to get close to Mane before breathing on him and causing him to fall flat on his arse time after time.
Southampton did have a few chances in the first half with Elia and Mane forcing good saves out of Green.
Rangers' enjoyed brief spells in the opening 45 minutes but it was Phillips return the the right wing that provided a much needed threat to our attacking play and potential provider for Austin to get back on the goalscoring trial, Austin however was playing too deep and Phillips' cross did not have our top scorer attacking them as we would need. Fer was looking a lot better in a more familiar centre midfield role and we saw an improved performance, there was still the occasional lapse of laziness but it was much better!
The second half was a little better from an R's perspective with Phillips again looking to penetrate in the wide areas, Taarabt was still looking lively and not as greedy as we can all remember him.
On 60 minutes Taarabt was taken off to a chorus of boos as he looked to be the most likely to unlock the Southampton defence but with Taarabt probably needing to preserve himself for another game on Tuesday and maybe lacking in match fitness, it was probably the right thing to do. Another player dubbed as 'unfit' replaced him, Mauro Zarate.
Within minutes Zarate nearly made an impression as he danced around several players before unleashing a rasping drive that fizzed over the bar.
Zarate did not stop running for the remainder of the game and has shown that he can bring plenty of energy to the team when he is called upon.
With fifteen minutes remaining we thought the deadlock had been opened. Hill picked up the rebound on the edge of the box following a corner and poked the ball towards goal in Austin's direction. Austin then looked to flick the ball beyond an already committed Forster but somehow he flicked his hand up and turned it over the bar. A purely instinctive save, fantastic from a Southampton point of view.
With the game looking to be heading for a draw there was heartbreak just around the corner.
Rangers' cheaply lost possession on the halfway line and Mane was picked out and held off the challenge of Onuoha before finding the far right corner and snatching the points.
There was some late drama as it appeared that Onuoha had equalized but for an offside flag from the linesman. There has been plenty of confusion around why the goal was not given as it clearly was not a foul that was awarded, so I can only assume it was the ball was touched behind Forster, meaning the player was offside? One for me to view on Match of the Day again.
I would have to say the defeat was a harsh one to take from an R's point of view and we were definitely well worthy of a point but that just seems to be the way our luck is going at the moment!
Mane, despite diving around all game, and Elia were a real thorn in our sides throughout the ninety minutes and were the best two players on the field by a long way!
Lastly I'd like to wish Matt Targett of Southampton a speedy recovery on what looked to be a nasty landing following an aerial challenge with Phillips.
Onto our
Man of the Match
. Lofty voted for Fer as he looked better in a more central role today. Jess, PK and Jenson all voted for
Matty Phillips
, making him the winner on this occasion.
Lofty and co will return following their trip to Hull in a fortnight.