I Predict A Riot!!!
KEVIN GALLEN TESTIMONIAL - QUEEN CHARLOTTES HOSPITAL BENEFIT CONCERT
DOG CHEWED THE HANDLE
After the Reading game, the gang descended on O'Donoghues pub in Shepherds Bush for what turned into a great end of season bash!
Most of the QPR staff and players were in attendance and were more than happy to chat and have photos taken. It was fitting really, that Gareth Ainsworth's band were the main event of the evening.
We have seen a few of their gigs now and they just keep getting better and better. The usual format is a warm up track, then two sets of classic rock, indie and punk anthems. The boys can definitely put on a show and the first set kicked off with tracks from the Stereophonics, Oasis and Blur to name a few. This got the crowd warmed up very nicely for the second set which simply rocked!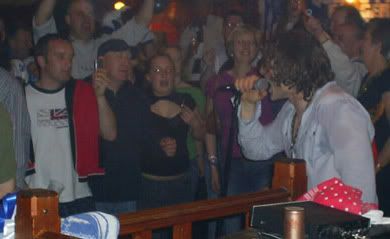 The second set... and the crowd are then completely and utterly hooked, as they belted out classics from The Who, The Sex Pistols and The Clash amongst many others. By the time they performed the Kaiser Chiefs 'I predict a riot', the place was absolutely jumping! They ended with an Oasis track, which lyrics describe the footballing frontman superbly... 'TONIGHT... I'M A ROCK and ROLL STAR!!'
To sum up, this was yet another great occasion. If you ever get the chance to see Dog Chewed The Handle, I can assure you that you are GUARANTEED a fantastic time!!
For more info about the band and forthcoming gigs, please visit:
http://www.dogchewedthehandle.com/
or
http://www.lemonrock.com/dogchewedthehandle
Rock On!! \w/
©LOFTY