The LH Awards 2006/2007
Welcome to the long awaited LH Awards. Slightly different format this year as I decided to give the votes out to my friends and readers and gave them license to vote for almost anything. A massive thanks to everyone who voted!

Here are the results;

Firstly, on the field...

PLAYER OF THE YEAR
- Dexter Blackstock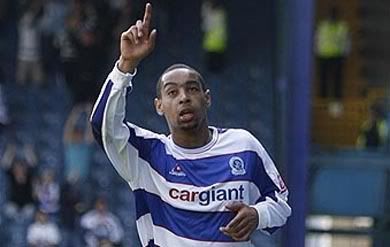 RUNNERS UP
- Lee Cook and Damion Stewart
YOUNG PLAYER OF THE YEAR
- Michael Mancienne
NON PLAYER OF THE YEAR
- Armel Tchakounte
GOAL OF THE SEASON
- Marc Nygaard(second goal), Leicester away
Other awards...
THE DON'T BELIEVE THE HYPE' AWARD
- Nick Ward
WILDEST CELEBRATIONS
- Luton home, 3-2

SUPPORTER/S OF THE YEAR
- Paul, Joe and Vickie from Leeds
INTERNATIONAL SUPPORTER OF THE YEAR
- Alan aka California Hoop
BEST NEWCOMER
- Holly
SEASON HIGH POINT
- Staying up - Cardiff home
SEASON LOW POINT
- Southend away, 0-5
SIGNING OF THE SEASON
- John Gregory/Adam Bolder
TURNING POINT OF THE SEASON
- Southend away, 0-5
BEST GROUND
- Loftus Road
WORST GROUND
- Brittania Stadium, Stoke
BEST DRIVER
- Paul, Leeds
REAR OF THE YEAR/SHORTEST SKIRT AWARD
- Vickie
BEST HAIRSTYLE
- California Hoop for the 'Whoopi Goldberg' look
THE CHURCHILL NODDING DOG AWARD
- Al Murray aka Corp - oooooh yes!
THE 'NO MORE AWAY GAMES BECAUSE WE ARE PLAYING S**T' AWARD
- DJ
BEST CHANT STARTED
- 'thats why were staying up' @ Sunderland, PK
BEST PIE
- Stoke, Balti
MOST DESIRABLE RESIDENCE
- Jilly's Wheelie Bin

THE 'IT'S NOT COLD ENOUGH FOR A COAT' AWARD
- Joe
THE 'I WOULD WALK 500 MILES' AWARD
- Lofty
AWAYDAY MOMENTS
- Plymouth away, the PSP competition. Burnley away and the Cliff Richard look-a-like. Preston away, and the classic table football clash

FUNNIEST MOMENT OF THE SEASON
- PK - during a gang score prediction contest, PK, having watched Colchester beat Southampton at St Mary's on Sky Sports, went on to predict a Southampton win!!!