Rangers Tamed by the Owls...
Sheffield Wednesday 2-1 QPR

Sheffield Wednesday came from behind to clinch victory, in what was the proverbial game of two halves at Hillsborough. With it being my birthday this weekend, I was hoping the R's would give me an early present of three lovely points, but it was not to be...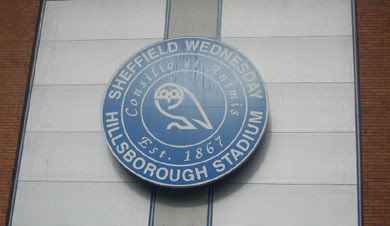 The day started well enough and a breeze of a journey for myself and PK, saw us arrive in plenty of time. The first disappointment arrived inside the ground, which for some unknown reason, does not serve alcohol in the away end! - So the birthday boy was toasted with cups of tea, coffee and hot chocolate! Which ultimately led us to our seats in plenty of time, to pay our respects to Sheffield footballing Legend, Derek Dooley, who died last week, aged 78.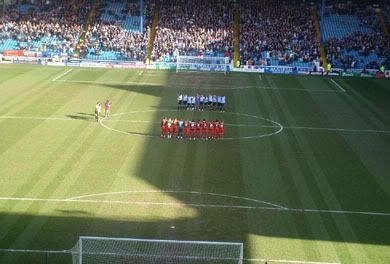 Onto the game and the midweek bore draw at Coventry, was soon being forgotten as Rangers simply dominated in the first half and were ahead on 15 minutes, through Delaney - who cooly slotted home Vine's centre. Rangers went on to create more and more chances and a post was all that prevented Agyemang from making it two nil.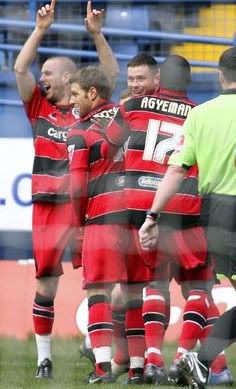 The game then changed on 40 minutes, when Owls boss Brian Laws, admitted he got things wrong by making a double subsitution, bringing on McAllister and Burton for the ineffective Showumni and Wallwork - and when Kavanagh headed the scores level in first half stoppage time, I couldn't help thinking that there would only be one winner from there on in. Sadly, I was right...

On 52 minutes, the home side were ahead through a slightly dubious looking penalty. Camp was adjudged to have dragged down McAllister after getting in a mix up with Connolly - Dion Burton sent Camp the wrong way to make the score 2-1. I know it won't change the result, but I am interested to have another look at this on TV tomorrow.

Referee Swarbrick then took over, albeit assisted by the home crowd at every opportunity. I really don't like baiting refrees on these pages, but this guy gave us absolutely nothing and when the Wednesday fans shouted, he duly obliged them. To make matters worse, he lost complete control of the melee that followed Hogan Ephraim's sending off(o which Rangers showed more fight there, than the entire second half!), to which, he just blew the final whistle.

QPR: Camp, Delaney, Stewart, Mancienne, Blackstock, Buzsaky (Balanta 75), Rowlands, Connolly, Agyemang, Vine (Ephraim 63), Leigertwood (Mahon 65). Subs: Pickens, Rehman.

Lofty's Man of the Match - Michael Mancienne.

In summary, there is yet more frustration for R's fans as not for the first time under the new regime, Rangers failed to appear for the second half. What adds to the frustration is that the R's were that dominant in the first half, it was almost embarrasing! Also, I must just mention that at the end of the game, ONLY Gavin Mahon, Martin Rowlands and Lee Camp saw fit to acknowledge the travelling support. I can fully understand how the players will be disappointed after clinching defeat from the claws of victory - but hey, so were we!!

The footballing treat against Stoke last Sunday, seems all but a distant memory now...

Finally - I didn't get the Birthday win I hoped for, but consolation came in the form of the result from the FA Cup Quarter Final at Oakwell - Barnsley 1-0 Chelsea!!

Congratulations Barnsley, and thanks :o)