The Late Show in Lancashire...
Burnley 2-1 QPR (aet)

Substitute, Jay Rodriguez fired Burnley into the FA Cup fourth round with a goal in the last minute of extra time at Turf Moor.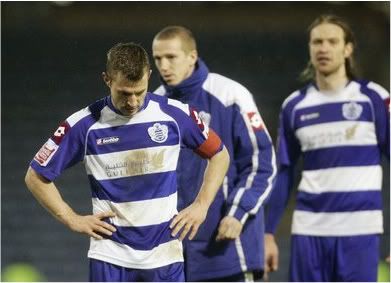 I am gutted, choked, p*ssed off, annoyed etc, I could go on. I didn't travel to Burnley tonight and to be honest, with still counting the cost of Christmas and stuff, I had no intention of doing so. Staying with the honesty theme, I also didn't think for one minute we would win the game and was even more convinced when I saw Paulo Sousa's team selection. But for 6 minutes, I was starting to think about the trip to West Brom on Saturday week and very much looking forward too it, as Samuel Di Carmine gave the R's the lead on 54 minutes.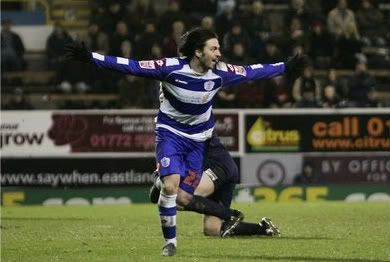 Martin Rowlands hit the bar shortly after, but the home side equalised just 6 minutes later through Thompson after a mistake from Radek Cerny. As the game came to a close and indeed, went into extra time, I was wondering just how Rangers hadn't wrapped this game up, but I was mentally preparing for the pain of a penalty shoot out, when in the last minute, the commentator on Radio London screamed - 'that's a terrible mistake by Damion Stewart, Rodriguez is in and Burnley are through to the next round...
QPR: Cerny, Delaney, Stewart, G. Mahon (Rose 79), Hall, Leigertwood, Gorkss, Rowlands, Ledesma (Ephraim 55), Alberti, Di Carmine (Helguson 84). Subs: Crowther, Ramage, Connolly, Borrowdale.

Lofty's Man of the Match -
Courtesy of Paul, Joe and Vickie
- Samuel Di Carmine
How weird it is that I never thought we would win this game, yet am writing this report extremely dejected. Possibly due to the fact that the two goals came from mistakes, but credit to Burnley and I wish them all the very best in the next round against West Brom. Credit also to the R's travelling support, estimated between 350 and 500 who made the difficult midweek trip and gave fantastic support, if what heard on the radio was anything to go by.