QPR Smash Open the Transfer Window...
With the transfer window barely open, QPR have made three permanant additions to their squad. Firstly, I had great pleasure in sending the texts to the gang this morning with the news that the Iceman, Heidar Helguson had made his loan move from Bolton permanant by signing a 2 and a half year deal for an undisclosed fee. Helguson has made seven appearances for the R's so far, scoring 3 times.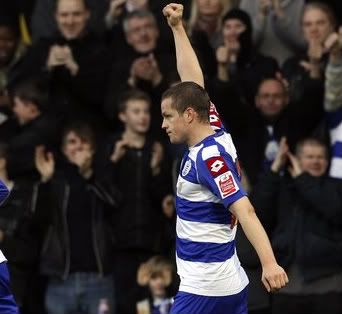 With me being at work and finding web access tricky, Sam took over the text duties and I was thrilled to see the one saying that QPR had signed Wayne Routledge from Aston Villa.
With a good few clubs, including Cardiff who he was previously on loan with, chasing his signature, the 23 year old winger has signed a 3 and a half year deal with QPR for an undiclosed fee, believed to be around the £300,000 mark.

Hot on the heels of that news, came another text from Sam saying that Coventry left back, Gary Borrowdale had also signed on the dotted line and made his loan deal a permanant one.
Borrowdale, who is yet to make an a first team appearance during his loan spell, has also signed a three and a half year deal for an undisclosed fee.

With the excitement brewing following a morning of text messages (thanks, Sam), it was almost disappointing that no further news came forward today, but hey, the window has only been open two days. I am absolutely thrilled with the signings of Helguson and Routledge. Not so much with Borrowdale as I have yet too see him play, but am happy all the same that Rangers are bringing new faces in. A striker, a full back and a midfielder will hopefully be forthcoming and I will be a very happy bunny indeed!!

But for now, GOOD LUCK Heider, Wayne and Gary and WELCOME to QPR!!!