Faurlin the Machine.
In the final leg of the Cornwall tour the R's faithful travelled to Torquay to take on a League Two side which were unbeaten so far during their pre season warm up, including a 3-1 victory over Plymouth in midweek, so this looked to be a good test ahead for the squad currently down in the South West.
Once again it was just me and Sam that took to the road, this time slightly earlier than usual so we could get down to Torquay and see if we could sample some of the so called 'English Riviera' and see if it was any good. Within an hour of being in the car we were stuck in traffic and became aware of long traffic delays further down the M4 so we took a diversion to try and avoid it but only ran into even worse traffic. Whilst being stuck in this tedious event we came across the world famous Stonehenge, it added a little bit of culture to the journey that was unexpected and here is what we saw.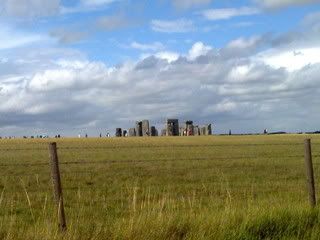 After being delayed by an hour and a half we finally arrived at Plainmoor with just half an hour to spare so the only sights we got to see were the occasional palm tree along the way.
We arrived to find that there was just a 15 man squad for tonight as Gary Borrowdale and Antonio German have travelled back to play in the reserves fixture at Borehamwood tomorrow afternoon. Fitz Hall and Paddy Kenny were also not in the squad for reasons that are unknown, we can only assume that both have slight knocks and the management team didnt want to risk making them worse.
The team that started the game was :-
Cerny; Leigertwood, Connolly, Gorkss, Hill; Derry, Faurlin; Mackie, Buzsaky, Clarke; Helguson.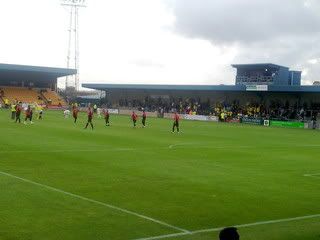 Rangers started the game with some slick interchanging passing and were slowly beginning to open up the Torquay defence and within five minutes we created our first chance of the game. Buzsaky had a chance on the edge of the box but his shot flew over the bar.
Just five minutes later the scoring was opened.
After some good passing it was Clarke that was released down the left hand side and his cross was expertly tucked away by the diving Heidar Helguson. A great move and unfortunately it come at some cost as Leon Clarke pulled up and was taken off just a minute or so later, as a precaution, as he felt a pull in his thigh. Lets hope its not too serious. His replacement was Hogan Ephraim.
Rangers continued to press and when Leigertwood's accurate cross was headed just wide of the post by Helguson halfway through the half you felt that there were more goals in this game for the travelling fans to enjoy.
The R's weren't having it all their own way by any means. Torquay were pressing and tightly marking throughout the midfield area and very rarely gave the R's players any breathing space, so it was proving to certainly be more of a test than in the previous two games.
The midfield battle was quite closely contested although Derry and Faurlin always looked very comfortable on the ball and the Rangers' back four sweeping up much of the danger with as little fuss as possible but there were one or two dodgy moments but when Radek Cerny was called upon for the only time of the half he tipped the ball wide after some good Torquay build up play.
Half time soon came around, a lot quicker than it usually would during a friendly. It's fair to say that when the R's went forward we looked pretty dangerous and created numberous chances for each other. There looked as if there were a few heavy legs out there but it's totally understandable when they are playing in their third game in five days and also having training sessions every day as well, it puts the players in good stead for the long season ahead.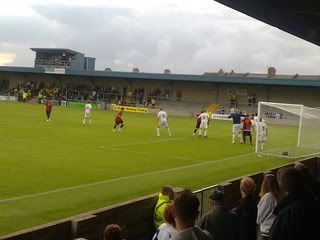 The second half got underway and it was Torquay that came out the brighter of the two sides and put the R's defence under pressure and gave them their first real test of the pre season.
Ten minutes into the half and the Rangers' defence had Cerny to thank for keeping the clean sheet. A corner from the right was met by a Torquay player and Cerny managed to palm away the close range header but only into the path of another Torquay player who in turn put their effort over from close range. A let off for the Rangers' defence.
This sparked Warnock to tell the three remaining subs to get ready to come on and liven things up. Unfortunately the three subs were on the sidelines ready to come on when the equalizer came on the hour mark.
A teasing cross from the right hand side was met by a Torquay head and Cerny very nearly kept the header out but couldn't get a strong enough hand on it. 1-1.
Peter Ramage, Damion Stewart and Josh Parker then came on for Clint Hill, Shaun Derry and Jamie Mackie. Ramage took his place at right back and Matt Connolly moved to left back, Mikele Leigertwood moved to the centre of midfield and Josh Parker played down the left wing.
Parker certainly livened things up and seemed to spur on a few of his team mates with his energy. It was Parker himself that came close to getting a second Rangers' goal when he attacked the left hand side and cut in before unleashing a powerful curling effort that went just over the bar.
Minutes later the Rangers' youngster bagged his third goal in as many games. Cerny's long free kick was flicked into the path of Parker and he blasted his shot into the roof of the Torquay net. I feel we have a potential breakthrough star for the season to look out for in Josh Parker, remember the name.
As the game to a close Torquay thought they had grabbed an equalizer from a corner but as the corner was swung in the refereee whistled for a free kick just as the ball was poked home, relief!
Two minutes after that it was game over.
Cerny's long kick was won by Faurlin before Helguson flicked the ball into the path of Hogan and after a little trick he shot across goal and the effort rolled over the foot of a Torquay defender and went into the bottom corner.
Helguson could've made it four but his header was cleared off the line by a desperate Torquay clearance.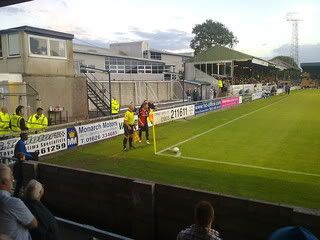 All in all you have to say that this was an extremely good work out for the squad and it realy did test him after what has been a hard week of work for them. Torquay passed the ball around really well and pressed high up the pitch and gave us a few more obstacles to overcome. I will be putting Torquay down as an each way bet to be going up from League Two this year after seeing them tonight.
You have to give credit to the platers as well after a hard week. Faurlin has played 250 of the 270 minutes of game time over the last five days and completed all of the work in training, many of the other squad memebers have played at least 200 minutes, if any Premier League player done that they would be crying that they were tired.
The boys have earned themselves a short rest before travelling off to Italy next week.
The journey home was a swift one, it took us two and a half hours to get from Torquay to home and after that Lofty has now labelled me as the 'Mark Webber' of the group, I finally have a drivers nickname.
Now I have finished this report off I am going to leave to watch the reserves at Borehamwood this afternoon and a short report will be up late tonight or tomorrow.
U R'SSSSSSSSSSSS