Blades Cut to Size by Impressive R's...
Sheffield United 0-3 QPR

Welcome back to part two of this weekend's report on QPR's impressive 3-0 win at Bramall Lane. Apologies of course for it's lateness, but after being asked by Lee to write this weeks report, I forgot initially I had a 40th party to attend when I got back, in which much fun was had. Amazing what having a few pints on the back of a good win will do to ones mood. As for Lee, well, let's just say, he was a bit busy himself this weekend...

Well, what a day this turned out to be - myself, Lee, Jenson and PK hit the M1 at just after 10.30 and had a relatively easy journey of which the traditional prediction competition returned, more on that later.

On previous visits to Bramall Lane, myself and PK have found a top parking spot and a quiet little deli/cafe/bar called 'HELLAS' to enjoy some pre match food and drink, to which we raved to Lee and Jenson on route about. How typical that the parking spot had suddenly become more popular and the quiet Hellas was somewhat less than quiet. So, after a quick Peroni, we made our way to the Stadium and as you all know by now,the pre match was all that was to go wrong today...

During the journey and indeed, the prediction contest, it seemed myself and PK were the only ones predicting a cheeky Rangers win, but the general concensus was that we would all take a draw. I am going to cheat now and recap the match with Lee's report put together on the journey back...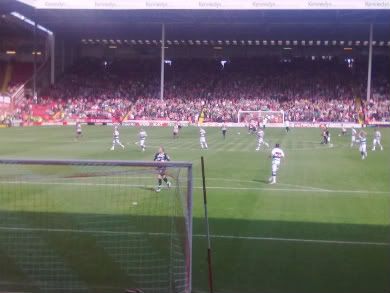 Rangers simply blew away the Blades with a superb opening 25 minutes and put the game to bed in the blink of an eye.

Hogan Ephraim opened the scoring after Adel Taarabt had thread him in with a fantastic through ball and set the little winger clear, Hogan coolly slotted past Simonsen when one on one with the Blades 'keeper.

Within five minutes it was 2-0. Some good build up play between Taarabt and Hogan saw the latter play a perfectly flighted deep cross for Jamie Mackie to the back post and he was more than happy to nod home from close range and celebrate in front of the travelling support.

Then the dream really did become reality as Heidar Helguson turned his marker and was brought down by Simonsen and the referee had no option but to point to the spot. After a little bit of arguing between Taarabt and Helguson it was Taarabt that took the ball, placed it on the spot and put the penalty away with such confidence and put Rangers' 3-0 ahead with only 25minutes played!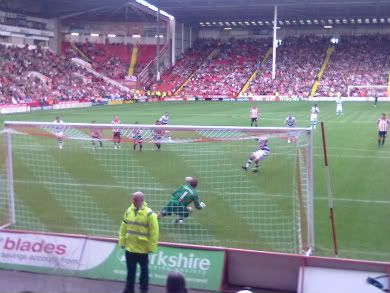 A slightly more calm second half was to follow and chances were hard to come by but more importantly a clean sheet was kept and another three points were in the bag.

At the final whistle, the Blades fans were extremely disgruntled and made their voices heard, even more so than earlier in the day when they welcomed back ex keeper, Paddy Kenny. In talking with a few Blades fans after the game, it seemed the blame was pointed solely at Manager, Kevin Blackwell who, maybe not surprisingly, left the Club by mutual consent shortly after the final whistle.

QPR: Kenny, Orr, Hill, Derry, Hall (Ramage 50), Taarabt (Clarke 69), Helguson, Faurlin, Mackie, Gorkss, Ephraim (Leigertwood 82). Subs: Cerny, Connolly, German, Parker.

Lofty's Man of the Match - again, so many to choose from and a long discussion amongst the boys saw Kaspars Gorkss, Heidar Helguson, Adel Taarabt, Jamie Mackie and my own choice, Sean Derry recieve plenty of plaudits. But this weeks award goes to the one player who was praised by all of us, scored one and made the second - Hogan Ephraim

Well, journeys home after a result and performance like that of yesterdays, are certainly more pleasurable and it also brought the first predition result of the season, with a familiar result. Let me just say, that as, jokingly, foul play was brought up on more than one occasion last season, Lee left the organising of the contest to myself and Jenson, so it was with no doubt even more satisfying for my co editor that he claimed the £20 prize money once more. PK however, lived up to his billing that our own Adel Taarabt has given him of 'knowing nothing', sadly came last.

See you all next Saturday vs Scunthorpe at Loftus Road...