We are Top of The League!!!
Welcome back to the new season and what a start we had!!! The Lofty Heights crew were back on the scene and living the dream on a sunny/wet afternoon in W12. Barnsley were our opponents and this is how our day unfolded.

It was an early(ish) start for us as for once I took the train to football just in case we decided to have a few too many beers after what would hopefully be a cracking day with the gang as we re-united properly for the first time since the end of last season. PK jumped on the train at Burnham and we made our way to White City.
Once we got to Loftus Road I had to pick up my season ticket and Lofty's match ticket before we all met up at our usual pre-match watering hole, The Springbok.
The gang were fully re-united here as Lofty, PK, Corp, Sam, Jenson, Matt, Luke, Jo B, Jo G, Banks, Stedders, Phil and Nik all popped along at somepoint during the pre match build up and before we knew the heavens opened and we had a mad dash through the turnstiles to get to our seats, we were only a few minutes late and didnt really miss much of the action.
For the first game of the season Neil Warnock fielded 6 of Rangers' summer signings in a now familiar 4-2-3-1 formation.
Kenny; Orr, Hall, Gorkss, Hill; Derry, Faurlin; Mackie, Taarabt, Ephraim; Helguson.
As you will notice a familiar name to the group is missing from the group at the pub, this is because once again California Hoop made a grand entrance 12 minutes into the game, normal service has resumed for California Hoop, 1 game and 1 late entrance. Cali was joined by Darryl
The first half was a fairly even encounter, Rangers' enjoyed mopre of the attacking play and were not really tested too much at the back although when Hugo Colace's long range effort hit the outside of the upright a few of us looked a tad worried.
Luckily five minutes before the break those worries turned into jubilation.
After some neat play between Faurlin and Ephraim it was Adel Taarabt who took centre stage as his trickery got the better of the Barnsley defenders, and not for the first time, as he found himself making his way into the box before he was brought down by McEveley just as it seemed the Barnsley defence had melted away before him. The referee had no option but to point to the spot.
Heidar Helguson got the ball and cooly waited for Barnsley keeper Luke Steele to dive to his left before slowly rolling the ball home into the bottom right hand corner. Cooly done by the Ice man (no pun intended).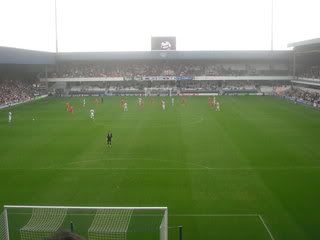 The half time meet up was one that was pretty happy with what we had seen. The players seemed nervous but also looked as if they wanted to slowly build up and mistakes were minimal. Even when Gorkss had to leave the field to have his head bandaged up we looked organised and everyone knew what they were doing.
Once again we were a little late getting to our seats as the second half kicked off.
Just eight minutes into the second half and the lead was doubled.
Faurlin and Ephraim once again combined with some good passing play and then Ephraim's cross was too hot for Steele to hold and Jamie Mackie was there to pick up the pieces and get a dream debut goal.
Rangers' never looked back from this moment on and the shackles came off as Rangers' showed how dangerous they are on the attack as chances were created.
Ten minutes later the game was put to bed.
Doyle mistimed his intervention on Heidar Helguson and clipped the Icelander's heels and conceded a second penalty of the game.
This time Adel Taarabt took the ball, placed it on the spot and slotted home from 12 yards.
For all the facebook users we have a short video of the penalty captured by Lofty's hi tech phone on the following link...
http://www.facebook.com/?ref=home#!/video/video.php?v=10150242799000035&ref=notif&notif_t=video_tag
The fourth goal was soon to come as the impressive Ephraim once again was the provider as his ball slid across goal and there was newly named captain Fitz Hall to tap home from two yards out and really put the icing on the cake. Its fair to say that Sam tore the roof off as she celebrated her favourite players first goal of the season and nearly deafen the poor Michael Whelan in the Upper Loft, and to think he has another 22 games to go through as well! Our sympathies are with you my friend.
Well what a start to the season, the last time we started off this well was against Blackpool in a 5-0 victory at home and at the end of that season we all know what happened, was today the sign of things to come?
The second half was definitely impressive and Taarabt was at his brilliant best and just was too much for Barnsley to handle. You can easily say that there are better performances to come from this team and with a possible signing or two in the next week or two to strengthen up even further, you can only see good things happening over the next 45 games.
Todays
Lofty Man of the Match
award didnt take must consideration as the star of the show was evident. Jamie Mackie was superb, Shaun Derry and Faurlin at the heart of the midfield were rocks, Hogan grabbed a few assists and looks to be flourishing under Warnock but the undoubted star was bargin buy
Adel Taarabt
.
QPR:
Kenny, Orr, Hill, Derry (Leigertwood 80), Hall, Taarabt (Parker 78), Helguson (German 83), Faurlin, Mackie, Gorkss, Ephraim.
Subs:
Cerny, Clarke, Connolly, Borrowdale.
Goals:
Helguson (pen 41), Mackie 53, Taarabt (pen 63), Hall (81)
Bookings:
Orr (61)
Barnsley:
Steele, Hassell, McEveley, Shackell, Doyle, Foster, Lovre (Butterfield 86), Devaney (Hume 46), Hamill (Neumann 76), Colace, Gray.
Subs:
Preece, Dickinson, Boulding, Potter.
Bookings:
McEveley (41), Doyle (90)
Referee:
Mr J Linington
Attendance:
13, 445
After the game we all made our way to The British Queen for our post match beers and celebrations. Having only planned to have a few, we added a few more on top of that and ended up drinking there until 10ish and walked away to catch our trains home and met a random lady of the night that brightened the night up... the rest is history.
We'll see you all again on Tuesday!