Reserves show they are second best.
The Rangers' faithful took to the road this evening to visit Crawley Town, a team that has had some very good pre season results so far, they have claimed the scalps of Millwall, a Chelsea XI and an Arsenal XI and looked to add to their list as we traveled down from West London.
Sam was being treated to a day in the press office with Matt so they headed down early to the Broadfield Stadium and were quick to warn me of an accident that was holding up many travellers on the M25, luckily I had finished work late and managed to create my own diversion to the ground and was probably only of very few travelling fans that had an issue free journey down to Sussex. Having found out on the way down to Crawley that we were fielding a reserve side I must admit I did wonder if the effort was all worth it.... but I still decided to attend, am I a mug or just a loyal fan (like all the other R's faithful that made the effort), you decide!
Having parked up and got inside the ground early enough to find a spare seat, I sat in amongst a few Crawley fans and a few Rangers fans and listened to views as I had nothing else to do before kick off.
So the game started and within 10seconds of the start Romone Rose put a shot just wide of the post and gave us some hope into what could be a good chance for some of our fringe players to shine, but shine they didn't!
Crawley's passing play created problems for the R's defence and soon Cerny was called into action and he made two sublime saves before the inevitable first goal came.
A Crawley striker, who I really don't know, broke the offside trap with a perfectly timed run and as he was bearing down on goal a simple pass to the side gave a striker, who was frequently called 'Tubbsy', an easy tap in from close range and gave the home side a deserved lead.
The rest of the half in a blur to my memory but I can honestly tell you that the lack of detail will probably help more than anything.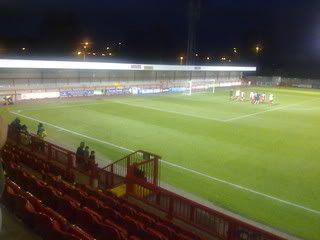 After queuing up to get a drink for myself and Gobi, who I had arranged to meet for a half time chit chat and catch up on whats been going on, i bumped into to friends at the bottom of the stand and was stood chatting from the middle of half time until the second Crawley goal went in (6th minute) and then finally got up to give Gobi his drink and finally catch up on what is happening.
Tubbs had scored the second goal of the game when he was slotted through to be one on one with Cerny and the Devils striker lashed the ball home and pretty much ended the game as a contest.
The final 10 minutes of the game saw an improved period for the R's but its wasn't enough to claim anything back from a Crawley side that fully deserved their win again the R's second string.
Crawley have made an astute few signings after capturing Michel Kuipers (ex Brighton goalkeeper), Sergio Torres ( ex Wycombe and Peterborough) and Pablo Mills (from Rotherham's promoted side last season), these signings along with their lively striker Tubbs and the passing football that they displayed tonight made myself and Gobi think that this side could possibly challenge for promotion out of the Conference next year.
We move onto Plymouth at home on Friday for what will hopefully be a full strength side.