Slowly Faurlin Into Place
Last night the small matter of a League Cup tie against Walsall was played at Loftus Road, with Mark Hughes keen to have a cup run and also get the first win of the season for the R's.
With a few urmmm's and ahhh's surrounding the Lofty Heights gang as to whether to attend the fixture, we did turn out in a small force.
I arrived not long after 6pm and was greeted to a message from Lofty saying "behind you" luckily for me he hadn't sneaked up behind me, he had in fact parked up just a few spaces behind me. I went and joined him in the car whilst I awaited texts from Luke and Jointy to see whether they were coming and if so where to meet them.
As we were waiting for the replies Jenson arrived and parked down the same road and we made our way to the ground. On our short trip around the corner Jenson was kind enough to hand over to me a ticket for the game at a small price of a few beers (which I am grateful for) as Lofty and Jenson were taking their place in a box for the game, a shrewd choice considering they could've had their legs crushed in the South Africa Road stand for the 90 minutes.
As we got to the Box Office we met up with Luke, who was collecting his tickets for the game. Lofty and Mark made their way into the box as Luke and myself made our way to the Springbok to meet up with Nik and a few of their friends.
As we were all chatting away in the pub Lofty sent over a photo of our potential new goalkeeper Julio Cesar who was in the box right next to them.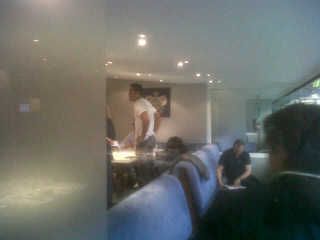 We all then made our way to our seats to watch proceedings.
Mark Hughes made a few changes from the 1-1 draw at Carrow Road on Saturday.
Bosingwa, Nelson, Wright-Phillips, Johnson and the returning Ali Faurlin made their first starts of the season in the place of Traore, Hill, Mackie, Diakite and Cisse.
The game started with Walsall fans in fine voice as they looked to enjoy their trip to West London and hopefully cause an upset.
However it was the R's that come out of the blocks quickly and Andy Johnson had the first chance that was blocked by the Walsall 'keeper.
On ten minutes Rangers' came close once againas Fabio charged down the left and squared for Wright-Phillips and the pint sized winger stroked the ball just wide from 12yards.
Walsall were proving to be no pushovers and created several chances themselves.
Rangers' finally broke the deadlock on the half hour.
Wright-Phillips played the ball into Zamora on the edge of the 18yard box, Bosingwa charged down the right wing which took a defender away and allowed Zamora to cut inside and thread the ball towards the penalty spot. With the Walsall keeper on rushing, Wright-Phillips stuck out one of his long legs and poked the ball into the back of the net for his first goal in a Rangers' shirt.
The Wright-Phillips goal was very pleasing for me as it meant that I won my bet with Jess that he would score for the R's this year, get in!!!
Half time finally came around and I am told that Lofty took on a 10 minute pie challenge whilst in the box. Lofty had to eat 3 of their highly acclaimed pies within the 10minute time limit. This made up for Lofty being unable to take part in the pie rating at Norwich on Saturday. I'm glad to say that Lofty completed the challenge.
It was less exciting in the stands, as we just looked on and watched the 'round the pole' competition.
The second half started and there was an early scare for the R's.
Cuvelier's long shot was flapped around the post by Green when it looked like it was a routine stop.
From the corner Walsall should've equalized when Holden's header hit the crossbar as the defence looked static. After a short goal mouth scamble the R's finally cleared their lines.
At this point we were appreciating the return of Faurlin. He looked comfortable, composed and it was very pleasing to see him in the heart of the midfield and playing short passes whilst also having the vision to pick out players in space. He rarely misplaced a pass during this game.
On the hour we saw another return from one of our injured stars. Kieron Dyer replaced Junior Hoilett.
Within six minutes Dyer produced a bit of magic that led to the R's second goal.
Fabio gave the ball to Dyer and the former England International had the vision and precision to perfectly weight a through ball to Zamora, who in turn saw the Walsall keeper off his line and sublimely lobbed him from the left side of the penalty area. A goal of great quality.
Further substitutions were made as Wright-Phillips came off to much appreciation from the R's fans and was replaced by Traore. Zamora then made way and Cisse took his place.
Cisse had a goal chalked off and he superbly finished just after being flagged offside but on the 85th minute the contest was over.
A corner from Dyer on the right was clearer as far as Faurlin. His shot deflected in the path of Bosingwa, who volleyed with his left foot into the centre of the net.
Tonight we slowly began to see the players gel on the pitch and there were several players that stood out to everyone. Faurlin showed his excellence in the middle and this allowed Park to become more adventurous and find himself in more attacking positions than we have seen over the two games we have played so far.
Andy Johnson was lively all night and proved many options for the midfield to play him in behind the Walsall defence. Johnson was unlucky not to get on the scoresheet as his header shaved the post in the first half.
Wright-Phillips is also deemed worthy of a mention. He looked tricky to deal with all night and got himself into some good attacking positions and took his goal well.
Dyer's movement during his half an hour was exceptional and it's clear to see he has plenty to offer, IF he stays fit.
Bosingwa's movement and vision is sure to be a real benefit for us down the right hand side and he does anticipate things very well.
Lastly an unsung hero of the night, Ryan Nelson. Nelson was very vocal all night, got the defence talking to one another and also was very reassured when defending. He never got caught out of position and looks like he could be an integral cog in our back line.
Having said all of that, our Man of the Match with three votes is Alejandro Faurlin.
QPR: Green, Ferdinand, Park, Johnson, Wright-Phillips (Traore 68), Nelsen, Bosingwa, Fabio, Hoilett (Dyer 60), Zamora (Cisse 69), Faurlin.
Subs: Murphy, Derry, Mackie, Onuoha.
Goals: Wright-Phillips (29), Zamora (66), Bosingwa (84)
Walsall: Grof, Butler, Holden, Featherstone, A. Chambers (Baxendale 37), Cuvelier, Grigg (Bowerman 70), Paterson, Hemmings (Jones 78), Purkiss, Taylor.
Subs: Walker, Williams, Benning, Downing.
Bookings: Holden (43)
Referee: Mr M Naylor
Attendance: 6,129 (436 away)
After all the excitement of finally seeing us win a cup game we return back to the League action on Saturday with the small matter of a trip to the Etihad Stadium as Manchester City host us in the live game on ESPN.
Lofty will return with another of his excellent reports and let you know how our evening out panned out.
U R'SSSSSSSSSSSSSSSSSSSSSSS!!!